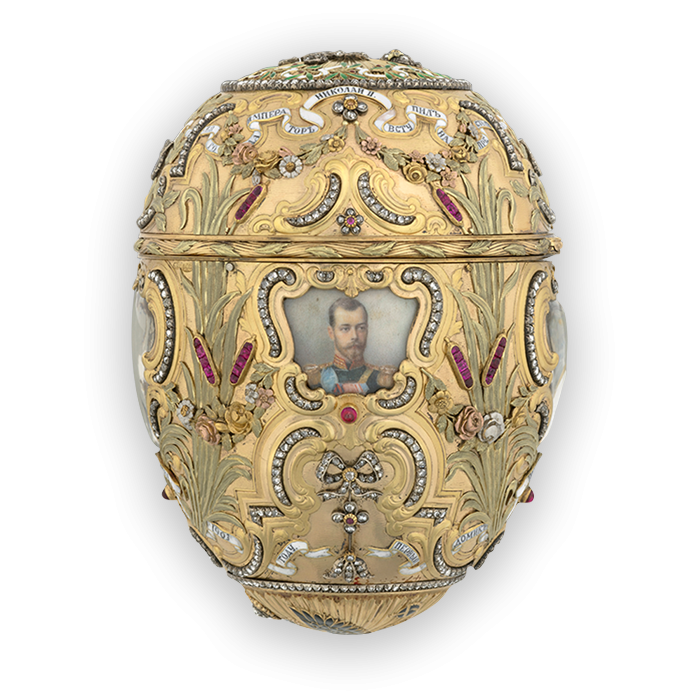 Fabergé and Russian Decorative Arts
Thanks to Lillian Thomas Pratt, the Virginia Museum of Fine Arts has the largest public collection of Fabergé and Russian decorative arts in an American museum. It includes about 200 objects by or attributed to the Fabergé firm, as well as "Old Russian"–style works, such as silver and enamels, by Feodor Rückert and other masters.
Related Stories & Collections
Highlights
The highlight of VMFA's Fabergé and Russian Decorative Arts Galleries are the extraordinary group of five imperial Easter eggs that Fabergé created for the last two tsars of Russia. The museum's suite of five galleries displays a selection of Fabergé objects as well as other Russian decorative arts from the late 19th and early 20th centuries, including a group of "Old Russian" enamel objects made in Moscow by Feodor Rückert and other masters.
360° Views of VMFA's Imperial Eggs
Fabergé's greatest triumph was the series of fifty-two unique Easter eggs made for the last tsars of Russia. Inspired by the traditional Russian custom of giving decorated eggs at Easter, Tsar Alexander III commissioned the first Imperial Easter egg in 1885 as a gift for his wife, Empress Maria Feodorovna. The First Hen Egg was made of gold covered in white enamel so that it resembled a real egg. When the empress opened the egg, she discovered a gold yolk. Inside the yolk was a hen, which contained a diamond-set crown and two ruby pendant eggs. She was so pleased that her husband continued the practice of giving her a Fabergé egg containing a surprise every year. Nine additional eggs were created as Easter presents for Maria Feodorovna from her husband, Tsar Alexander III.