First person statements are composites made from artist quotes and historical data. Information on readers for audio components is given below.
Audio Tour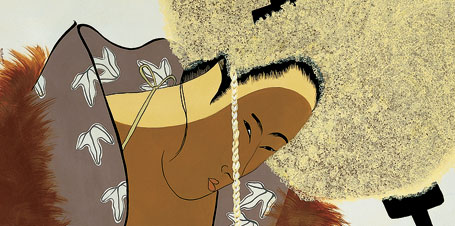 iona rozeal brown
(American, born 1966)
a3 blackface #59, 2003
Acrylic on paper
50 x 38 inches
Museum purchase, with funds contributed by Dr. and Mrs. Lindley T. Smith, 2004.67
Play MP3:

Back in 1997, I read an article written by Joe Wood that introduced me to a group of Japanese youth called ganguro, who darkened their skin and paid top dollar to have their hair permed into afros. I was fascinated by the idea and decided that one way for me to talk about the ganguro would be with the help of Japanese woodblock prints from the Edo period. Ukiyo-e, the floating world, was a time of decadence. There are parallels between the glamorous, fashionable clothes and other excesses portrayed in ukiyo-e and the high fashion, celebration of material success and love of bling-bling that you get in hip-hop. Being African-American, I'm flattered that our music and style is so influential, but I have to say that I find the ganguro obsession with blackness pretty weird, and a little offensive. My paintings come out of trying to make sense of this appropriation.
Part of the romantic idea is that we are all mirror images of each other. Beyond the ganguro phenomenon, there are many connections between those two cultures: on a good day, the relationship is reciprocal, the dark-faced ganguro may not be popular anymore, but the acquisition of hip-hop accoutrements, both visual and verbal, is vogue, fly, fresh. Hip-hop music can be woven together quite beautifully and poetically. It's an attempt to connect and be heard and respected all over the world. But people talk the most about the material aspects of it. I hate the whole consumer vibe of mainstream hip-hop. The potential for the music gets compromised and the music and the message get lost. A better understanding of a culture gets lost in all this.
I RE-present these prints to represent the present while maintaining connections with the past. Hip-hop, and therefore, black culture, should do the same thing.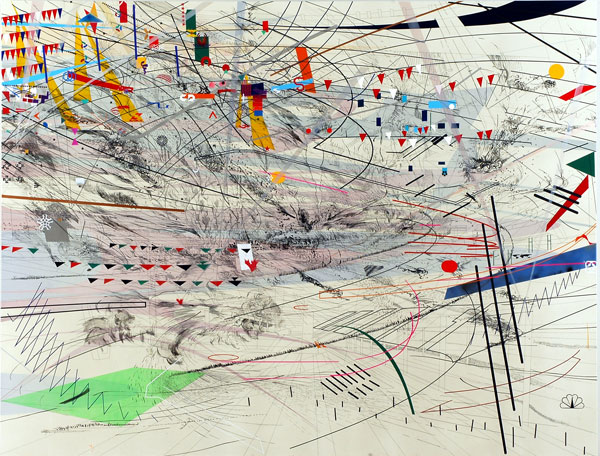 Julie Mehretu
(American, born Ethiopia, 1970)
Stadia III, 2004
Ink and acrylic on canvas
107 x 140 inches
National Endowment for the Arts Fund for American Art and the Revolving Art Purchase Fund, 2006.1
Play MP3:

My paintings grew out of drawing in the beginning. My initial impulse was to develop a language that could communicate different types of narratives. My aim is to have a picture that appears one way from a distance—almost like a city or universe from afar—but then when you approach the work, the overall image shatters into numerous other pictures, stories, and events.
I'm interested in the multifaceted layers of place, space, and time that impact the formation of personal and communal identity. All of this stuff is layered inside me, all these parts of who I am. Two sides of me do battle: the conceptual side and the visual side. I'm really interested in the non-definitive element of abstraction; it never is a black-and-white situation. It's looking back at who you are as an individual – you're not just this person who's from your own specific experiences, but the collective experience of what makes you who you are because of time.
In this work I was interested in the stadium as a place for sport or entertainment, and in the spectacle of nationalistic frenzy. This kind of container can hold us, yet it can break down very easily, like when people get smothered to death in the intensity of the crowd. You can feel that tension, and that's part of what makes the stadium so exciting. I started collecting stadium plans, as many as I could, built or unbuilt. I brought them all together in the studio and tried to build one mega-stadium out of all the drawings, tying and weaving them together. I also collected different kinds of signage from everywhere I wentstreet rags, billboards. I wanted to bring nationalist signage, sports signage, street signage and conflate them into one abstract language, and then have these characters, these kind of riotous drawings, exist within that. In the Stadia paintings it seems like there's this big event occurring that's very orderly and makes a lot of sense, that there will be an outcome that we can either cheer or oppose. But that doesn't really happen. We all come with our constituent identities, and we retain them as we work together and compete in a global arena. We've always had that type of arena as part of who we are.
Willem van Heythuysen, 2006
Kehinde Wiley (American, born 1977)
Oil on canvas
96 x 72 in
Arthur and Margaret Glasgow Fund, 2006.14
Play MP3:

I learned to paint by mimicking old masters. The pomp and circumstance – powdered wigs, lapdogs, and ball gowns – were both alien and exciting to me. All my work has to do with the tension between masculinity and beauty. All of those great Gainsborough and Copley pictures of powerful men which in some sense depict a type of dignity, but also reveal a type of beauty. They're so artificial and opulent. There's this strange otherworldliness in them, that, as a black kid from Los Angeles, I had no manageable way of digesting. But at the same time, there was this desire to somehow possess that or belong to that. So it's propaganda really. It's about convincing the world about your position in society, about who you are. It's also about the presence of black people in paintings when their absence is so incredibly conspicuous. It's about celebrating a type of urban sensibility that is globally understood.
I think the conversations around power and painting is the central point of my work. Look at some of the massive male egos of all the great art stars, historically, like Ingres and David. It's about celebrating big male figures and their positions. And as a young black man, I wanted to somehow enter that arena, to criticize it by participating in the language, but also to be honest with myself and say that I'm really in love with this type of painting.
I want my work to look as familiar to young kids as it is to seasoned art historians who know all the references. What appeals to me about painting is something that has cultural fluency. I've had a lot of young black kids come up to me and say they are grateful to look at this monumental mega-painting with someone who they can relate to. It's a small act. It's not something I do for humanitarian reasons; I do it because it's cool and fun. And, I do it because I want to see people who look like me.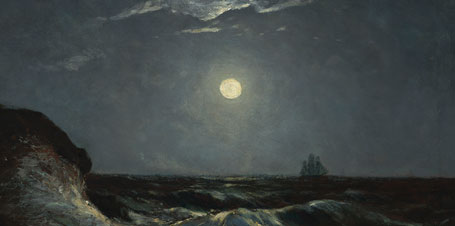 Edward Mitchell Bannister
(American, 1828 – 1901)
Moonlight Marine, 1885
Oil on canvas
22 x 30 inches
The J. Harwood and Louise B. Cochrane Fund for American Art, 2009.308
Play MP3:

While I have spent most of my life as a shipboard cook, a barber, a hairdresser, and a photographer, my true love is painting. My most significant professional accomplishment was in 1876, when my painting Under the Oaks, a huge oil showing cows and sheep taking shelter from a storm under broad oak trees, won first place at the Centennial International Exhibition, America's first world's fair. Initially, the jury didn't realize that I was the artist. When I heard I had won, I pushed through the crowds to verify with the judge the honor. Without raising his eyes, the judge demanded, in the most exasperated tone of voice, "Well, what do you want here anyway? Speak lively!" I replied, "I want to inquire concerning Number 54. Is it a prize winner?" "What's that to you?" he demanded gruffly. In an instant, my blood was up; the looks that passed between him and others in the room were unmistakable. I was not an artist to them, simply an inquisitive colored man. Controlling myself, I said deliberately, "I'm interested in the report that Under the Oaks has received a prize. I painted the picture." An explosion could not have made a more marked impression.
In my landscapes and seascapes, like Under the Oaks and this one, Moonlight Marine, I try to visualize the idea of perfect harmony in nature. I love painting views of the Atlantic coastline, particularly Rhode Island, as they lend themselves to both dramatic touch and experimental vision, while still allowing for truthfulness in showing the mood and forces of nature. I love to visit libraries, museums, and art galleries where I can develop my own technique by studying the work of other artists. Though I was denied formal artistic training because of my race, I taught myself to look at nature with a poet's feeling, absorbing the beauty of rocks and fields, the atmospheric effects of sky and surf, and projecting them onto the canvas. I want to bring every part of a painting quietly to life.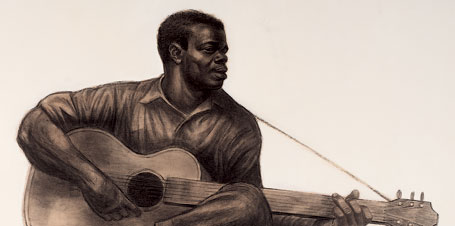 Charles White
(American, 1918 – 1979)
Guitarist, ca. 1959
Charcoal and gouache on illustration board
44 x 38 inches
Gift of the Fabergé Society of the Virginia Museum of Fine Arts and Museum Purchase, The National Endowment for the Arts Fund for American Art, 2001.10
Play MP3:

I believe in the transcendent power of music. I studied the violin for about nine years. My mother insisted on music, even though art was the most important thing for me. Later, I became interested in dance, and I studied modern dance for awhile. I also illustrated a book, Songs Belafonte Sings. Harry Belafonte and I have been very close friends for a number of years, and he's been a great help to me in expressing my ideas in art.
I guess the most important thing is to say something that is meaningful. I've boiled it down to three things I've essentially tried to do. The first is that I try to deal with truth, as truth may be revealed in my personal interpretation. Truth in a very spiritual sense, underscoring the sense of the inner man. Second, I try to deal with beauty; the beauty in man and the beauty in life. I come from the perspective that man is basically good. I've lived in the South, and we've had five lynchings in my family, and I've been beaten up twice, once in New Orleans and once in Virginia. But in spite of my experiences, and my family's experiences and tragedies, I still feel that man is essentially good. I have to start from this premise in all my work because I'm incapable of doing meaningful work that has to do with something I hate. The third thing I try to deal with is dignity. I think that once man is robbed of his dignity he is nothing.
I focus primarily on my people and try to give my images universality – meaning an enduring sense of truth and beauty. I always feel that the artist only does meaningful things when he draws upon that which is closest to him, and he uses that as a springboard to deal with a more broad, all-encompassing subject. It is only natural to have a special concern to my own people – their history, their culture, their struggle to survive in this, a racist country. I'm proud of being black. However, my philosophy doesn't exclude any nation or race of people.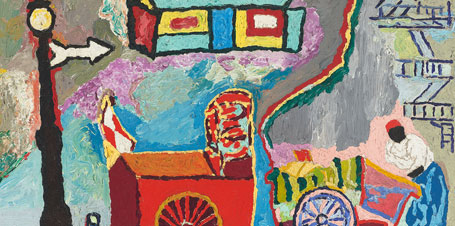 Beauford Delaney
(American, 1901 – 1979)
Greene Street, 1946
Oil on canvas
16 x 20 inches
The J. Harwood and Louise B. Cochrane Fund for American Art, 2010.104
Play MP3:

As a youngster, I was always doing something with my hands – modeling with the red Tennessee clay, drawing, copying pictures, or strumming my ukulele. As a teenager, I met Lloyd Branson, a local artist in Knoxville who let me work as a porter in exchange for art lessons. He helped send me to art school in Boston, where I fell in love with Monet and Sargent.
I went to New York in 1929 all alone and with very little money. This was the Depression, and I soon discovered that most of these people were people out of work and just doing what I was doing – sitting and figuring out what to do for food and a place to sleep. I felt an immediate connection with New York, this multitude of people of all races – some spending every night of their lives in parks and cafes, surviving on almost nothing. I felt that somehow, someway, this was something I could manage. If only with some stronger force of will I could find the courage to surmount the terror and fear of this immense city and accept everything insofar as possible with calm and determination.
I feel like I never drew a decent thing until I felt the rhythm of New York. The city has a rhythm as distinct as the beating of a human heart. And I'm trying to put it on canvas. I paint people–people – and in their faces I hope to discover that odd, mysterious rhythm. Soon after I arrived, I looked up W.E.B. DuBois in the directory and went to the office. He was very busy, and his secretary came and spoke with me. And I told her that, if Mr. DuBois didn't mind, I would like to make a drawing of him. And she said, "You can make a drawing, but he won't stop. Just go and make it." Which is what I did. I soon began to earn money by painting portraits of wealthy, high-society people, writers, actors, and musicians.
I lived on Greene Street in Lower Manhattan for sixteen years and painted what I saw. Fire escapes, lampposts, hydrants, I made street scenes full of color and remembrances and solitudes – this is one of them. I painted parks, jazz clubs, and my own art studio. These were not snapshots of life as much as they were expressions of how it felt to be in the city. My paintings became a kind of salvation, a way to escape the hardness of day-to-day life. Don't ever forget that we are aware of the universal misery of our time and world, and we are trying in our various ways to contribute that which is relatively sane.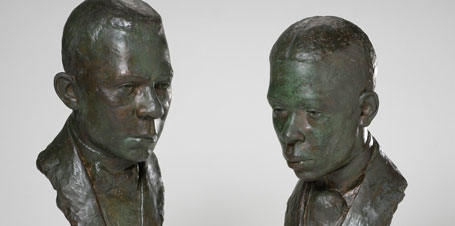 Richmond Barthé
(American, 1909 – 1989)
Pair of busts:
Booker T. Washington, 1928, and Paul Laurence Dunbar, 1928
Painted plaster
20 x 8 1/4 x 9 5/8 and 18 x 7 3/4 x 9
Lent by a Private Collector, L.59.2010, L.60.2010
Play MP3:

I'm an Old Soul who has been an artist in this life and all my previous ones, too. When I was a baby, Mother used to leave me at home when she went out to work. She'd put me on the floor with a piece of paper and crayon, drawing and scribbling. As a child, I loved the shapes of Old English letters in headlines, and comic strip characters. I'd draw the people I saw on the streets, and animals, and insects. Mother and I would name all of them. I started showing my work at the County Fair when I was twelve, and I won my first prize, a blue ribbon, when I was eighteen. I was admitted to the Art Institute of Chicago in 1924.
During my last year at the Art Institute, my professor suggested I try modeling in clay to get a better understanding of the third dimension in my paintings. A fellow student had a beautiful head, so I asked him to pose for me. I have always done sculpture since then. I once asked Jo Davidson, the world-famous portrait sculptor, how best to go about becoming accomplished, and he said, "Keep away from the instructors." Around that time, I modeled busts of important black leaders, including portraits of educator Booker T. Washington and poet Paul Laurence Dunbar. Shortly afterwards, I went to New York in 1929, and in my first year there I finished about thirty-five sculptures.
Being a Negro has been a help rather than a hindrance to me. In the Chicago Art Institute, my work was always noticed because I was the one black artist in that particular section. But for me, art is not racial. There is no Negro art – only art. And I have not limited myself to Negro subjects. It makes no difference in my approach to the subject matter whether I am to model a Scandinavian or an African Dancer. For instance, I selected a young Negro as my model for the marble head, "Jimmie," because of his particularly engaging smile. If he had been white and had the same smile, I'd have chosen him just as readily. I don't have any real preference for subject matter; I choose life and motion primarily.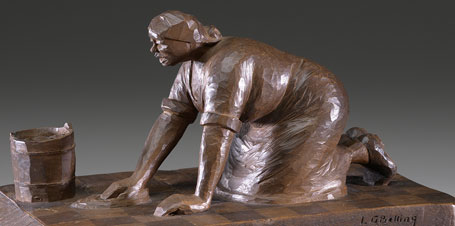 Leslie Garland Bolling
1898 – 1955
Cousin-on-Friday, 1935
Maple
6 ¾ x 5 ¾ x 9 ¼ inches
Gift of the Honorable and Mrs. Alexander W. Weddell, 44.2.1
Play MP3:

I've always felt like I needed to use my hands creatively. I started cutting human figures out of paper, but I felt like I needed to more substance and resistance, so I started cutting them out of cardboard. To get more depth, I stuck sheets of pasteboard together and cut those. Eventually, I realized that I could get the perfect balance of malleability and resistance using soft wood. Growing up in Surry County, Virginia, I always loved trees, and my friends used to always talk about the funny little things I carved.
After I season the wood, I draw a rough sketch of what I plan on doing, then use my knife to make an approximate shape of the figure. When I've cut my figure down to about an eighth of an inch of what it will look like finished, I start in on the detail. I work something the way a cartoonist does. I try to pick out the most important, the most obvious details of a man's face, for instance, and concentrate on them.
I brought my love of carving with me when I moved to Richmond and attended Virginia Union University, taking classes in Manual Training that included mechanical and freehand drawing, designing, and the use of tools in wood and iron work and blacksmithing. However, I carve my figures with an ordinary pocketknife. I don't own a set of woodcarving tools.
After writer Carl Van Vechtenhelped bring my work to the attention of the Harmon Foundation in New York, my carvings were shown in several exhibitions across the country. As the first Negro artist to have a solo exhibit in Virginia, I had some success in selling sculptures in Richmond. Still, I needed to keep my job as a porter in a local stationary shop to make a living.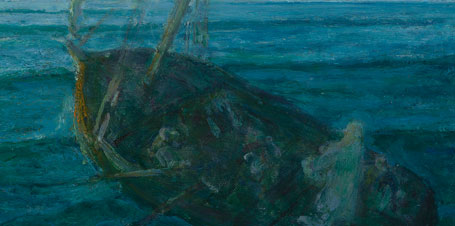 Henry Ossawa Tanner
(American, 1858 – 1937)
Christ and His Disciples on the Sea of Galilee, ca. 1910
Oil on artist's canvas board
10 x 14 inches
The J. Harwood and Louise B. Cochrane Fund for American Art, 2002.514
Play MP3:

One day in Philadelphia in 1872, I was walking through Fairmount Park with my father. I was entranced by seeing a painter at work on a landscape. I decided to become an artist on the spot. I bought brushes and paint and went to paint in the park the very next day. As a teenager, I was determined to become America's great marine painter, depicting seascapes like the ones I'd seen in Earle's Gallery and Bailey's jewelry store on Chestnut Street. In 1879, I began my formal training at the Pennsylvania Academy of the Fine Arts. There I received some of the best advice I'd ever had from my instructor, Mr. Thomas Eakins. I had made a study that was not altogether bad; indeed, I think it was the best thing I'd done up until that time. He encouraged me to go on with it, but I was so afraid to destroy what I'd done that I really did nothing the rest of the week. He was disgusted and said, "Get it better or get it worse. No middle ground compromise." This advice has helped me ever since. Mediocrity is the foe of real excellence.
After a few years of trying to build my career in Pennsylvania and Georgia, I found that I could not fight prejudice and paint at the same time, so I decided to study in Europe. In Paris, there is a breadth, a generosity, an absolute cosmopolitanism in her recognition of the fine arts, which bars no nationality, no race, no school, or variation of artistic methods. All Paris asks is that the art shall be true, in other words that it shall set forth life. The condition of racial prejudice had driven me out of my country, and while I cannot sing our National Hymn, still deep in my heart I love it and am sometimes sad that I cannot live where my heart is.
In the 1890s I began painting interpretations of Biblical episodes, and they were highly received. My recognition in the Paris Salons gave me the courage to continue to pursue ambitious work. My effort has been not only to put the Biblical incidents in the original setting, but at the same time to give the human touch which makes the whole world kin. I want to present the simple domestic side of biblical personages. Many painters of religious subjects forget that their pictures should be as much works of art as are other paintings with less holy subjects. The design and color in my paintings are carefully thought out as if the subject had only these qualities. It is not by accident that I have chosen to become a religious painter. I have no doubt an inheritance of religious feeling – my father was a Bishop in the African Methodist Episcopal Church – and for this I am glad. But I have also decided to paint religious themes due to my own convictions. My art conveys what I want to tell to my own generation and leave to the future.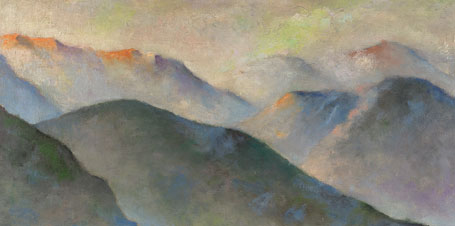 George H. Ben Johnson
(American, 1888 – 1970)
Idyll of Virginia Mountains, 1945
Oil on canvas
16 3/16 x 20 inches
Katherine Rhoads Memorial Fund, 45.10.3
Play MP3:

My desire to be an artist came at a very early age, when my mother showed me a brightly-colored picture in a Bible story book. When I was thirteen, I worked as an elevator boy in a Richmond department store, and I decorated postcards and sold them to customers. My employers then gave me the chance to illustrate their advertisements in the local newspapers. I knew, though, that I needed higher education, and I went to Hampton Institute, thinking that they had art courses. They didn't at the time, so I instead took a course in tailoring. My artist dreams were put on hold for a few years as I worked up north as an entertainer and a tailor. I returned to Richmond, where I took the National Postal Exam. I made a bargain with my mother that if I made the service I would stay at home, but if I failed I'd start wandering again. I had barely begun my rounds as a postman when I decided to take some correspondence courses in illustration. I soon got a position as a cartoonist for The Richmond Planet, the prominent Negro paper. My cartoons were published regularly on the front page and in a variety of other newspapers. I was also asked to do book illustrations.
My aim as an artist is to render pictures in any and all mediums from various angles and for many reasons. Pictures which are humorous, serious, historical, satirical, and to render anything pictorially that will help me and others to see truth and beauty. My main objective is to stimulate thought, for this, I believe, is man's greatest, most powerful asset.
In my paintings, I focus mostly on biblical and historical scenes. I want to spread information about the Negro race, which is why I often focus on the Ethiopians as a subject. I studied early Ethiopian history and made a series of paintings; one of them was shown in a national Harmon Foundation exhibition. I also paint still lifes and landscapes. My Idyll of Virginia Mountains was selected in 1945 by the Virginia Museum of Fine Arts for its permanent collection, a proud achievement. It was the museum's first purchase of an artwork by a black artist.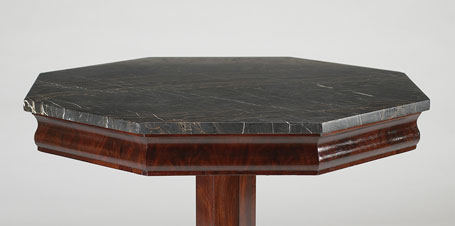 Thomas Day (attributed)
(American, 1801 – 1861)
Center table, 1850s
Milton, North Carolina
Mahogany veneer, tulip poplar; marble top; brass casters
31 (with casters) x 36 inches (dia.)
Kathleen Boone Samuels Memorial Fund, 2007.84
Play MP3:

I was born in Dinwiddie County, Virginia, to John Day, a free farmer and skilled cabinet maker. I attended school in Sussex County with white students, was tutored by Quakers, and had a good education. My father apprenticed me and my brother John in cabinet-making, and in 1827, I opened my first furniture shop in Milton, North Carolina. In 1830, I married Aquilla, who was free, but lived just across the line in Virginia. Because of her status, she wasn't allowed to cross the state border, so I got sixty-one citizens of Milton to sign a petition asking that she be exempted from the anti-migration law. The state attorney spoke up for me and my reputation – he said that I was "of very fair character; an excellent mechanic, industrious, honest and sober," and the legislature voted to let her move to North Carolina.
By 1850, I owned and operated the largest furniture factory in North Carolina. It is one of the most prosperous in the South. My prominent white customers include planters, businessmen, and politicians. I make furniture in the newest fashion, manufactured in mahogany, walnut – oftentimes with an elegant mahogany veneer. I'm especially fond of the "Grecian plain style," because it's simple and classic – it works well for the new steam-driven equipment we use in the shop. My shop is also called on to produce interior ornament for houses, churches, and schools. This includes making stylish mantlepieces, stair railings, and doorways.
My brother, John, rose to prominence, too, but not as a cabinet maker. He became a powerful minister and politician in the Republic of Liberia, where he served as that new nation's Chief Justice.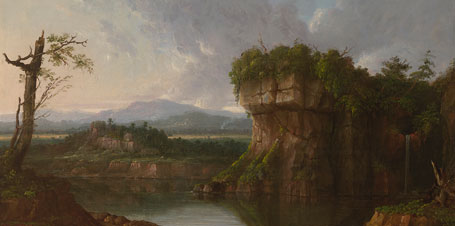 Robert S. Duncanson
(American, 1821 – 1872)
The Quarry, ca. 1855 – 1863
Oil on canvas
14 ½ x 22 5/8 inches
Gift of The Council of the Virginia Museum of Fine Arts, in Commemoration of Its Fiftieth Anniversary, 2006.11
Play MP3:

I am a grandson of a freed Virginia slave, son of a house painter and carpenter. I taught myself how to be an artist. I was born and raised in the Finger Lakes of New York and hired myself out as a young man to do interior work. I advertised in the local paper as a painter and glazier. By the time I settled in Cincinnati, known then as the Athens of the West, I was painting portraits and landscapes. With the help of local businessman Nicholas Longworth, I began to get noticed by some of the wealthy families in the region. Longworth himself commissioned eight enormous murals to decorate the foyer of his villa, Belmont. I also colored daguerreotypes for the famous Negro photographer, James Ball. By 1853, I could afford to go to Europe, where I visited sculptor Hiram Powers in Florence and studied Turner landscapes in London, which, to my mind, were the best in Europe. My trip enabled me to better judge my own talent.
During the Civil War, I spent some time in Canada, teaching and exhibiting, and my landscapes gained much attention. On my next trip to Europe, I met Tennyson, sketched the Scottish Highlands, and sold "The Land of the Lotus Eaters" to the King of Sweden. In Florence, I got to study the work of Guido Reni and Michelangelo. Michelangelo has no equal.
I aim to create a truly great picture. For inspiration, I've also traveled throughout the United States. I've painted in Detroit, Minnesota, Pennsylvania, Vermont, and in New Hampshire's White Mountains. I have a good deal of work to do, and my friends say I am improving. Because of my light skin and my traditional style of landscape painting, some question whether I should make more of a point of my race. But mark what I say here in black and white: I have no color on the brain; all I have on the brain is paint. I care not for one's color: Love is my principle, order is the basis, progress is the end.
Credits
Kellita Wooten as iona rozeal brown
Kellita A. Wooten is a talented artist, with an Associates degree in Fine Arts and a Bachelors degree in Theatre. She loves painting, making jewelry and designs flags for My Heritage Flags. You can view her art at www.kwoo10designs.com. She is an actress and was last seen in Sycamore Rouge's production of The Velveteen Rabbit. "I love acting, because I love transforming myself into different characters." She can be seen in Henley Street Theatre's next production, The Last Days of Judas Iscariot. She is working hard to achieve her dream of working in television and film.
Ronnie Brown as Leslie Bolling, Robert Scott Duncanson, Edward Mitchell Bannister, George H. Ben Johnson, Henry Ossawa Tanner
Ronnie Brown has been an actor in Richmond since 2007. He has worked, and performed with local prominent theatres such as Theatre IV/Barksdale Theatre, SPARC, Firehouse Theatre Project, and Richmond Triangle Players. Ronnie can also be seen, and heard in commercials for the Virginia Lottery; television and radio. Ronnie is honored to be working with the Virginia Museum of Fine Arts for the first time, and would like to thank Jesse and John for the opportunity to bring the past back into the present, and for allowing me to have fun while doing it! Photo by Bill Strong, billstrongphotography.com
L. Roi Boyd as Thomas Day, Charles White, and Beauford Delaney

Teal Barber as Richmond BarthéandKehinde Wiley
Teal Barber is a sophomore at The Visual and Performing Arts Specialty Center at Thomas Dale High School, Chesterfield County, Virginia. His interest and experience in the theater began at the age of six when he studied at the Drama Kids International at Montessori. In addition to appearing in numerous productions while in middle school, he has appeared in productions of Threepenny Opera, Dark of the Moon, and Hairspray at the Center for Visual and Performing Arts. Teal has also appeared in local productions of Fences in the role of Corey and as young Samuel in Glorious Christmas Nights. His experience also includes voice-over work in radio and television. In 2009 Teal was inducted into the Thespian Society. Teal is honored to have the opportunity to learn and work with the Virginia Museum of Fine Arts. Photo by Tiki Barber.
Tiffany Coleman as Julie Mehretu
Tiffany Coleman is a recent graduate of the Theatre program at Virginia Commonwealth University. She has appeared in productions at the VCU, the Empire Theatre and the Firehouse Theatre Project. She has worked with Theatre IV and the Conciliation Project just to name a few. In March she will be headed to New York City to audition for casting directors and agents. She is grateful to God, her parents and her whole family for their love and support and the Virginia Museum of Fine Arts for this wonderful opportunity. Enjoy the tour! Photo by Elizabeth Rusiecki.
John Priestley – recording, editing, and music
John Priestley is a musician, sound artist, and educational software developer based in Richmond Virginia. He is currently pursuing doctoral research on generative music in the Media Art & Text interdisciplinary PhD program at Virginia Commonwealth University. He composes and performs music for modern dance in collaboration with danah bella DanceWorks.
Jesse Hernandez – research, writing, sound editing
Jesse Hernandez is a PhD candidate in Virginia Commonwealth University's Interdisciplinary Media, Art, and Text program. Her areas of interest and research include literary synesthesia, cultural and historical studies of the senses, digital photography, and olfaction in both the late 19th century and contemporary art. In addition to working as a full-time virtual high-school English teacher, she has written a monthly column on art and art history for Flair magazine in Northern New York since 2005 and has interned for the last two years in Exhibition Planning at the Virginia Museum of Fine Arts, where she has written and directed two audio tours, presented on female artists for museum members, and serves on the museum's Technology Advisory Committee.