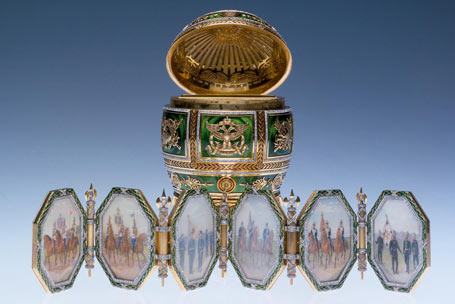 Download full audio tour (ZIP, 45MB)
Right click (Windows) or Ctrl click (Mac) on the link above and select "Save Link As…" to download the complete audio tour. Once downloaded, unzip the folder then access the MP3 files using your preferred listening software.
Find out more about the exhibition to Fabergé Revealed.
Audio Tour
101: Welcome
Welcome to the Virginia Museum of Fine Arts. We are extremely delighted to present Fabergé Revealed, an exhibition that offers visitors a rare opportunity to view a dazzling array of more than 500 elegant objects by the celebrated jeweler to Russian Tsars Alexander III and his son and successor, Nicholas II.
In addition to showcasing the Virginia Museum of Fine Arts complete Fabergé collection, which includes five Imperial Easter Eggs, there are also featured loans from three important private collections. And we are pleased to have Dr. Géza von Habsburg, a preeminent Fabergé scholar, as a guest curator for this once-in-a-lifetime exhibition.
The name Fabergé is synonymous with refined craftsmanship, jeweled luxury, and the last days of the doomed Russian imperial family. Today, you will be immersed in a stunning array of enameled picture frames, gold cigarette cases, hardstone animals, decorative boxes, and jewel encrusted brooches, and you will get to experience the same fascination that others did more than a century ago when shopping at Fabergé's stores in St Petersburg, Moscow and London.
102: McFerrin Tiara
Once in an interview, when compared to his competitors such as Tiffany and Cartier, Carl Fabergé commented, "They are people of commerce rather than artist jewelers. I have little interest in an expensive object if its price is only in the abundance of diamonds and pearls."
Fabergé did however appreciate exquisite artistic shape and meticulous craftsmanship, both of which can be seen in this breath-taking tiara created by the House of Fabergé around 1890. Most likely commissioned by a wealthy patron, it is designed as a series of graduated arches that gets its inspiration from the traditional kokoshnik head-dresses worn by Russian women and young girls.
Mounted in silver and gold, there are 214 individual old-cut diamonds, along with approximately 400 other tiny sparkling gem stones, that were hand-picked to decorate one of the few tiaras ever made by Fabergé. But it is the story behind the seven stunning tear-drop diamonds that hang suspended inside each arch, which makes this tiara even more rarefied.
Those briolette diamonds, with their superbly cut triangular facets, were a gift from Tsar Alexander I to the Empress Josephine after her divorce from Napoleon Bonaparte in 1809. Unable to give Napoleon an heir, she fled to La Malmaison, her chateau outside of Paris. On the 150 acre property, where she grew 250 varieties of roses, she often strolled the gardens with Alexander I. Perhaps it was during one of those visits, that the Russian ruler gave Josephine these brilliant precious stones.
Following her death in 1814, the diamonds were passed down through Josephine's family and eventually were used as the historic and striking center pieces of this lavish tiara.
103: Gans Kovsh
Formed out of silver, three mounted, armor-clad warriors seem to be galloping off the front of this traditional Russian drinking bowl known as a 'kvosh.' These men may be modeled after a legendary trio of 10th century knights from Kiev. Like the Three Musketeers – each 'bogatyr' had a distinctive trait (wits, courage, and strength), which they took with them into battle. A kovsh was often awarded for heroism or other services rendered to the royal family or state.
The low relief designs on the body of this vessel – a Russian Art Nouveau motif of various armaments – were created by a hammering technique called repoussé. Did you notice the flag like object rising up behind the figure in the middle? During feasts and weddings, light mead was customarily drunk from silver scoops like this, so the flag's purpose may have been to direct the stream of liquid being poured. An extra decorative element can be seen in the handle, which is inset with small gemstones of chrysoprase and amethysts.
Carl Fabergé was fourteen years old when he began touring Europe's major centers of jewelry production. Frankfurt, Florence, Paris – each city was home to incredible museums filled with collections of historical jeweled objects dating from the Renaissance through the 18th century. After six years of study, the young Fabergé returned to St. Petersburg a certified master jeweler. When he took over his father's jewelry firm in 1872 at the age of twenty-four, Carl was determined to distinguish the family name.
104: Silver Mounted Gueridon
Full size furniture by Fabergé is rare. This small, circular table made between 1908 – 1917 draws its inspiration from the multi-legged tables called 'gueridon' that originated in France during the mid-17th century and became incredibly popular during the reign of Louis the XIV.
Fabergé's table, made of Palisander – a tropical rosewood, nephrite jade, and silver, is worthy of any royal court. The polished, dark-green nephrite tabletop reflects the small silver edge railing that is pierced with a border of anthemions. This decorative motif of fanned palm leaves was used abundantly in Ancient Greece. The pattern appears several times throughout the design of this table. Take a moment to discover where else you can find them.
This pedestal table is supported by four tapering legs that are capped with silver lions paw feet. Did you notice how the lower shelf, which is shaped like a four leaf clover, holds a smaller version of the galleried top? Gueridon tables can have from one to four legs giving them a whimsical quality. Pablo Picasso, after a traditional marriage to a Russian ballerina in 1919, spent the next two years of his life capturing the modern expression of these little tables in his artwork.
105: Imperial Silver Frame
This Imperial Silver Frame was created between 1899 and 1908, a time when Carl Fabergé had grown his father's single jewelry store to four workshops and showrooms in Russia, one in London, as well as a thriving catalog business. Fabergé's huge output of silver was produced exclusively in the Moscow workshops, a city long steeped in tradition when compared to St. Petersburg, which was barely 200 years old.
That blend of past and present is wonderfully represented here in this frame. Notice its silhouette, which is reminiscent of the domes featured in Old-Russian style architecture. At the top, a double-headed eagle displays a coat of arms with the seal of Nicholas II. Now take a look at the design work surrounding the opening for the picture. It is an Art Nouveau display of flowing curvilinear shapes, stylized foliage, and floral rosettes that have been delicately hammered into the silver. Even the peg feet repeat the curlicue lines of the flowers, while agates, quartz, and sapphire stones are used as tasteful accents.
But true to the Fabergé style of functionality combined with originality, you will need to look at the back of this picture frame to find the elaborately shaped and pierced ornamental silver strut that is a clever design element in its own right.
106: Virgin of the Sign
At the height of his fame, Carl Fabergé employed over five hundred of the finest jewelers, designers, goldsmiths, miniaturist painters, and stone cutters. Many of those craftsmanship talents were engaged in the making of this panagia, which uses silver gilt, enamel, and precious stones to create a tribute to the Virgin Mary that is said to have belonged to Nicholas II's wife, Czarina Alexandra Feodorovna.
Panagia is Greek word meaning "All Holy," and refers to the Virgin Mary who is highly venerated in the Orthodox Church. Above her head are the letters "MP OV", an abbreviation of the Greek: "Mater Theos" – the Mother of God.
The portrait of mother and child are framed by a filigree surround that is accented with shades of delicately detailed pink and purple enamel tulips and flowers, set with eight alternating topazes and garnets.
In the center, Mary stands in a position of prayer: elbows close to her body; her hands outstretched, palms up. As the bridge between God and man, she is always praying for those who ask for her help. In her lap, cradled in the folds of her robe, the Christ child raises his right hand in a gesture of benediction.
Mary's veil and robe are red, for they represent the color of divinity, while the lining and clothing underneath are green and blue – the colors of humanity. The artist has painted the Christ Child's garment blue perhaps to symbolize the Son of God's role in embracing humanity as part of his divine nature.
107: Imperial Red Cross Easter Egg
"Greater love hath no man than this, that a man lay down his life for his friends."
So reads the gilt inscription from the bible that fills the central band of this opalescent-white enamel egg embellished with two red crosses. A closer look at this treasure also reveals an intricate pattern underneath several layers of enamel, created by a decorative engraving technique known as guilloché.
This is the 24th Imperial Easter Egg that Faberge designed for the Romanov Monarchy. He created his first for Alexander III in 1885 after being appointed "Supplier to the Court of his Imperial Majesty."
On top of the egg, is the Cyrillic monogram and crown insignia for the Dowager Empress Maria Feodorovna – Emperor Nicholas II's mother; while the two red crosses are bordered at each corner by the dates 1914 and 1915.
It was in August of 1914, that Russia entered World War I by declaring war on Germany and Austria. In less than six months, over a million men were killed, wounded or taken prisoner. In the spring of 1915, Nicholas II presented this Imperial Easter Egg to his mother, who was President of the Red Cross. That same year, he would travel to the front line to take personal command of the army.
The simplicity of design and austerity of materials – there are no gemstones used here – reflect the mood of the country. The Fabergé workshops were beginning to produce war supplies, and their London branch was closed down, but that didn't prevent the House of Fabergé from creating a memorable and beautifully crafted surprise inside this egg.
A gold-trimmed folding screen contains five one-inch oval portraits topped by tiny red crosses. Each miniature painting is surrounded by panels of white guilloche enamel and backed by mother of pearl inscribed with the initials of five women who were near and dear to both Nicholas II and his mother. Dressed as Sisters of Mercy, they are from left to right, his sister Olga, his oldest daughter, also named Olga, his wife Alexandra, his second daughter, Tatiana, and his cousin Maria Pavlovna.
True to their cause, the Empress Alexandra and her two eldest daughters did tend the wounded and dying soldiers in a hospital she organized at the Imperial Winter Palace.
This Imperial Red Cross Easter Egg, which was confiscated by order of the Provisional Government in 1917 for safekeeping, was eventually acquired by Lillian Thomas Pratt in 1933.
108: Bread and Salt Dish
Bearing the silver crowned and enameled cypher of Tsar Alexander III – the father of Nicholas II – this bread and salt dish is one of hundreds such mementos that were presented to the Romanov monarch and his wife upon their numerous visits to the provinces of Russia during his reign. Eventually, they all lined the halls of both the Winter and Alexander Palaces.
In the recessed center of this plate dated 1888, a white cross on a blue background surrounded by three small crowns is the enameled coat of arms of the Kherson province. A closer look at the three engravings that are interspersed along the curves of the plate's bottom half, reveal scenes of local municipal accomplishments. They are from left to right: The Village Agricultural School, the Ponton Bridge, and a Hospital in the City of Anayev.
Although this elaborately decorated plate was not created in the workshop of Faberge, it was still a part of Lillian Thomas Pratt's collection, and reveals her fascination with the Russian Imperial family and her passion to build one of the country's greatest Russian art collections. Between 1933 and 1946, despite a Depression Era and war time economy, Lillian Thomas Pratt of Fredericksburg, Virginia managed to grow the collection she loved. And in 1947, she bequeathed several hundred pieces of Russian art, many of which are from the Fabergé workshops, to the Virginia Museum of Fine Arts.
109: Pictorial Enamel Box
The cover of this small decorative box features the work of a master of miniature paintings on enamel – Feodor Ivanovich Ruckert – an artist who collaborated with Carl Fabergé for 30 years.
The picture, a copy of an original Russian painting popular at the turn of the century, sits under an arch, which is flanked by two stylized owls. The framing is completed by cloisonné-enamel on the top and sides of the box in a palette of blues, greens, browns, and white that beautifully complement the color tones of the artwork. Did you notice that several of the design motifs on the box, mimic shapes found in the painting?
Take a closer look and see how Ruckert employed the cloissoné technique by bending, twisting, and coiling filigree wires to form designs, so that the different color enamel could be inlaid into the resulting 'cloisons' or cells.
The open-air painting, called 'Bogatyr at the Crossroads,' represents the spirit of the Russian soul. Alone, in a desolate land littered with human bones, the epic hero sits stoically on his horse, weapon in hand, in front of a tall stone with the inscription, "If you go straight, you will find your death." Which way do you think he will go?
110: Imperial Pelican Easter Egg
There is a Russian folk tale that says, "An Easter egg given from the heart will never spoil." Tsar Alexander III made certain of it when in 1885, he began the custom of presenting his wife, Maria Fedorovna, with a Fabergé egg each Easter. After his death in 1894, his son Nicholas II carried on both as ruler, and as the giver of eggs to both his mother and his new bride, Alexandra.
The contrast between this boldly engraved red-gold egg and the delicately enameled, diamond-winged pelican feeding her young is striking. In the Christian faith, pelicans were a symbol of charity and sacrifice. The Pelican Egg of 1897 celebrates a centennial of patronage by Russia's dowager empresses for institutions associated with the care and education of young girls. Encircling the egg, an engraved Cyrillic inscription reads; "Visit our vineyards, O Lord, and we shall dwell in thee," and the dates "1797 – 1897."
You can imagine Maria Fedorovna's delight when she discovered the surprise that Fabergé had designed for her inside. When closed, the shell's bold surface decoration of Empire-style motifs ingeniously concealed the vertical lines that mark the egg's sections. But once she removed the egg from its lion-pawed stand, eight separate panels, each graduating in size, unfolded to reveal a screen of pearl-encircled frames. A closer look reveals that each contains an oval miniature painted on ivory of the orphanages and schools of which the Dowager Empress was a patron.
Nearly forty years after that Easter day in 1897, Lillian Thomas Pratt would experience a similar delight to Maria Fedorovna's, when she add the Pelican Egg to her growing collection.
111: Fire Screen Picture Frame
In 1903, Henrik Wigström became the third and last senior workmaster responsible for most of the Fabergé Imperial Easter eggs until 1917. He also oversaw the superlative quality of the company's goldsmith work. Few can deny that in his hands, this intricately decorated double-sided picture frame is one of the finest examples of gold work ever produced by the House of Fabergé.
On one side, surrounded by dozens of tiny pearls is a photograph of Tsar Nicholas II. He squarely faces the camera in full military regalia. On the other side, his wife, Empress Alexandra poses in regal profile, adorned in a traditional kokoshnik-shaped tiara and veil.
Cleverly fashioned to resemble a Louis XVI fire screen, both sides of the frame are lavishly embellished with elaborate swags of varicolored gold flowers and garlands against a panel of translucent pink and white enamel. Did you notice the scalloped background? Wigström made extensive use of the 'guilloche' technique of mechanically cutting designs into the metal, so that the reflection of light was enhanced when the enamel was applied.
Each of the supporting columns are entwined with a garland of gold and platinum flowers. Crowning this seven inch masterpiece, is another collection of precious metal blossoms that have been formed into a floral wreath and flanked by four sprays of laurel – a symbol of victory and nobility. Made in 1910, this consummate work of art was probably a gift from Nicholas to his mother, the Dowager Empress Maria Feodorovna.
112: Imperial Column Portrait Frame
In 1908, Emperor Nicholas II was at a loss as to what to get for his 92-year old Minister of War to mark the occasion of his 75th anniversary of service in the Russian Army. In the course of a long and outstanding career, Field Marshal-General Dmitrii Miliutin had already received the entire array of medals and awards. So what to get the man who has everything? Something extraordinary… something by Fabergé.
This framed miniature of Emperor Nicholas II hangs from a fluted gold column and is stunningly trimmed with twenty-eight circular-cut diamonds. Above it sits a crown and ribbon of matching gemstones. A jeweled object bearing a miniature portrait of a sovereign was the epitome of a royal gift. The choice of a column combined with a portrait had a special meaning. In ancient Rome, the gods, especially Jupiter, were depicted on a pillar to indicate that they dwelt in the sky. The laurel wreath atop the column is the symbol of a victorious hero.
Take a closer look at the design work of the laurel leaves and the sheafs of wheat nestled in the flutes of the Greek column. Henrik Wigström used a metal smithing technique known as 'chasing' to create that incredible detail. While repoussé is used to raise a design on the front of an object, 'chasing' refines the work; creating grooves and channels by sinking the metal with a hammer and punch tool. There are only five known examples of column portrait frames, all of them made by Fabergé in Wigström's workshop.
This six inch Imperial Presentation gift was completed on October 17, 1908, at a cost of 2,000 rubles. Fabergé's legacy may be his Imperial eggs, but no one can argue that his genius was realized in the production of a never-ending stream of useful objects that were inventive and artistically shaped, exquisitely crafted, and instantly recognizable. To purchase, or even more delightfully to be gifted one of the expensive baubles from the House of Fabergé, conferred instant status and membership into an elite group.
113: Star Frame
Carl Fabergé's perfection of the complicated technique of translucent enamel brought the highest praise – even from his competitors, Cartier and Tiffany. While others played it safe with pale pastel colors, Fabergé ventured into bold and daring primrose yellows, salmon pinks, lime greens, and Prussian blues. His customers could choose from more than one hundred colors!
This unusual frame, shaped as a six-pointed star, provides a vivid example of the consummate craftsmanship displayed by the House of Fabergé. The bottom triangle is a burst of brilliant yellow sunray-guilloché enamel, while the top triangle, with its point facing down, shimmers in opalescent-white.
The faded sepia photograph, surrounded by seed pearls, is of Grand Duchess Tatiana, the tsar's second daughter. Nicholas and Alexandra purchased the frame from Fabergé on December 3, 1896, perhaps in anticipation of the child's arrival in June of 1897.
In addition to being a master jeweler and designer, Carl Fabergé was also a savvy businessman. With the arrival of Eastman's box camera in 1889, photography for the masses came into vogue. Fabergé understood the importance of creating frames to hold those photographs of a family's loved ones.
Many of the pieces collected by Lillian Thomas Pratt were in celebration of the special times in the Imperial family's life. But when the Bolsheviks seized power in October of 1917, the Romanov family was imprisoned. This cherished possession was with them at their darkest moment. The tall slender girl with the chiseled features, clutching a bouquet of summer flowers, stares directly into the camera. Tatiana was barely 21 years old when she was executed with her family on July 17, 1918 in a Siberian basement. Three hundred years of Romanov rule had come to an end.
114: Imperial Napoleonic Egg
By the spring of 1912, Nicholas II had presented almost three dozen Imperial Easter Eggs to both his mother and his wife. For Carl Fabergé and his workshops, that meant having to repeatedly come up with new and innovative designs that would please the distinct tastes of these two women. The eggs required approximately one year in production, although some took much longer to make the leap from sketch book to work table.
The Napoleonic Egg is one of only two Imperial Eggs for which detailed design drawings have so far been found. It commemorates the 100th Anniversary of the Battle of Borodino, a pivotal point in the Russian Army's victory over Napoleon in the war of 1812.
Made of gold and platinum with bands of translucent emerald green and ruby red enamel, the outside shell is embellished with six ornamental double-headed eagles. On top of the egg, centered in a starburst medallion is a flat-cut "portrait" diamond. If you take a closer look underneath it you can see where the craftsman placed the royal monogram of Maria Fyodorovna.
The inside of the egg is lined with satin and velvet. Its' miniature "surprise" is a folding, six-panel portrait frame. The Dowager Empress served as honorary colonel for the six historic regiments depicted in watercolor, and her rose-cut diamond cipher also decorates the back of each white enamel panel. Notice too, how the exquisite attention to detail even extends to the screen's hinges. Each one is fashioned into a double-bladed battle axe, an ancient symbol of a fearless warrior.
115: Imperial Frame – Miniature of Nicholas II
Lillian Thomas Pratt's fascination with Russian royalty was enduring. She began collecting in the early 1930's, while accompanying her husband on business trips to New York City. Shopping in her spare time, she spent $100,000 alone with art dealer Alexander Schaffer. In November 1935 Mrs. Pratt wrote in a letter to him, "The little frame with the diamonds seems to haunt me so. If you still have it, I think I must possess it."
Perhaps it was the faded miniature portrait of Tsar Nicholas II that lingered in her mind. Sitting within a rose-cut diamond border, the slightly bemused young ruler is encircled by a single row of diamond-set cornhusks and three polished sapphires. Two more sapphires create the arches of a diamond-trimmed crown above his head, while a total of three more sapphires are set beside and below the royal headdress.
The workmaster for this elaborate mat gold frame was Friedrich Koechly, an independent jeweler who was a contemporary of Carl Fabergé and an occasional supplier to the court of the Dowager Empress Maria Fedorovna. From its gently worn appearance, it may have been that she kept this memento of her son, always close at hand.
116: Imperial Peter the Great Easter Egg
Look carefully at this lavish Imperial Easter Egg and you'll find several dates inscribed across its multicolored surface. The two most important dates – 1703 and 1903 – appear in rose-cut diamonds on either side of the lid. They mark the bicentennial of the founding of St. Petersburg by Peter the Great. Carl Fabergé used the event as inspiration for this egg, which Tsar Nicolas II presented to his wife, Tsarina Aleksandra on April 19, 1903.
Colored gold was a favored material of Fabergé workmasters. It was produced by combining pure gold with other pure metals to create alloys. An alloy of gold & copper creates a red gold, while a mixture of gold & silver produces green or white gold. This technique is used quite strikingly in the various garlands, leaves, and flowers of the Peter the Great Egg. Each of these ornate decorations, like the heads of the green-gold bulrushes set with square-cut rubies, was then attached to the shell by small straight pins that were inserted into carefully drilled holes, and then bent back to hold them in place.
Encircling the egg, four miniature portraits provide the viewer with an encapsulated look at the breadth of Romanov rule. Covered by rock crystal covers, the scenes are painted on pieces ivory that were hand-carved to match the curve of the shell. The white enamel ribbons reveal historical details about the lives of both Peter the Great and Nicholas II.
For Lillian Thomas Pratt, this was exactly the kind of fascinating treasure she wanted to add to her collection. But it almost didn't come to pass. On May 5, 1938, she wrote to her New York art dealer: "… I hope you can sell the Peter the Great Egg to the collector of Fabergé. While it breaks my heart to lose it, I cannot possibly pay for it this year." At a time when a car cost $1,100 and an average salary was $2,400 a year, the asking price for this artwork was $16,500.
Perhaps it was the surprise inside that inspired her to find a way to own it. For when the lid was opened, a hidden mechanism raised a small gold replica of the monumental statue of Peter the Great. Grandly, he sits astride a rearing horse on a pedestal created out of a roughly finished sapphire, a dome of translucent yellow enamel glowing behind him like a fiery sun. When the lid was closed, he disappeared from view.
In the end, it was Mrs. Pratt's desire, combined with her conscientious money management skills that allowed her to take home the prize. Between 1942 and 1944, she made a total of thirty-three monthly installment payments, so that she would always be able to gaze at this exquisite symbol of a vanished age.
117: Imperial Tsarevich Easter Egg
On July 30, 1904, a baby boy named Alexei, was born to Nicholas and Alexandra. The Tsar and Tsarina, along with a nation, rejoiced at the news of an heir to the Russian monarchy. The visually stunning Tsesarevich Easter Egg is formed from a distinctive semi-precious stone that has been mined for thousands of years – lapis lazuli. Do you notice the golden sparkles that seem to shimmer like stars against a midnight sky? Those aren't flecks of gold, they are actually iron pyrites.
It took three years to design and complete this Easter gift. Although it appears to have been carved from one solid block of lapis, it is an illusion achieved by the House of Faberge through the use of gold motifs that cover each joint. Six wedge-shaped segments of the ultra-marine blue stone were cut to form the body of the shell, and six more for the lid. The Rococo-style gold work used to cleverly disguise those seams consists of two centrally-located double-headed eagles, which are surrounded by an embellishment of winged figures, floral scrolls, flower baskets, and flowing garlands.
At the base is a large solitaire diamond. On the top, look carefully under the flat cut diamond, and you will see Alexandra's initials, along with engravings of the Imperial crown and the year 1912.
In keeping with the interior surprise motif that the Russian royals had come to expect from Faberge's Imperial Easter eggs, a magnificent platinum and diamond-studded picture frame lifts out to reveal a unique portrait, which can be viewed from both the front and the back. The 3½ inch watercolor painting is nestled in the center of the Imperial emblem of a double- headed eagle with its wings spread wide, and depicts the young Tsarevich dressed in a sailor suit.
Alexei was a fun-loving and bright youngster who was prone to bouts of stubbornness and ill-temper. However Nicholas and Alexandra found it difficult to discipline their little boy, perhaps out of guilt over the life-threatening disease he had inherited from his mother. Alexei's hemophilia – a genetic mutation which prevents the blood from clotting – could be traced back to her grandmother, Queen Victoria.
Despite all of the precautions his family took to prevent him from being injured, Alexei was fated by history to die at the hands of Russian revolutionaries on July 16, 1918. The former Tsarevich was shot, along with his four sisters, parents, and four servants, only two weeks before his fourteenth birthday.
118: Imperial Rock Crystal Egg
In March 1896, the Imperial Rock Crystal Egg was Nicholas's Easter present to Alexandra, just two months before the coronation ceremonies that would make the young, newly married couple the Tsar and Tsarina of all Russia.
The two halves of the shell are carved from blocks of pure crystal quartz. They enclose miniature paintings of twelve royal residences that held special memories for Nicholas and Alexandra. Fabergé's use of this clear, semiprecious native stone to create such a daring design may have been somewhat prophetic, because the Tsar and his wife were certainly going to be on display for the entire world to see.
Ten inches high, the egg stands on a tiered, rock crystal base and gold pedestal embellished with carved out designs filled with brightly colored opaque enamels. A closer look reveals how they cleverly form the royal monograms Alexandra used before and after she became Empress. She kept it in her study at the Winter Palace, which today, is home to the Hermitage Museum.
Fabergé's philosophy was that "the value of the object must be judged by its design & craftsmanship and not by the intrinsic worth of its ingredients." Work master Mikhail Perkhin joined the two halves of the egg together with a tasteful band of green enamel with rose cut diamonds. However, when drama was appropriate, it was embraced. A stunning example is the polished 27-carat Siberian emerald used as the finial atop a fluted gold shaft that pierces the center of the egg.
Pushing the gemstone controls a small attached hook that moves and arranges the gold-framed watercolors like the pages of an open book. If you are wondering why England's Windsor and Balmoral Castles are included, they were home to Alexandra's grandmother, Queen Victoria.
In 1896, twenty-eight year old Nicholas was inheriting a nation undergoing immense change. His lack of experience and lack of interest in politics would be his downfall. In 1917, the Rock Crystal Egg was seized after the revolution, and moved, along with forty other eggs, to the Kremlin in Moscow. In 1930 it was sold to the Hammer Galleries in New York to raise money for Stalin's new government. And in 1945, the Rock Crystal Egg became the last of five Imperial Eggs that Lillian Thomas Pratt would purchase.
119: Zarnitsa Sailor Figurine
As popular as his Imperial egg creations were to the Russian royals, Fabergé's miniature hardstone carvings were also highly prized and sought after by collectors around the world. In his quest for new themes, Fabergé turned to Russia's immense mineral wealth and its vast supply of indigenous semi-precious stones. Their wide range of beautiful colors and striations were brilliantly combined and fashioned into one-of-a-kind figurines of people, animals and flowers.
The Zarnitsa sailor, carved in 1913, is one of only fifty known human statuettes produced by the House of Fabergé. A little more than 4 ½ inches tall and carved out of white agate and flesh-tone aventurine, the sailor represents a bit of royal scandal from turn-of-the-century Russia. The Cyrillic engraving on the lapis lazuli brim of his sailor's cap translates to the name of a luxury steam yacht – the Zarnista – a ship launched in 1891 and owned by two of Tsar Nicholas's brothers. One of them, Grand Duke Mikhail, used it as a trysting place with his married girlfriend, with whom he had an illegitimate child, and would eventually marry, much to the dismay of the royal family.
Like any good sailor, this hardstone figurine is well traveled. Carved in St. Petersburg, sales ledgers indicate it was sold at Fabergé's London store in 1913 to a "Mme. Brassow," who purchased him for fifty-three pounds. Voyaging the next year back to St. Petersburg with his new owners, the sailor did not surface again until 1937 during a Fabergé exhibition in New York City. No records exist of how the sailor came into the possession of businessman and art collector Armand Hammer. Perhaps it traveled with of one of the 1.5 million Russian refugees who fled the country after the revolution.
Even though Hammer was her competitor in the collection of Fabergé's work, Lillian Thomas Pratt apparently found his gallery's marketing materials irresistible. The description of the diminutive sailor, clad in the Russian Navy's traditional summer uniform, read: "Standing solidly on his two feet of black onyx slightly spread apart . . [he] is dressed in a spotless, freshly laundered suit of milky white jade. His piercing blue eyes, each set with a cabochon sapphire, sparkle with loyalty and sincerity."
Today, thanks to the passion of Mrs. Pratt's dream, the Fabergé sailor stands at the Virginia Museum of Fine Arts, in silent loyalty to a monarchy that left its mark on world history.
120: Imperial Lilies of the Valley Basket
The Imperial Lilies-of-the-Valley Basket of 1896 was Tsarina Alexandra's favorite Fabergé object. The multiple floral composition features a delicate array of her favorite flowers arranged in an extraordinarily lifelike presentation.
Workmaster August Holmström of Fabergé's St. Petersburg workshop reproduced the tiny blossoms, which hang from gold stems, using pearls edged with silver and rose-cut diamonds. The broad leaves at the base of the flower sprays are expertly carved from thin slices of nephrite jade, making them almost translucent. The shimmering basket is fashioned from woven yellow gold, while the soft carpet of "moss" from which the flowers grow, is actually yellow and green gold that has been spun, fused, and clipped.
Today, the Lilies of the Valley Basket is considered one of Fabergé's most stunning and magical creations.
Through two decades of Russian winters this basket, with its enduring promise of spring, sat on Tsarina Alexandra Feodorovna's writing desk until the Revolution in 1917. When the end came for the Tsar and his family, it also came for the House of Fabergé. For thirty years, Fabergé had been witness to the splendor and cosmopolitan culture of the Tsarist court. He designed over 150,000 exquisite and innovative objects of luxury – where no two were alike, and he had elevated jewelry craftsmanship to an unparalleled level of excellence. But when Carl Fabergé handed over the keys of his shop to Bolshevik revolutionaries, he left with nothing more than his coat and hat. The master jeweler fled with his life and died as a refugee in
Switzerland in 1920. Fortunately for all of us, it is because of the vision, passion, and dedication of collectors like Lillian Thomas Pratt, that Fabergé's legacy will live on.

We hope you enjoyed this special audio program produced by Audio Landscapes. Fabergé Revealed is presented at VMFA with additional support from the Julia Louise Reynolds Fund and the Lettie Pate Whitehead Evans Exhibition Endowment. Remember to please return your audio wand to the station located near the exhibition exit. After doing so, we invite you to explore the rest of the museum and hope that you'll return to visit us throughout the year. Thank you for spending some time with us today.