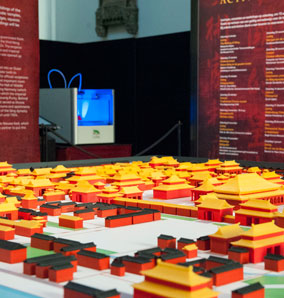 Recently, in the VMFA Design Department, we've had the challenge of printing two 3D, scale models of the Forbidden City, totaling over 1,400 buildings. One model will be complete for the exhibition opening and the second is being built in the Atrium, starting now and continuing through the run of Forbidden City (closing January 11), so visitors can watch.
When Leapfrog, an Amsterdam company who donated six new printers to us in June, it was akin to being a first-time parent. We didn't really know where to begin. I will fast forward through many of the obstacle stories to the beginning of August when, with our deadline in plain sight, we were frighteningly behind in printing the 700 buildings that make up just one model. We found that each of the printers, affectionately named after the Brady Bunch kids, had its own idiosyncrasies. Greg and Peter didn't like to print columns, Marsha preferred smaller buildings, and we had to take Cindy offline. Thankfully, Jan and Bobby were dependable with any print. Managing the printers was a job unto itself and we had all hands on deck building the exhibition. We needed help quick!
Enter our two volunteer heroes: Jamie Massey, a junior at James River High School, and Colleen Gregory, a senior at St. Catherine's School. Coming on board for three weeks to monitor and keep things moving along, Jamie and Colleen turned out to be much more valuable than we ever expected!
The students were quick learners and adeptly picked up the task of first-response troubleshooting. Although both were incredibly committed to helping us build our show, we used Jamie's help the most as he was here eight hours a day, three days a week. A steady supply of Starbursts, Skittles, and Krispy Kreme donuts kept him nourished to take his troubleshooting to another level. In the end, he was able to exponentially increase our efficiency in production, take us through step-by-step procedures, and most importantly, provide me with some peace of mind.
With less than three weeks to print another 230 buildings, I am confident we will make our goal. And I have Jamie and Colleen to thank for that confidence. In fact, I have to credit them with saving this part of the exhibition. These two give new meaning to"volunteering."
The 3D printer project represents VMFA's new crowdfunding campaign inviting everyone to help to build the Forbidden City.
—Courtney Freeman, Assistant Production Coordinator