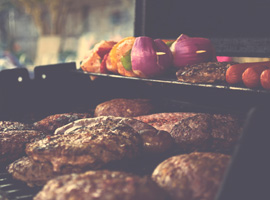 When you think of Amuse, VMFA's fine dining restaurant, you probably think upscale, deliciously prepared gourmet meals that you have to use a fork and knife (in fact, a couple forks and knives) to eat! While we're sure you love the magic chef Greg Haley works with the food here, most of you would probably enjoy more casual, relaxed fare, every once in a while, and the opportunity to roll up your sleeves to eat it!
Lest we be accused of being food snobs, Amuse is taking our flair for the delicious—and aesthetically pleasing—and giving it a more casual twist at our first-ever Cook-In on Saturday, July 26, from 5 – 8 pm. "Our hope is that this more laid-back menu will bring people who have never tried Amuse into the restaurant  . . .  and into the museum," explains Chef Haley. "Not to mention, it lets me and my staff break out of our box a bit. Diversity in the creative process is always a good thing!"
And diverse it will be. For starters, enjoy pimento cheese-deviled eggs (it makes your mouth water just reading the words, doesn't it?). The main event includes house-made hot dogs, including the Chicago dog with dill pickle spear, tomato, and Serrano peppers on a steamed poppy seed bun and a French fry-coated corn dog (the marriage of two old- favorite festival foods), as well as an equally uncommon cheeseburger served with bacon jam. See our menu for the full spread.
For dessert, you'll find a variety of choices including popsicles for the over-21 crowd. Beverages include most of what you'd find iced down in your cooler at home and some Hardywood favorites. We'll even have someone from the brewery here talking beer.