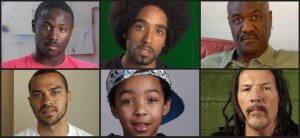 When I first saw Question Bridge Black Males, I was shocked by the raw and unapologetic nature of the film. There are no special effects, no music, no over-the-top dramatic storytelling — it's just real. The viewer is forced to confront the multifaceted realities of being a black male without any sugarcoating.  Rarely are there opportunities to have such open forums, where people are free to be honest, and political correctness is an afterthought.
Style Weekly reporter Craig Belcher in his recent interview with Question Bridge director, Chris Johnson, comments on the uncommon environment the film creates: "Beyond the sanctity of the neighborhood barbershop, there aren't many places black men hold open and truthful discussions. But even in this hallowed space, some issues can't be thoroughly discussed in the time it takes to get a haircut or a beard trimmed."  Check out Craig's full interview with Chris Johnson here.
See Question Bridge: Black Males at VMFA tomorrow, July 25, at 6:30 pm. Chris Johnson and Virginia filmmaker Tim Reid will lead a dynamic discussion after the film. Buy your tickets here.
About the Film: Question Bridge: Black Males is a landmark video project that critically explores challenging issues within the black male community by instigating a trans media conversation among black men across the geographic, economic, generational, educational and social strata of American society. Question Bridge uses a video-mediated question-and-answer exchange to provide a safe setting for necessary, honest expression and healing dialogue on themes that divide, unite, and concern black males in the United States.
Darrian P. Mack – Director of Audience Development at VMFA