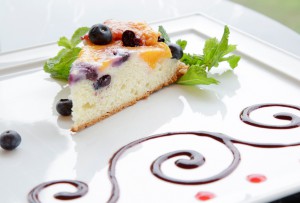 My husband and I took our eleven year old granddaughter to Paris this past summer.  When asked what she wanted to see, she quickly responded– the Eiffel Tower.  We couldn't argue with that.  Who doesn't like the Eiffel Tower?  Loving French cuisine, we next focused on lunch.  A friend recommended the Jules Verne restaurant, located on the second level of the Eiffel Tower.  It is truly an elegant restaurant operated by the renowned French master chef Alain Ducasse.  Before I go any further, let me say we had no clue what delights lay in store for us.  Every course was beyond delicious and prepared to perfection.  We savored every mouthful and were awestruck by the beautiful presentation of every dish.  From appetizer to dessert, each plate was adorned with petals, flowers, and sprigs of herbs, in a tantalizing range of colors.  Sadly, every morsel was devoured way too quickly by three hungry tourists!
Fortunately, my granddaughter took pictures of everything the tuxedo-clad waiters brought to our table.  When we returned home and started looking over the photos, I felt my excitement level rising. The photos rekindled all of our wonderful mouthwatering memories.  I also couldn't help but compare this dining experience to the newest Fine Arts & Flowers event, Edible Flowers.  Our Paris lunch perfectly captured the vision of our committee – delicious food prepared by a famous chef, artfully garnished and infused with edible flowers, and held in an exceptional venue with a spectacular view!
Greg Haley, Chef de Cuisine for Amuse restaurant at VMFA, will demonstrate the preparation of a variety of creative dishes highlighting edible flowers as visual and tasteful culinary accents.  Guests will be served samplings of these beautiful creations in the bright and cheery Claiborne Robertson Room which overlooks the Robins Sculpture Garden and the Water Staircase.  Samplings will include: seared scallops with hibiscus syrup; apple risotto fritters with lavender honey; goat cheese, crab and chive-stuffed squash blossoms; and chocolate rose truffles.
Don't wait too long to reserve a spot at the table for this premier event that will tantalize your senses.  These Edible Flower tickets are selling fast ($35).  Join us on Thursday, October 25 at 3 P.M to sip wine and floral teas while sampling an array of Chef Haley's culinary creations.  It won't be the Eiffel Tower – it will be better!
Sherrill Smith, The Council of VMFA