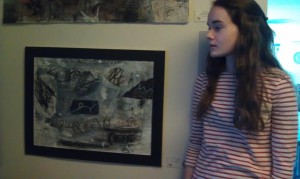 Anna Laughter is a rising 10th grader at Douglas Freeman HS in Henrico County. Last year as a freshman she took Art I under the instruction of Erin Murtagh. Her teacher submitted one of Anna's drawings into The Scholastic Art and Writing Awards 2012 contest. Her drawing has received a number of awards and distinctions over the course of 2012.In early 2012 Anna's drawing was awarded a Gold Key Regional Award and was on display in February and March at VMFA.Next, Anna received yet a second packet from The Alliance for Young Artists and Writers, the organization that sponsors The Scholarship Art and Writing Awards. This packet included TWO congratulation letters stating that her work had now received Gold Medal recognition on the National Award level and also that she was chosen to receive a Best In Grade (BIG) Award. This BIG Award is presented to two artists and two writers in each grade; she was one of two ninth graders in the country to receive a B.I.G. Award for her artwork. This award included a $500 scholarship.
Statistics from her B.I.G. award letter:
•200,000 works of art and writing were initially submitted in all categories
•7,123 of these were submissions of art from students in Grade 9
•434 of these artworks earned Gold Keys, qualifying them for national judging
•14 of these artworks earned Gold Medals, qualifying them for B.I.G consideration
•2 artworks, including Anna's, earned the B.I.G Award for Grade 9
Anna's drawing was part of the 2012 National ART.WRITE.NOW NYC Exhibition, showcasing National Gold Medalist work. It was on display in New York City in June 2012 coinciding with the national celebration at Carnegie Hall on June 1, 2012.
Most recently, Anna received yet another letter from The Alliance stating that her drawing has been chosen as a part of a select group of works to go on tour to several art museums around the nation as part of the ART.WRITE.NOW.TOUR 12-13. November 16, 2012 through Dec 30, 2012 Anna's piece will be on display at the Virginia Museum of Contemporary Art in Virginia Beach.