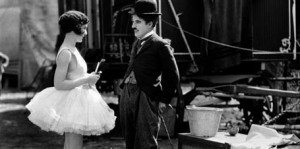 If there is one iconic image that signifies "Cinema" it is Charlie Chaplin in his Little Tramp costume shuffling down the road into the sunset. It is a form that has taken on logo status as an all-telling symbol of motion pictures. This figure, spanning many generations, means MOVIES.
As the first international super star of filmdom, Chaplin's contributions to the art of cinema were incalculable. Never heavy on obtrusive visual style, his compositions were functional in capturing his expressive face, amazing athleticism, and skills with props. Chaplin understood the intimacy of the camera lens and used it to figuratively put his arm around the viewers and bring them warmly in to the comic-tragic world of the noble Tramp.
This Friday, VMFA will be screening The Circus from 1928. It is Chaplin's most underrated classic. And it is the Chaplin film that plays the most with his trademark tension between melancholy and ebullience. It is the movie into which he as artist reflexively poured his soul out onto the canvas, exposed vulnerability, self-doubts, and examined his professional and personal challenges. To note, silent movies were fast being replaced by the "talkies" as The Circus was being made and Chaplin firmly believed that cinema, a visual medium, was meant for pantomime. Despite all this, The Circus contains many of Chaplin's best and strongest comic sequences. And through it all, the Tramp maintains nobility and vigilance.
Enjoy it at VMFA's Leslie Cheek Theater Friday, 6:30PM, $7 / $5 for members.