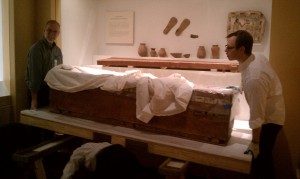 The art handlers and exhibit designer were slightly disturbed by my seemingly morbid interest as I pestered them week after week asking: "So, when's the mummy going to be installed?!"
I can't help it… my interest in mummies stretches as far back as I can remember. Children seem to be so fascinated by mummies, but my fascination has continued on into adulthood.
In 2009, I was awarded the Maha Shawky Whitfield Research Grant in Egyptian Art from VCU which allowed me to travel to 7 different countries in Europe, visit over 20 museums where I met with various curators, and studied the ways in which these museums displayed their Ancient Egyptian collections. Through some of these interviews with the curators, I realized a major issue they must deal with when deciding on how to display Egyptian art is what to do about the mummies. It is a difficult issue since mummies are a most attractive feature in a gallery (especially to kids) but are also remains of human beings who once treaded this earth just as we do today.
Once back in the States, I interned with Peter Schertz, VMFA's Ancient Art Curator, and helped write some of the labels for the soon-to-be reinstalled Egyptian galleries. My favorite label, of course, was the one about mummification!
I also discussed with him at length the ways that European museums displayed their mummies and was happy to learn about Peter's vision for the reinstallation of VMFA's mummy, Tjeby.
In order for visitors not to be confronted by the mummy right away, Peter decided to dedicate an entire corner of the gallery to the mummy and mummification related materials that would be somewhat closed off from the rest of the space. This means visitors have the choice of whether or not they want to view the mummy in the first place. The lighting in Tjeby's case is much darker than anywhere else in the gallery and only brightens up when the motion sensors detect a visitor's presence as he/she approaches the case. This is a great way to make the visitor aware of the space he/she is entering and to accentuate the fact that within the display lies the mummified remains of Tjeby, a human being, just like us. A being who should remain respected, just as we would respect any tomb in today's cemeteries.
How exciting it was to be able to watch the installation of this case with my own two eyes! Having seen so many mummy cases throughout Europe already installed, it was quite a treat to watch the installation in progress. It was a rather complicated affair – precise measurements had been made so that the coffin would fit in just right. The superb team of VMFA art handlers skillfully, and patiently, lifted Tjeby's coffin up into the case and scooted it around (but carefully!) until he was positioned perfectly. They removed the little packs that were helping to absorb moisture – and soon the room was filled with the oh-so interesting smell of this 4,000 year old mummy!
Along my travels in Europe, one curator in particular, at the Rijksmuseum van Oudheden in Leiden, mentioned that the Egyptians had a prayer that went something like this: "If you pronounce my name, I will live forever." While much debate surrounds the display of mummies, I feel that as long as the mummy is in the proper coffin he/she was buried in (as is Tjeby), and as long as the mummy's name is clearly displayed next to the case, then we are fulfilling the Egyptians' wishes. Just think! Thousands of museum visitors, of all shapes and sizes, will visit this gallery and as they gaze in wonder at this mummy, will pronounce Tjeby's name and satisfy his request to live forever!
–Jessica Ferey, Administrative Assistant, Curatorial and Exhibtions