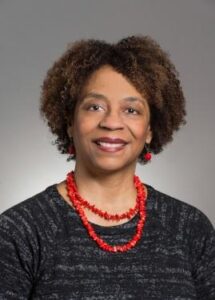 As a Black woman who was raised in New England, Paula Saylor-Robinson, VMFA's Director of Audience Development and Community Engagement, has viewed the South, especially the Deep South, through the experiences of her South Carolina–born parents, who moved north for more opportunities. This past March she reconsidered her long-held assumptions of the southern region of the country when she traveled to Georgia and Alabama for "Turning Points on the Civil Rights Trail," a seven-day trip organized by VMFA Member Travel. 
Saylor-Robinson accompanied 16 museum members and Valerie Cassel Oliver, VMFA's Sydney and Frances Lewis Family Curator for Modern and Contemporary Art. Here she shares her personal reflections of the visited sites and the lives represented along the trail.
---
In Atlanta, Georgia, we visited the Vine City neighborhood that was home to some of America's first Black millionaires during the early 1900s. Herndon Home, built by a man who was born into slavery and went on to found the Atlanta Life Insurance Company, is a stunning Greek Revival mansion and now a National Landmark that operates as a museum, though it's been closed during the pandemic. The Sweet Auburn neighborhood is Martin Luther King Jr.'s birthplace and home to his father's church.
The area is now a gathering place for social justice groups and a center for Black-owned businesses, yet even this vibrant neighborhood was adversely impacted in the 1950s and '60s when Interstate 75/85 was built and divided the community, just as I-95 did to Richmond's Jackson Ward. 
Then onto Alabama. The events that took place during the civil rights movement are central to the state's tourism efforts. It's ironic that the movement, which was greeted with violence and bloodshed then, is now the subject of large revenue generators for the same state that refused to recognize Black people's rights 60 years ago.
At Tuskegee, we visited a museum dedicated to the famous airmen and then went to the university where knowledgeable guides shared personal details about the lives of two historically prominent figures: scientist/inventor George Washington Carver and educator Booker T. Washington.
In Montgomery, we toured the Legacy Museum and the National Memorial for Peace and Justice, two moving and powerful places that explore and contextualize the Black experience in America.  The museums' displays show the systematic impact and foundational damage created by slavery. The National Memorial for Peace and Justice is stunningly beautiful, though its serene green rolling lawns are a jarring contrast to hanging steel blocks that represent people who were tortured and lynched. 
In Selma, we walked across the Edmund Pettus Bridge, where Bloody Sunday occurred on March 7, 1965. As I walked across the bridge, my thoughts turned to the cherished memory I have of meeting civil rights hero John Lewis in 2019: There I was, walking where he bravely marched on that historic day.
Then we traveled about 40 miles south of Selma to see the famous Gee's Bend quilters at work and were treated to impromptu acapella renditions of gospel songs. Efforts by the Souls Grown Deep Foundation to include the quilts in collections at American museums, including VMFA, have increased demand and prices for these beautiful objects. 
In Birmingham, we visited the 16th Street Baptist Church, where four young girls were killed when white supremacists bombed the building on a Sunday in September 1963. During a presentation arranged for our group, a woman who was at the church that day talked about how, before leaving her friends to go to the other side of the building, she tied the bow on the dress of one of the girls who, moments later, was killed in the blast. To this day, she still struggles with traumatic memories and survivor's guilt from that terrible day. 
Birmingham's Dynamite Hill is a middle-class Black neighborhood that got its name from the bombs that exploded there in an effort to intimidate and drive out Black people who were moving in during the 1950s. Angela Davis grew up in that neighborhood, and as we passed her house, I remembered how the media had portrayed her as a dangerous criminal. This trip reminded me, again, that she was a well-educated middle-class girl who went to Brandeis University, studied at universities in Europe, and earned advanced degrees. In reaction to the segregation and racial violence she saw around her when she
was young—she also knew the girls murdered at 16th Street Baptist Church—she adopted far-left leanings and led Communist Party USA in the '60s and later was a professor at the University of California Santa Cruz. I had the opportunity to meet her when she came to Richmond in 2017 to speak at the Afrikana Film Festival's "Evening with an Icon" event hosted by VMFA. 
That meeting and this trip confirmed what I have long believed—that people are multifaceted, and there is more than one side to every story.
We also visited the High Museum in Atlanta and the Birmingham Museum of Art. Having a curator with us as highly regarded as my VMFA colleague Valerie Cassel Oliver opened doors and enabled us to have engaging, fruitful conversations with the curators we met. It was truly a one-of-a-kind experience that was thoughtfully planned by Hutch Livingston and the VMFA Member Travel team.