As your eyes are riveted to the dark canvas above you this weekend, do you find those bursts and trails of color and light to be art? They can't be placed under glass or displayed in a gallery or garden. They can't even be enjoyed beyond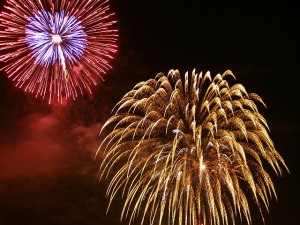 the moment they occur. For those reasons (and probably many others), some might argue that fireworks are merely a scientific reaction: essentially what you get when you combine black powder, shells, and star pellets with some fire. However, there's certainly no disputing the pure artistry of a good fireworks show.
Even the website Science.HowStuffWorks.com, after it details the science behind these pyrotechnics, delves into the design, and even describes it in artistic terms.
"The pattern that an aerial shell paints in the sky depends on the arrangement of star pellets inside the shell. For example, if the pellets are equally spaced in a circle, with black powder inside the circle, you will see an aerial display of smaller star explosions equally spaced in a circle."
Six generations of the Grucci family, who have created fireworks displays for seven consecutive Presidential inaugurations, three Olympic Games, and Richmond's own show at Brown's Island on July 5 this year, describe their work as an "art."
And then there's Cai Guo-Qiang. Creating the worldwide televised "fireworks sculpture" for the opening of the Beijing Olympics in 2008, Cai's art was seen by more people simultaneously (one billion to be exact) than any other work of art. "The explosion event consisted of a series of 29 giant footprint fireworks, one for each Olympiad, over the Beijing skyline, leading to the National Olympic Stadium. The 29 footprints were fired in succession, traveling a total distance of 15 kilometers, or 9.3 miles, within a period of 63 seconds," explains the pyrotechnics artist.
Whether you believe fireworks to be art or science, masterpiece or just a lot of flash and boom, allow the magic of the brightly painted sky to hold you spellbound tonight and perhaps let the "oohs" and "aahs" you hear around you be the judge!
Image: Fireworks by Amani Hasan  CC license: 2.0