Reprinted from the WUDPAC (Winterthur) Class of 2016 blog with permission from Lauren Gottschlich.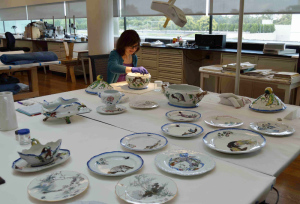 The summer work projects are in full swing. This summer I am at the Virginia Museum of Fine Arts (VMFA) in Richmond, VA.  The museum sports a wonderful encyclopedic collection as well as a picturesque Sculpture Garden.  The art covers cultures and moments in history from ancient civilizations to the present.  Fascinating objects within the collection include shagreen- (shark or ray skin) covered art deco chairs, an Andy Warhol triple portrait of Elvis, the world-famous Fabergé eggs, Egyptian animal mummies, Mimbres pottery, Japanese folding screens, and much more!  It is truly a great place to visit.  While I had visited the museum prior to starting the internship I had not explored the collection in its entirety, and as expected, some of the new galleries and others I had not seen before were fantastic.  I particularly enjoy the African Art Galleries.
My main focus while in Richmond is my summer internship. I am working in the Objects Conservation Lab under the supervision of Kathy Gillis and Sheila Payaqui, both WUDPAC (Winterthur/University of Delaware Program in Art Conservation) graduates!  My projects have focused on inorganic materials. Recently, I was able to work with a local sculpture conservator and co-worker on the maintenance of the outdoor sculptures in the garden. It was my first time working on such monumentally sized objects. When you get to work so close to the sculpture you gain an appreciation of the technique that went into the work's manufacture. The treatment was incredibly satisfying and fun.
One of my large projects has been the survey and treatment of several ceramic services for the upcoming exhibition Félix Bracquemond:  Impressionist Etcher. Designed by Félix Bracquemond (1833 – 1914), the dishware reflects the "discovery" of Japanese art that swept through France and Europe in the late 1800s. Bracquemond brought Japan to Europe through his Japanese designs based upon and influenced by Hokusai's art. The dishes reflect both Western and Eastern design elements. My favorite of the services that I am working on is Service Rousseau. The plates and tureens are decorated with motifs of birds, insects, flowers, and fish in bright colors. My main objective for the treatment of these ceramics is to prepare them for exhibit and storage. This includes surface cleaning, filling losses, and stabilizing cracks. As Bracquemond's ceramics are new acquisitions, this will be the first time that they will be on view in the VMFA. The ceramics will be on exhibit from February 13, 2015 to October 4, 2015. So if you happen to be in Richmond, stop by the museum and take a look!
Image: Lauren Gottschlich surface cleaning a tureen from Service Rousseau. (Photograph courtesy of Sheila Payaqui and Jennifer Bridges)