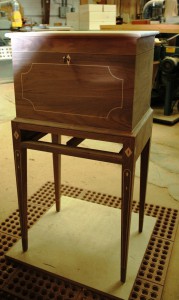 Over the past fifteen years, I've had the wonderful experience of getting to know the museum's collections. Each time I visit the galleries or storage looking for the next product idea, I'm always amazed by the wonderful works of art that Virginians have available to them.
For some time, I've been in search of a partner to reproduce furniture from the museum's collections. Then, I decided to stop in Owen Suter's hand-crafted, fine-furniture store to inquire if they might be interested. Fortunately for VMFA, Debbie Suter was delighted to discuss the project. Happily that led to a series of meetings with Debbie and Owen, a tour of the VMFA furniture collection, a licensing agreement and furniture selections available when the new museum shop opens on May 1.
After the initial selections, Owen and John Robinson came to the museum to painstakingly measure each piece of furniture: two small tables, one cellaret, a three drawer chest, and a chest on chest. Once the first piece was ready to be unveiled, the Suters called to see if I would stop by to see if they were headed in the right direction. I cannot tell you how excited I was to see the first piece. It was beautiful and I knew that VMFA had found the right partner. That day, Owen allowed me to visit the carpentry shop on West Broad Street in Richmond. It was wonderful to see that fine craftsmanship is still alive and well in Virginia.
After seeing this first piece, it was time to share the furniture with our curators for their review. Susie Rawles and Mitchell Merling obliged and both were pleased. It is clear that Owen and his staff have taken great pride in making the pieces that will be available for order in our shop and theirs. Today, it is a luxury to partner with a Virginia company for reproductions inspired by furniture in the VMFA collection. I invite you to stop by Owen Suter or VMFA and share our excitement.
– Sara Johnson-Ward, VMFA Product Development