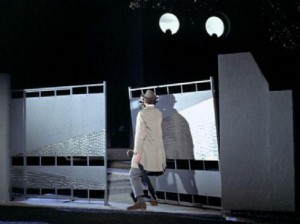 Friday Films is presenting yet another movie milestone this week at 6:30. Winner of a Best Foreign Language Film Oscar, Jacques Tati's Mon Oncle (1958) will screen in VMFA's grand Leslie Cheek Theater. Tati's reputation as a darling of world art house cinema pretty much rests on his career output of 5 precious feature films (and a few smaller projects) thus VMFA is showing 1/5 of his oeuvre.
Modernism was sweeping mainstream design and thought by the 1950s. With Mon Oncle, Tati leapt into the vanguard of a seminal postmodern backlash against a perceived Modernist hegemony, and this was over two decades before Tom Wolfe's popular tract, From Bauhaus to Our House (1981).
In his two most ambitious cinematic masterpieces, Mon Oncle and Playtime (1967), Tati launched salvos at the rising Modern movement. His recurring character, the soft spoken and gently deferential Mr. Hulot, personifies the old way of quirky charm that flies in the face of a Paris being overrun by a cold Modernist rationalism and logic. He paints Modernism as a syndrome of obsession with counterintuitive behavior that ultimately is anti-humanistic, anti-ergonomic, and downright anti-pleasure.
Tati is not given to vile bitterness and tends to make whimsical fun out of society's perverse Modernist impulses in the tradition of Charles Chaplin's Modern Times (1936). And, like the Chaplin movie, Mon Oncle is, at least in-part, a silent film with clever sound effects and a feast for the eyes.
Do come see Tati's warm and at the same time edgy take on the mid-20th century's runaway age of reason.
—H. Hobart Cornell, Critic-at-large