Just days after South African artist Esther Mahlangu, 78, began her month-long residency at the Virginia Museum of Fine Arts, two of Richmond's established street artists – Mickael Broth and Andre Shank [a.k.a. Bombproof or Bmbprf] paid a visit to her work.
Mahlangu, the most renowned artist of South Africa's Ndebele people, has taken the art of mural painting from a tradition of designs painted on the exterior of rural homes and evolved it for projects created in a global, contemporary art context. Not surprisingly, her work holds appeal for street artists. Read what Mickael and Andre had to say about Mahlangu's tools, her line, her work and what can be learned from her example.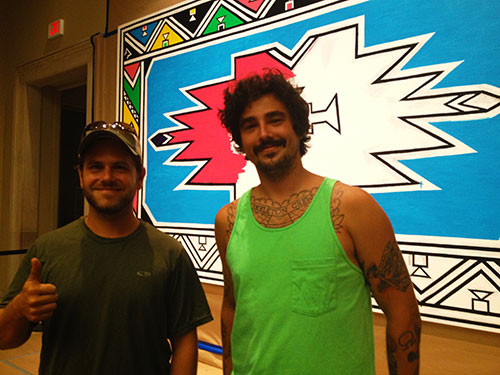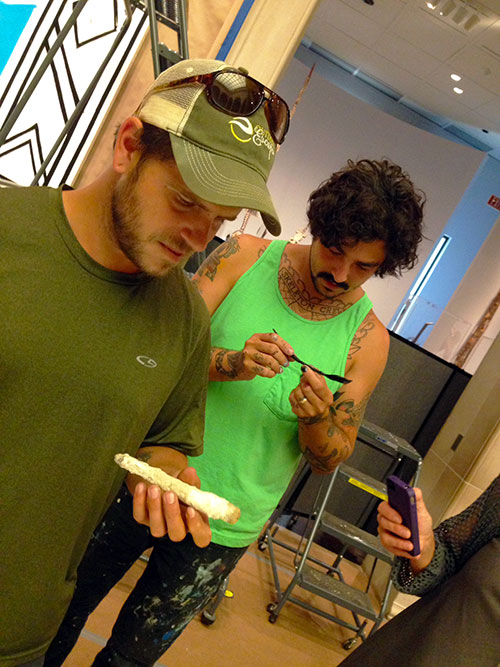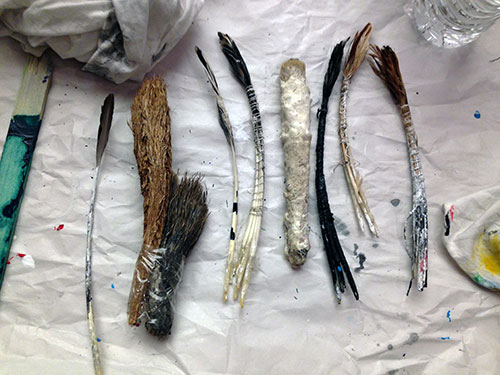 On her tools
The two were fascinated by Mahlangu's tools. Her traditional paintbrushes lay beside delicate brushes made from chicken feathers and sturdier brushes composed of plant materials.
Mickael: "Those [brushes] are awesome. I have such a lack of respect for my own brushes that to see something that's hand crafted and from truly natural materials is awesome. El Kamino has been involved in the last two street art festivals. He does sign painting in New York, primarily, and he is just a craftsperson.  He can tell you which brush to use and why the brush you are using is wrong. That's sort of the level of appreciation for materials I see here [in Mahlangu's brushes], and it's always impressive.
"That thick nub brush that she's using almost looks like a paint pen – a thick paint marker that you would use in graffiti to get that really bold, clean line style. The making of graffiti tools has become an art in itself, and that nub brush she uses is very similar to a common tool made from a shoe polish dauber that's referred to as a 'mop' – a solid, rounded point that has a reservoir of paint that's released when you apply pressure."
Andre: "That is a great lining brush! See how stiff it is? When you press down, it's not going to splay out, so you can apply a lot of pressure and still get the same thickness of line."
On her line
Andre: "It looks very Southwestern, Native American. She says, 'The ruler is in your mind,' but she's also not afraid to be slightly off. Even though she does have predominantly very straight and parallel lines, they aren't perfect. You get the honesty from it where you can tell somebody freehanded those lines as opposed to taking a straight edge or what have you. She's painting naturally, not mathematically. She doesn't force it to be absolutely perfect. She has a line there where it's 'good enough.' I always find interesting to be able to find see the mistake – the human error."
Mickael: "Yes, if you want it perfectly straight, have a computer do it. Her line work is bold, vibrant… it has a Keith Haring illustrative quality."
On her work
Mickael: "This has, to me, far more appeal or visual impact than anything in [the adjoining Tapestry Hall]. But my appreciation of this [work] is the knowledge of who did it. This appears to me to be very much connected to her culture, her heritage. That's honestly something that I find myself almost jealous of in a lot of other's people's work, when they have a connection to their past and where they are from. This is honest. It comes from a cultural place or from something inside of her. That's one of the reasons why I like [self-taught] Andre's work so much is because it feels so much more honest than a lot of people's work I've seen or people I went to [art] school with. With Andre, there's something in him trying to get out."
Andre: "It's a humongous splash of color. Even the previous rooms, what color it does have is real muted, there's nothing very bright. Even these [in Mahlangu's work] aren't tremendously bright colors, but it is real fresh and a lot brighter."
 On her age and her example
Mickael: "Painting murals is brutal [work]. The hardest part for me, physically, is getting up in the morning and feeling all the pain from the previous day and then going out to do it again. You get pain in your back, hip, legs, neck from climbing ladders and being in weird positions, bent over. I started wearing kneepads after doing one job where I couldn't walk for two days because I'd been on my knees the whole day. I can't imagine being 78 and still being able to do that."
Andre: "It's super inspiring. I hope I'm 78 one day, and it would be really cool if I could still paint. Her story is the fairy tale for anybody pursuing financial security by creating artwork – some no-name nobody from nowhere that was just doing it [creating art] because they loved doing it and then, all of a sudden, people decided that their work was special. For everyone who's trying to make a career out of it [making art], you've got to hope that happens to you. It's similar to the Basquiat story where there's some homeless kid doing graffiti and a year later [after being "discovered" and mentored by Andy Warhol], he's selling work for thousands of dollars.
"From the stand point of people like me and Mickael, you have to put yourself in the places in order to be there when hopefully that one day happens for you when you catch some sort of break. I asked [my mentor and collaborator] Matt Lively, 'What can I do to have a career like yours?' and he gave me the best advice: He said, 'Just show up.'  You can't get recognized if you haven't put yourself in a position to be recognized. If you know people are painting, show up, ask to help, clean their brushes, do their fill-in in the background, just be there. Then, if your opportunity does come, you're not sitting at home. Instead of waiting for someone to come to you, you put yourself in that situation."
If you wish to "just show up" and watch Esther and her granddaughter at work, you better "show up" soon! They are ahead of schedule and expected to complete their two mural-scale works this week. The works, each 9 x 15 feet, can be found in the museum's Evans Court, where they will become a gateway to the African art gallery. The finished work will be presented to patrons and the public in programs on October 8 and 9.
 – Wendy Martin, VMFA docent since 1992.  (In 2013, Wendy's home – one block from the museum – became the canvas for a collaborative mural by Matt Lively and Andre Shank.)