by Dr. Leo Mazow, VMFA's Louise B. and J. Harwood Cochrane Curator of American Art
On view at the Virginia Museum of Fine Arts through March 19, 2023, Storied Strings: The Guitar in American Art explores the guitar as visual subject, enduring symbol, and storyteller's companion. In the latest issue of VMFA magazine, Dr. Leo Mazow, the exhibition's curator, walks readers through Storied Strings—its narrative, themes, and immersive visitor experience. The text of that article is provided below and was first published in the full-color, award-winning magazine, to which subscription is a benefit of VMFA membership. Enjoy reading this exclusive content and get your exhibition tickets today.
---
Guitars are everywhere! Many of us own or know someone who owns one, and they are often considered a coveted possession—perhaps because the instrument is expensive, or old, or has been played and passed down through a family for generations. We see guitars in both popular and highbrow settings. Why pay attention to this phenomenon? Because an examination of guitar symbolism in American art contributes to a deeper understanding of stories and themes that remain current to the present day.
Storied Strings: The Guitar in American Art explores the guitar's symbolism in American art from the early 19th century to the present day. Composed of 125 works of art, the exhibition includes paintings, drawings, watercolors, photographs and sculptures by prominent American artists such as John Baldessari, Romare Bearden, Thomas Hart Benton, Elizabeth Catlett, William Merritt Chase, Thomas Eakins, William Eggleston, Robert Henri, Lonnie Holley, Frances Benjamin Johnston, William H. Johnson, Jacob Lawrence, Annie Leibovitz, Charles Willson Peale, Ruth Reeves and Julian Alden Weir.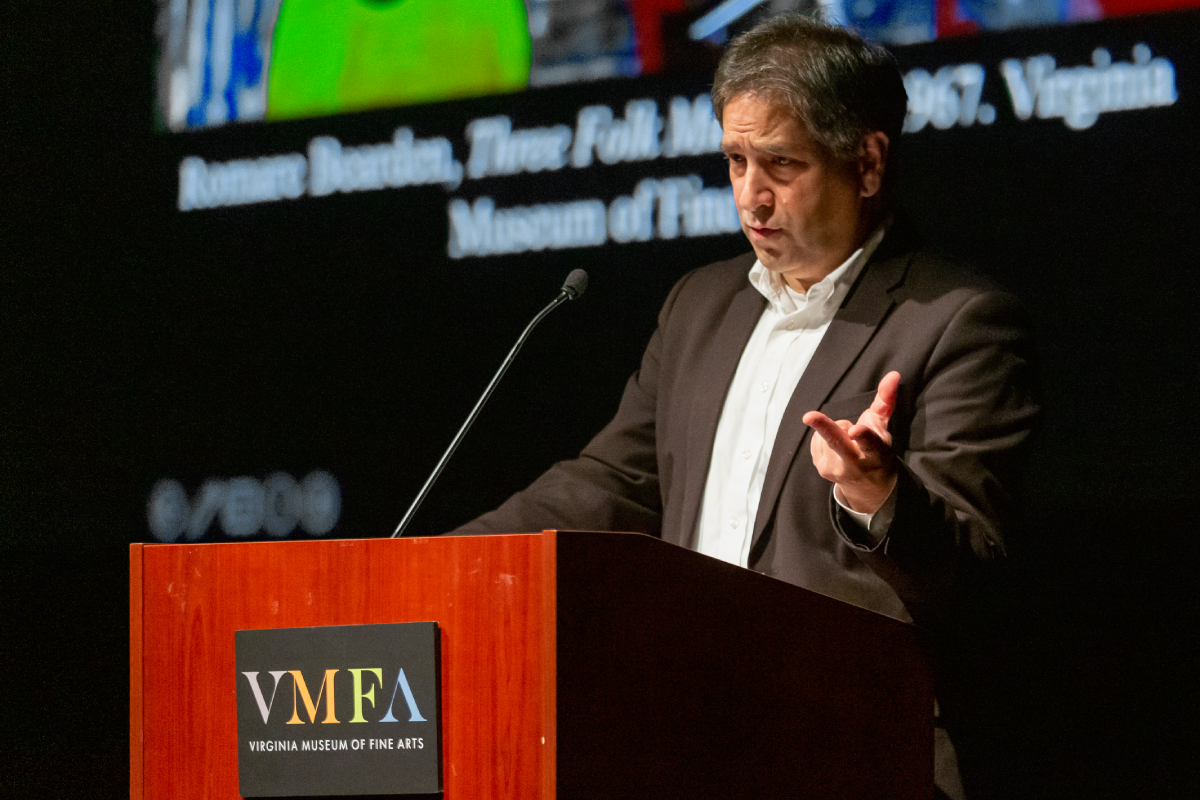 Dr. Leo Mazow at the opening talk for Storied Strings: The Guitar in American Art
Thirty-five guitars made by Fender, Gibson, Gretsch, and Martin are featured throughout the exhibition. These instruments were played by pioneering musicians such as Lulu Belle, Eric Clapton, John Lee Hooker, Freddie King, Les Paul, and Brian Setzer who helped develop the American sound.
Organized into 17 sections, Storied Strings explores disparate themes that are linked by the premise that the guitar, as a visual motif, has long enabled artists and their human subjects to address public and private histories and to tell stories that might otherwise go untold or under-told.
The exhibition begins with images of the earliest musical instruments we might recognize today as guitars. Several of these four-course and five-course instruments made their way to pre-Revolutionary America (courses are parallel sets or pairs of strings). Paintings by Charles Willson Peale and Matthew Pratt depict the wire-strung cittern (or English guittar) that was used in the 18th century.
The guitar flourished in 19th-century America alongside an emerging middle class with more disposable income for leisure and entertainment. Practicing the guitar became a popular and respectable hobby, especially for women. Julian Alden Weir's Idle Hours enlists the guitar to communicate a mood of psychological absorption. Pictured on a lush, pillow-covered divan are the artist's young daughter and his wife.
During the early 1800s, many artists, illustrators, guitar companies, and advertisers assigned specific character traits to the women who hold or pose with guitars. Sometimes the guitar is a prop—something to hold—and other times it is an instrument to play to express and possibly empower oneself. Sue Hudelson's Julie marks both a zenith and a rupture in the visual tradition of the woman guitarist, who has here shifted from passive to active and from submissive to empowered.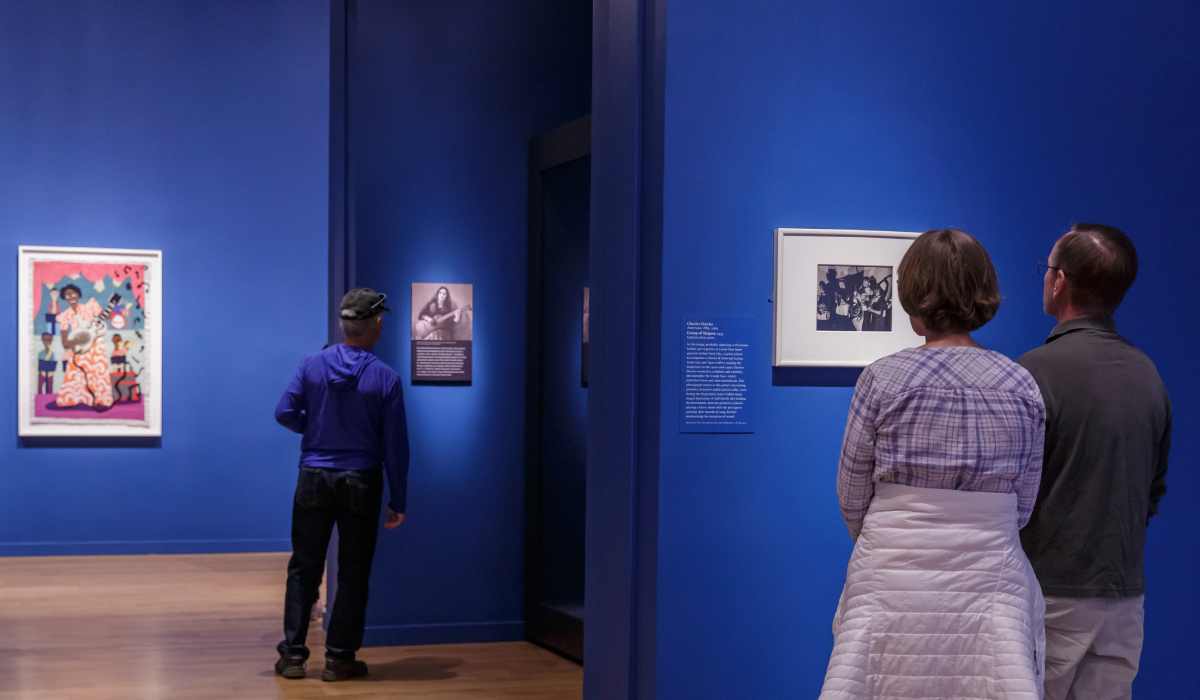 Approximately one-third of the works in this exhibition are either by a Black artist or depict African American subject matter. The recurring guitar motif marks the power of Black music as an intense form of expression, designating identity, pride, and achievement. It is a sign of learnedness and intellectual rigor, it intersects with cultures of blindness, particularly in the South, and is the instrument by which blues musicians and artists in other musical genres waged dissent. The guitar figured prominently in the waning popular and critical fortunes of the banjo, a process incisively addressed in Romare Bearden's collage Three Folk Musicians.
This exhibition also looks at the efforts by archivists John and Alan Lomax to catalogue folk songs for the Library of Congress and their "discovery" of Huddie Ledbetter, better known as Lead Belly. Promotional images of Lead Belly illustrate how this musician helped to fuel the Folk Music Revival of the later 1930s through the 1960s, led by musicians such as Woody Guthrie, Pete Seeger, and Joan Baez.
Another section explores works that show individuals touching, embracing, and posing with the guitar, extending the anatomical and psychological reach and response usually attributed to human beings. The bodily embrace required to play the guitar distinguishes it from most other stringed instruments. A photograph of Odetta by documentary photojournalist and filmmaker Otto Hagel presents a close-up portrayal of the folk singer and civil rights activist who performed at the 1963 March on Washington. Holding her Gibson J-45 guitar close to her body, she certainly would have felt and heard the vibrating strings—however softly they may have vibrated.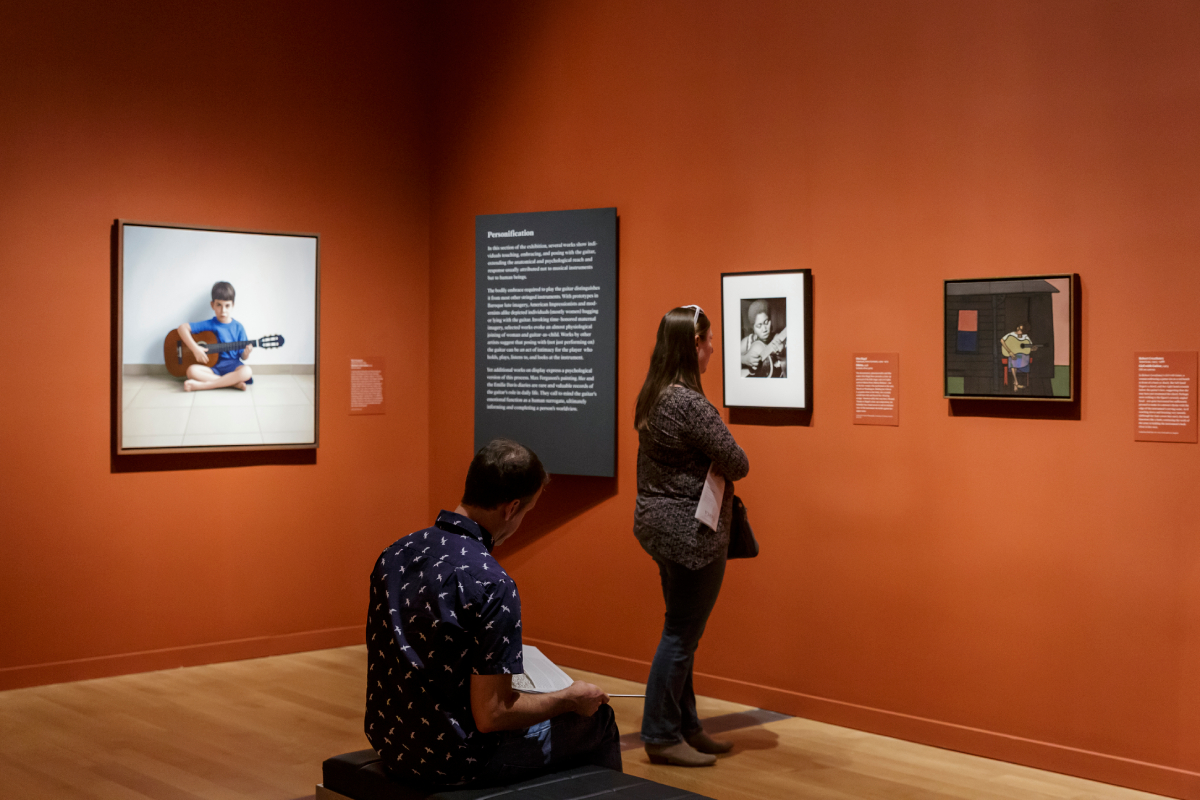 The portrayal of the figure in motion, making both a visual and sonic appeal, has found rich treatment by artists and illustrators exploring the expressive possibilities of the guitar. Works in the section titled Picturing Performance, chart the efforts of artists to visualize the culture, and the otherwise ephemeral sound of the guitar. American painter, muralist, and printmaker Thomas Hart Benton asked his daughter Jessie to sit for a portrait on her eighteenth birthday. She was an aspiring musician who had started playing folk music gigs that summer. The guitar is a Harwood model, purchased by her parents from J. W. Jenkins Sons' Music Company in Kansas City.
Guitar symbolism can illuminate matters of race, ethnicity, class, gender, psychological bearing, and other vital themes. Home Ranch depicts Thomas Eakins's student and assistant, Franklin Schenck, playing a guitar, while wearing pistols, buckskins, and chaps—all of which the artist brought with him on his 1887 trip to the Dakota Badlands. The costume and musical instrument transform the rough-hewn Schenck into the ubiquitous western type that would increasingly be found in the paintings and sculpture of Frederic Remington and Charles M. Russell, as well as in the novels of Zane Grey and Owen Wister. Along with his clothes, the guitar is part of Schenck's western costume, which he and Eakins engage like a prop on a stage set.
Another section focuses on the guitar as a political instrument. Bob Dylan, Woody Guthrie, Joan Baez, and others made sure the instrument figured prominently in waging cultural and political critique in the latter part of the 20th century. Images of these artists pose critical questions about the guitar's role as a political instrument. Can they effect social change or do they just allow their players to voice an opinion?
---
Storied Strings: The Guitar in American Art is organized by the Virginia Museum of Fine Arts.