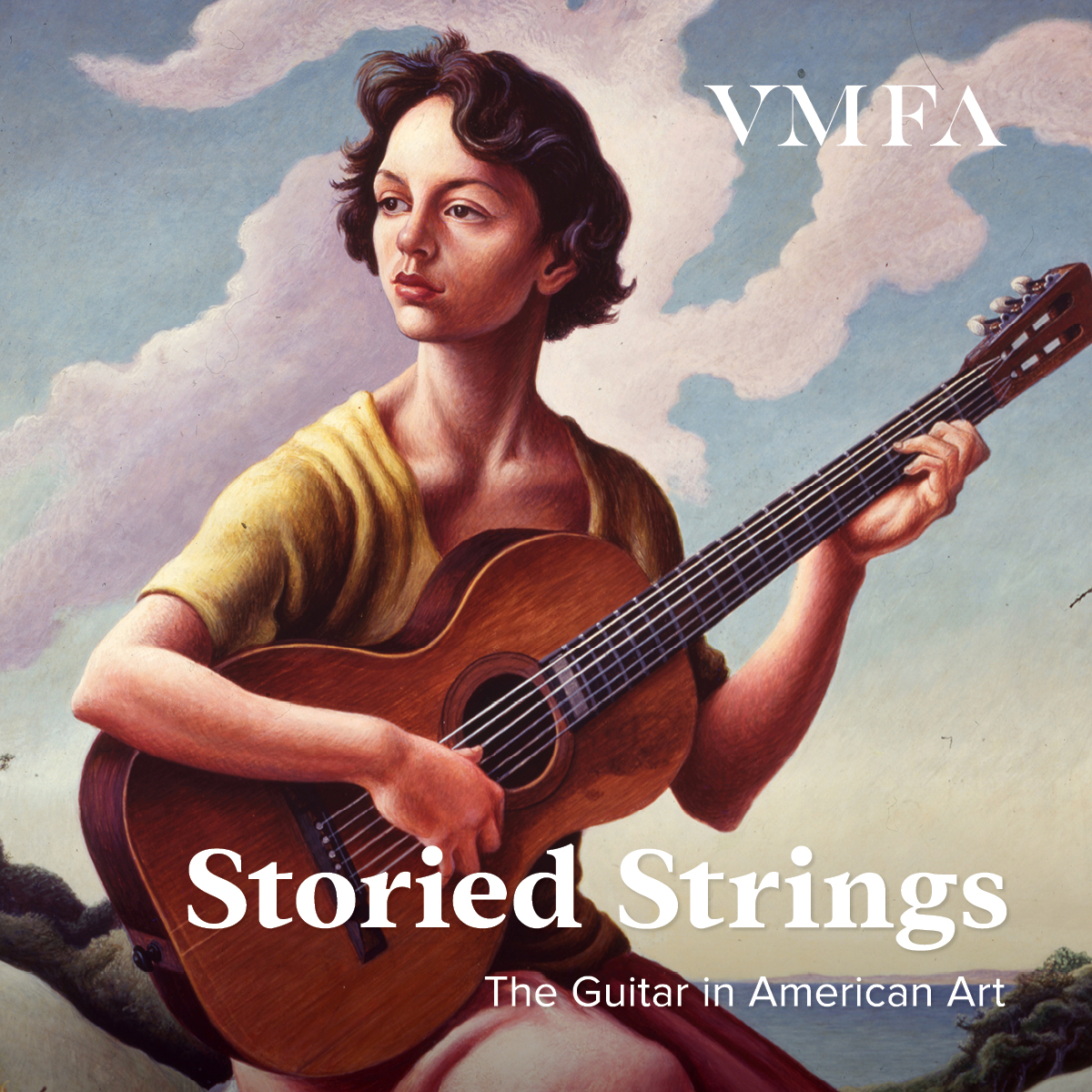 Storied Strings: The Guitar in American Art, at the Virginia Museum of Fine Arts, runs through March 19, 2023. For true music lovers who want to enhance the exhibition experience, there's a Storied Strings Spotify playlist available for further reflection and listening enjoyment. Its tracks are inspired by the exhibition's narrative and themes and pay tribute to the musicians represented through art, their instruments, and performances. The playlist itself is by no means exhaustive, and here we offer only a sampling of the various genres with a note about each song's or performer's connection to Storied Strings. The exhibition is an immersive multimedia presentation of paintings, sculpture, and works on paper, and there are thrilling displays at every turn, including historic guitars, video stations, and even the Richmond Sessions '22–'23 recording studio.
Get your exhibition tickets now and check out the full Spotify playlist that includes these and many other tracks.
---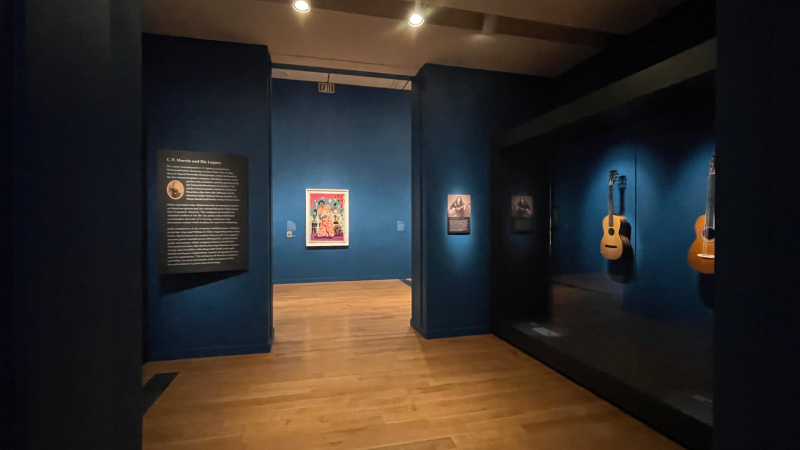 "Waltz No. 1" | Delores de Goñi (composer), Emma Rush
Delores de Goñi (1815–1892) of Spain was a pioneer guitarist who, in 1840, immigrated to the United States, where a fascination had begun with the so-called Spanish guitar. Achieving fame in New York and other cities, De Goñi was one of the earliest celebrity musicians to play a C.F. Martin guitar. In the exhibition, the craftsmanship of C.F. Martin guitars is on display, and De Goñi's story is also noted, offering a prelude to a later section titled "Hispanization." Listen to De Goñi's "Waltz No. 1," performed by Emma Rush.
---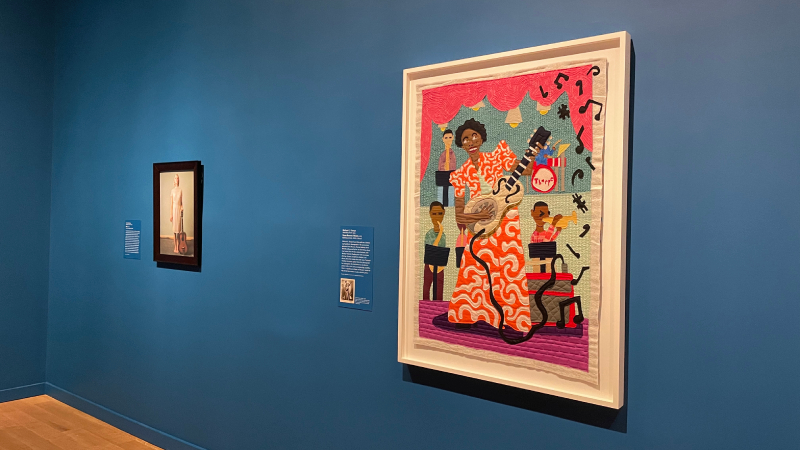 "Rock Me" | Sister Rosetta Tharpe
Genre:
Gospel-infused blues/rock
Sister Rosetta Tharpe, one of the first women to play electric guitar, is depicted in a quilt made by artist Michael C. Thorpe. The quilt is displayed in a section titled "Guitar-Wielding Women." The artist based the work on a 1938 publicity photo of Tharpe, a trailblazing musician who is known to have directly influenced Bob Dylan, Jerry Lee Lewis, Elvis Presley, Little Richard, Muddy Waters, and others.
---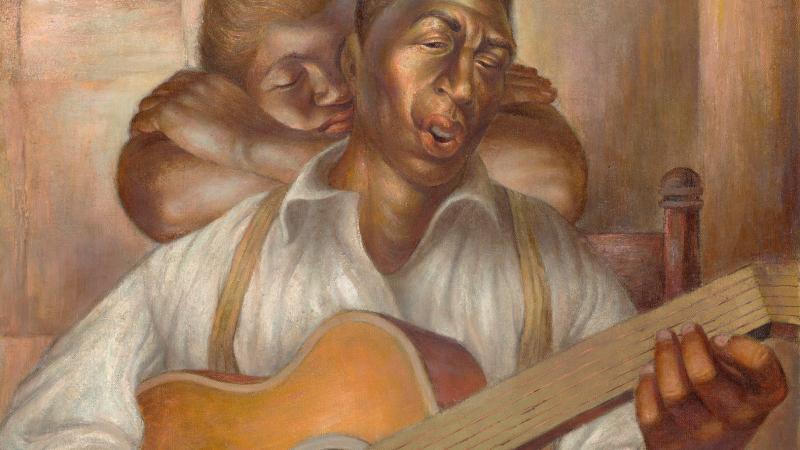 "Goodnight Irene" | Lead Belly
Legendary blues guitarist Huddie "Lead Belly" Ledbetter figures prominently in the exhibition. Charles White's painting titled Goodnight Irene is the centerpiece of a section devoted to Ledbetter. The painting takes its name from the song that Ledbetter first recorded from prison in the 1930s. The song gained popularity in the decades that followed when socially conscious folk musicians and others embraced it. "Goodnight Irene" has been covered by everyone from Johnny Cash and Peter, Paul and Mary to Frank Sinatra and Keith Richards.
---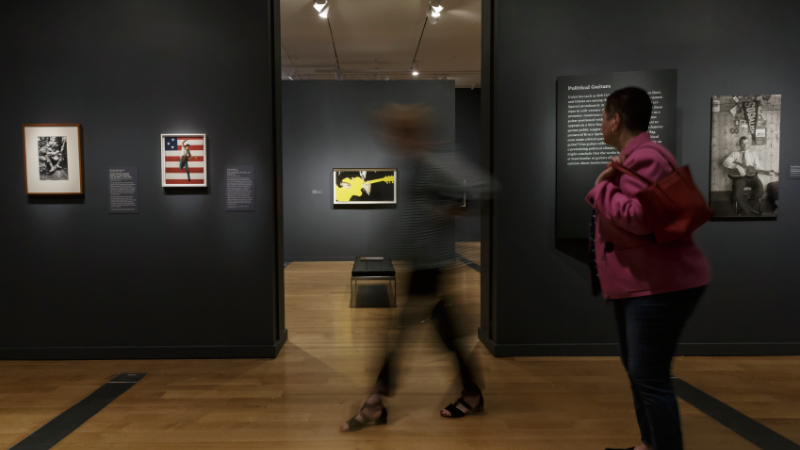 "Born in the U.S.A." | Bruce Springsteen
Featured in the exhibition's "Political Guitars" section, an iconic Annie Leibovitz photograph portrays Bruce Springsteen in a striking action shot of body and guitar in mid-air against the backdrop of the American flag. The photo was taken during the shoot for the cover of Springsteen's 1984 album Born in the U.S.A. and later appeared on the cover of Rolling Stone magazine. Much has been written about the song "Born in the U.S.A.," the lyrics for which have sometimes been misinterpreted. The exhibition, which also includes video of Springsteen performing on stage, explores the guitar as a songwriter's tool for social and political commentary.
---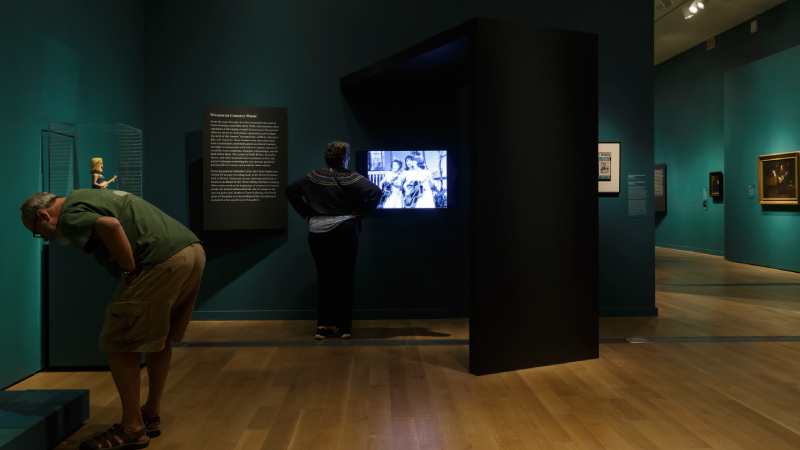 "It Wasn't God Who Made Honky Tonk Angels" | Kitty Wells
From the recent Ken Burns Country Music documentary that aired on PBS to VMFA's own Richmond Sessions '22–'23 (a nod to the historic Bristol Sessions of the 1920s), country music's history fascinates and inspires. Born in Nashville in 1919, Ellen Muriel Deason—known by her stage name, Kitty Wells—was a female pioneer musician whose 1952 song "It Wasn't God Who Made Honky Tonk Angels" was a big hit. A Walden S. Fabry photograph of Wells, posing with guitar, is featured in the exhibition's section titled "Women in Country Music," and there you can also watch performances by Wells and other country legends.
---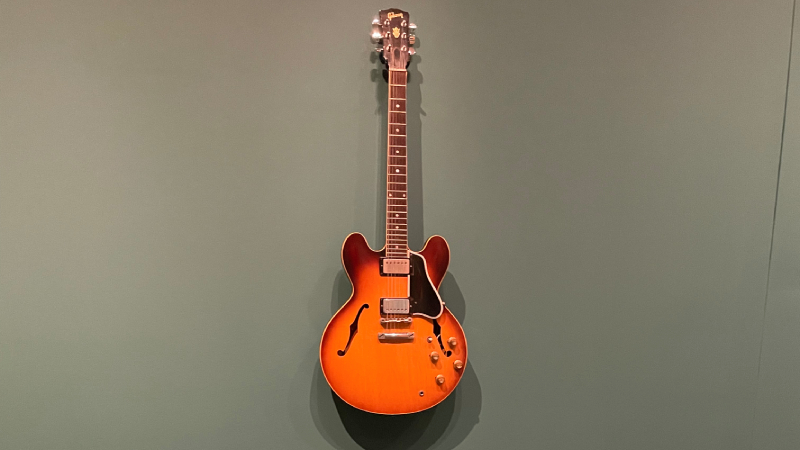 "Boogie Chillen" | John Lee Hooker
John Lee Hooker's Gibson ES-335, made in 1965, is among the 34 guitars on display in the exhibition. You can get up close to these "storied strings"—Gibsons, Fenders, Gretschs, and Martins—once played by musicians such as Hooker, Lulu Belle, Eric Clapton, Les Paul, and others. The song "Boogie Chillen" was Hooker's first hit single. His ES-335, with its semi-hollow construction and distinct sound, helped define the blues genre. Regarding Hooker and his Gibson, curator Dr. Leo Mazow states the following in the exhibition's text: "Black [blues] guitarists have shown how the guitar can be a tool of dissent and critique."
---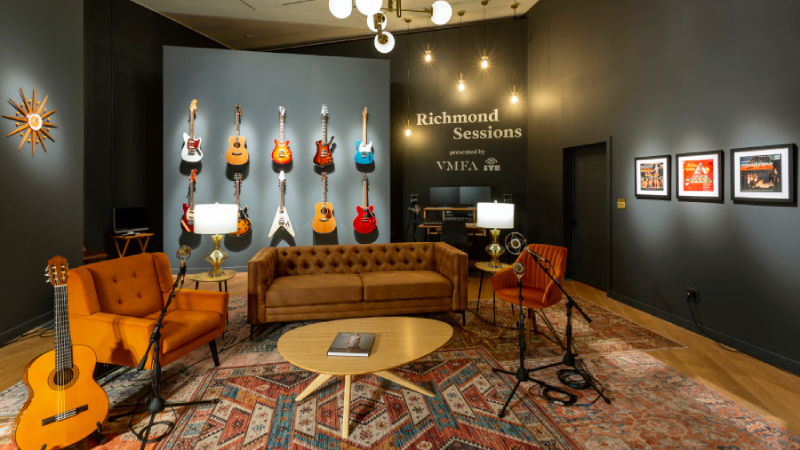 "Somewhere Over the Rainbow" | Tommy Emmanuel
Australian American Tommy Emmanuel is listed among the eclectic roster of musicians scheduled* to record in Richmond Sessions '22–'23 for release on VMFA's YouTube channel. Emmanuel is a Chet Atkins–inspired virtuoso guitarist known for his fingerstyle playing. He has achieved great acclaim, winning multiple awards in Australia and a couple of Grammy nominations. Included on the Spotify playlist is Emmanuel's version of the classic American song by Harold Arlen, "Somewhere Over the Rainbow," from The Wizard of Oz.
*Richmond Sessions '22–'23 schedule is subject to change.
---
Storied Strings: The Guitar in American Art is organized by the Virginia Museum of Fine Arts. The exhibition is curated by Dr. Leo Mazow, VMFA's VMFA's Louise B. and J. Harwood Cochrane Curator of American Art.
---
Jessie with Guitar (detail), 1957, Thomas Hart Benton (American, 1889–1975), oil on canvas. Jessie Benton Collection © 2022 T.H. and R.P. Benton Trusts / Licensed by Artists Rights Society (ARS), New York
Goodnight Irene (detail), 1952, Charles White (American, 1918–1979), oil on canvas, Nelson-Atkins Museum of Art, 2014.28. © The Charles White Archives