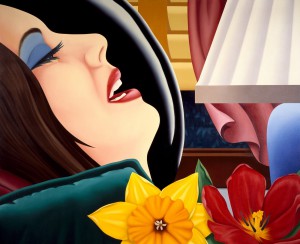 The Poetry Society of Virginia recently took an Ekphrastic Day visit to VMFA to write some art-inspired poems. "Ekphrastic" is the poets' term for poetry inspired by artwork. Below are a couple of poems inspired by our current special exhibition Pop Art and Beyond: Tom Wesselmann. The exhibition ends this Sunday, July 28th, so if you haven't experienced it yet or would like a final visit with Wesselmann's art, pop in this weekend before it goes!
Inspired by Little Seascape No. 1, Tom Wesselmann
Imagine what's outside the frame, beyond this square
of sea and sky, where you see only her feet and straw hat,
a band of reddish hue that matches her toenail lacquer.
Her feet are on their side; she must be lying down, perhaps
her knees drawn up, small belly slack in a color-coordinated
bikini, the towel rumpled, sandy at the corners.
It's always what's outside the field of vision that makes you
wonder what she's thinking, and why her arm covers her eyes
on this overcast day of late summer in New York.
We won't touch those feet to wake her.
The sound of waves and wind will rock her.
–Joan Mazza
________________
Inspired by After Matisse, Tom Wesselmann
A nameless client digs in his pocket,
no longer interested in the flesh,
more intent on rummaging for cash,
while you, eyes closed, naked, sprawl
in the chair, too weary to care that
minutes away is the next.
Now eyes slit, panning the room, you
note its garishness: raw broken plaster
hanging off walls, torn linoleum, dry-
rotted, covered in grease a half-inch thick.
Strange odors assault the nose—you
want to bury your face in the blossoming
gardenia bush skirting the front stoop.
A burst of hot air breaks in through the
open window, briefly stirring your thoughts.
Sick of this fishing trip but out of habit,
you reach for a moment in another life,
one with genuine ecstasy, not faked,
where your painted lips hug a rich cigarette—
but more than this—seeing the entire you, nothing
dropped out—a billboard of complete success.
The familiar knock breaks the spell.
You hurl glory days to the floor, watch
them dissolve over the morning's tread-
marked news, baggage claim stubs from a
forgotten bus trip, and five ten-spots offered
without concern. Glancing toward the bathroom,
its claw-foot, rust-stained tub sparks the mind
to flash a kind of Virginia Woolf escape. No, no,
no. You struggle to get up, forbidding
the suggestion a toehold.
–Linda Kennedy