The Virginia Museum of Fine Arts Fellowship Program is a vital source of funding for the visual arts and art history in Virginia. VMFA is committed to supporting professional artists as well as art students who demonstrate exceptional creative ability in their chosen discipline. Since its establishment in 1940 by the late John Lee Pratt of Fredericksburg, the Fellowship Program has awarded nearly $5.5 million in fellowships to Virginians. 2015 marked the 75th anniversary of VMFA's Fellowship Program.
As part of our commitment to Virginians, the Pauley Center Galleries, Amuse Restaurant, the Claiborne Robertson Room, and select spaces at the Richmond International Airport are dedicated to showcasing the work of VMFA Visual Arts Fellowship recipients.
---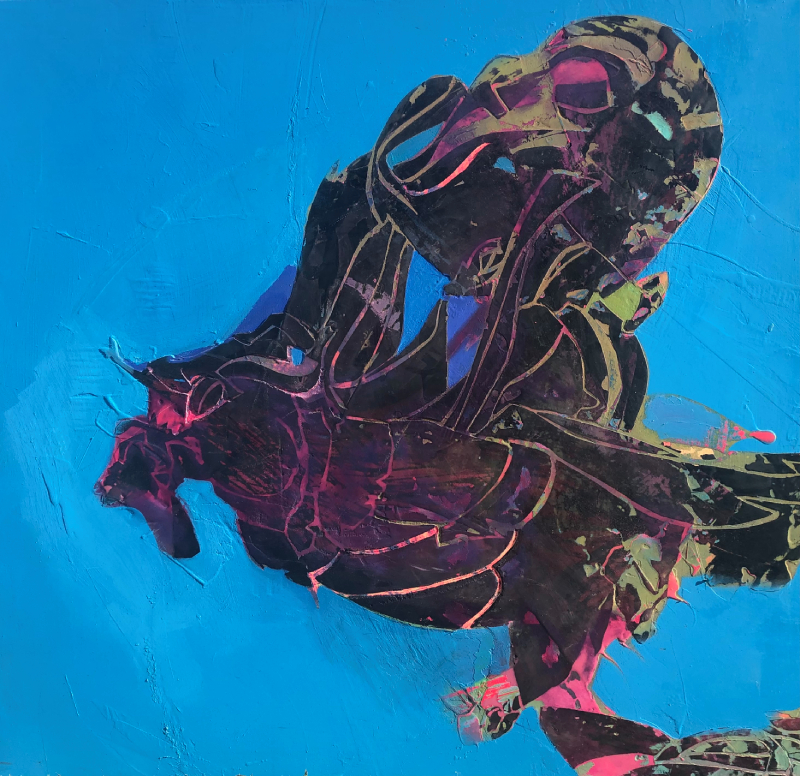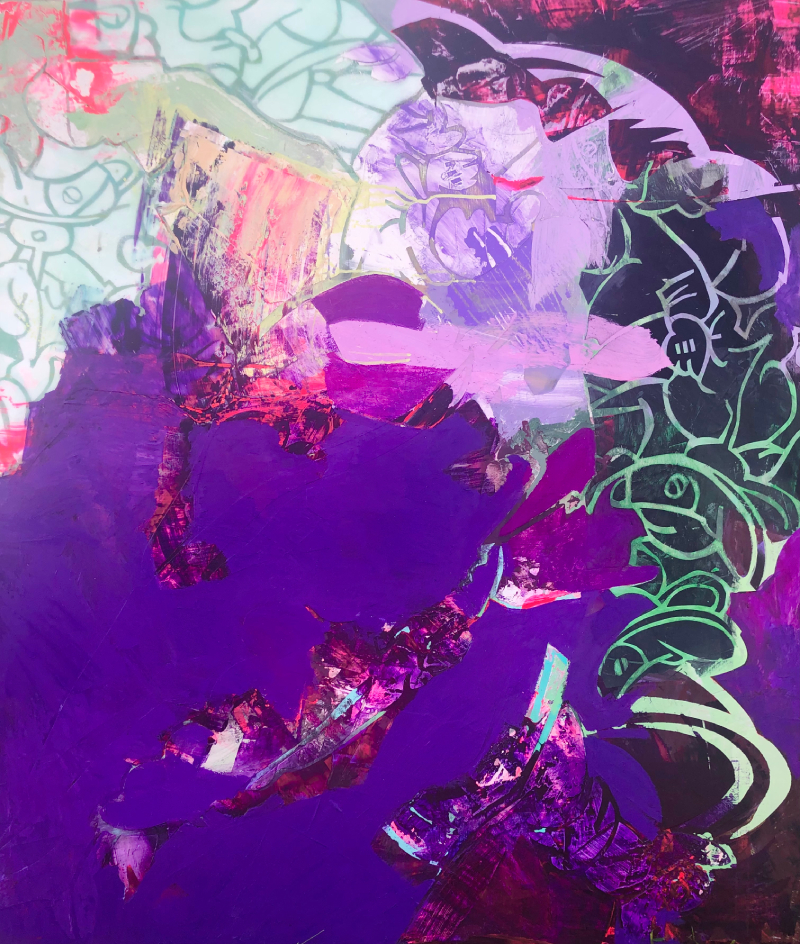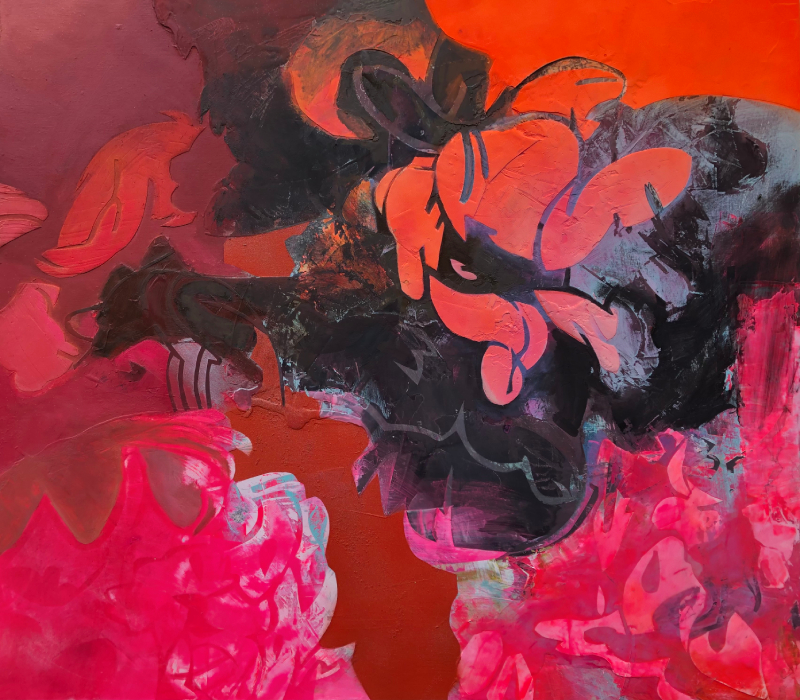 Things I Remember
By Leigh Anne Chambers
Oct 11, 2022 to Mar 2023 | VMFA Amuse Restaurant & Claiborne Robertson Room
My studio practice is largely driven by materials. I am drawn to the immediacy of supplies from the hardware store like liquid rubber and spray paint. These work in tandem with imagery created from composite drawings of comics and coloring books. While these pieces do not have an explicit narrative, they develop a language informed by contemporary culture.
IMAGES Make believe blue, Leigh Anne Chambers | rocket science, Leigh Anne Chambers | to the moon and back ain't that far, Leigh Anne Chambers
---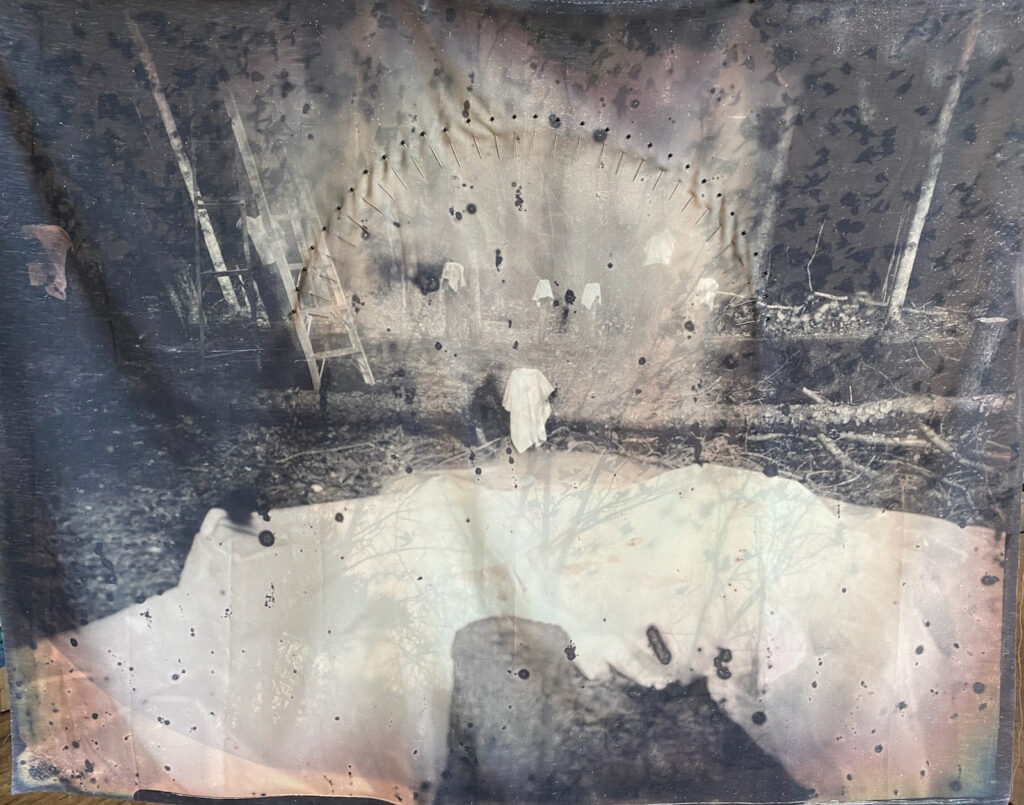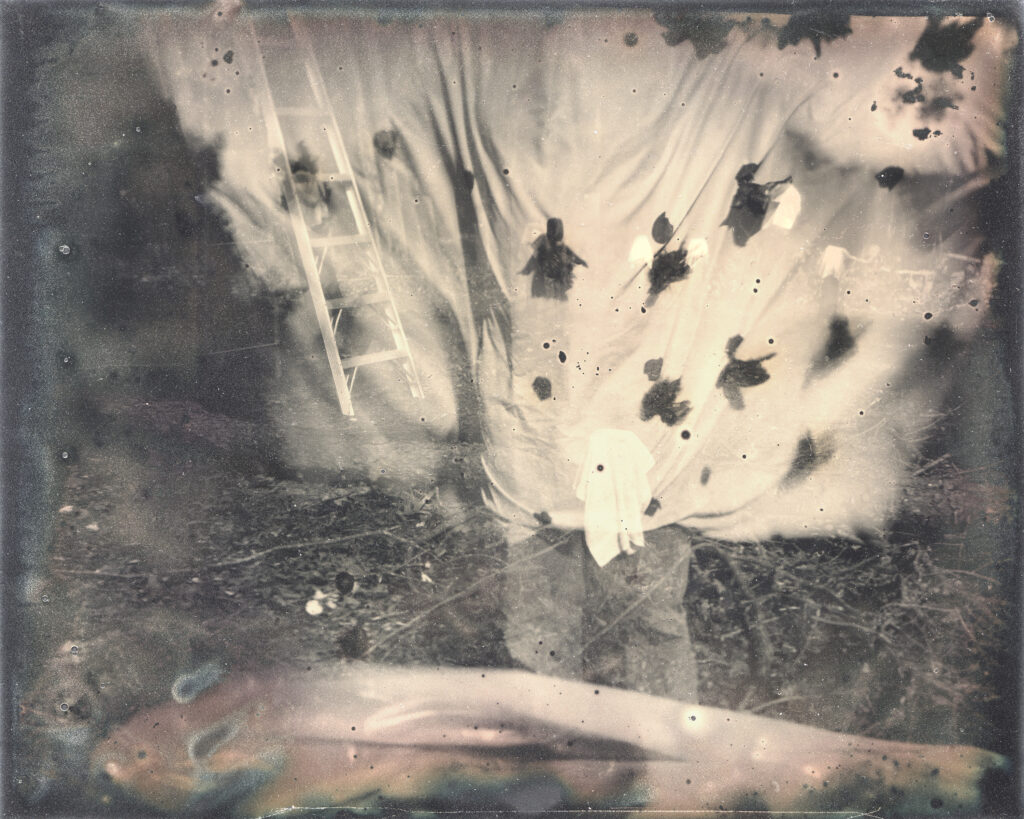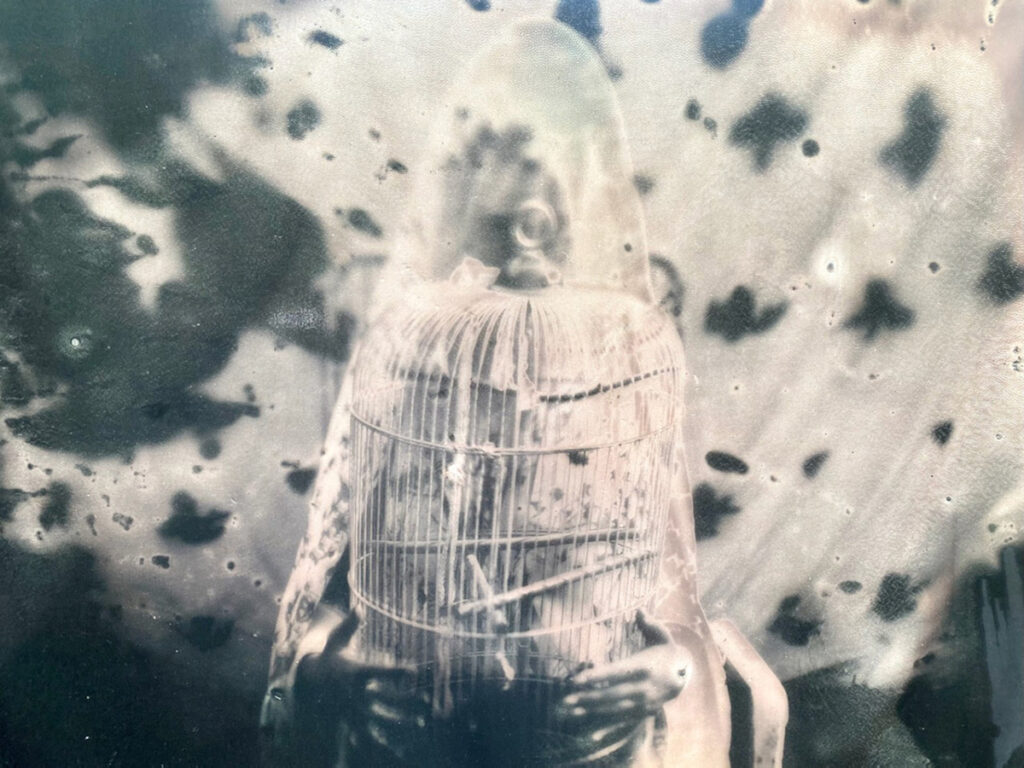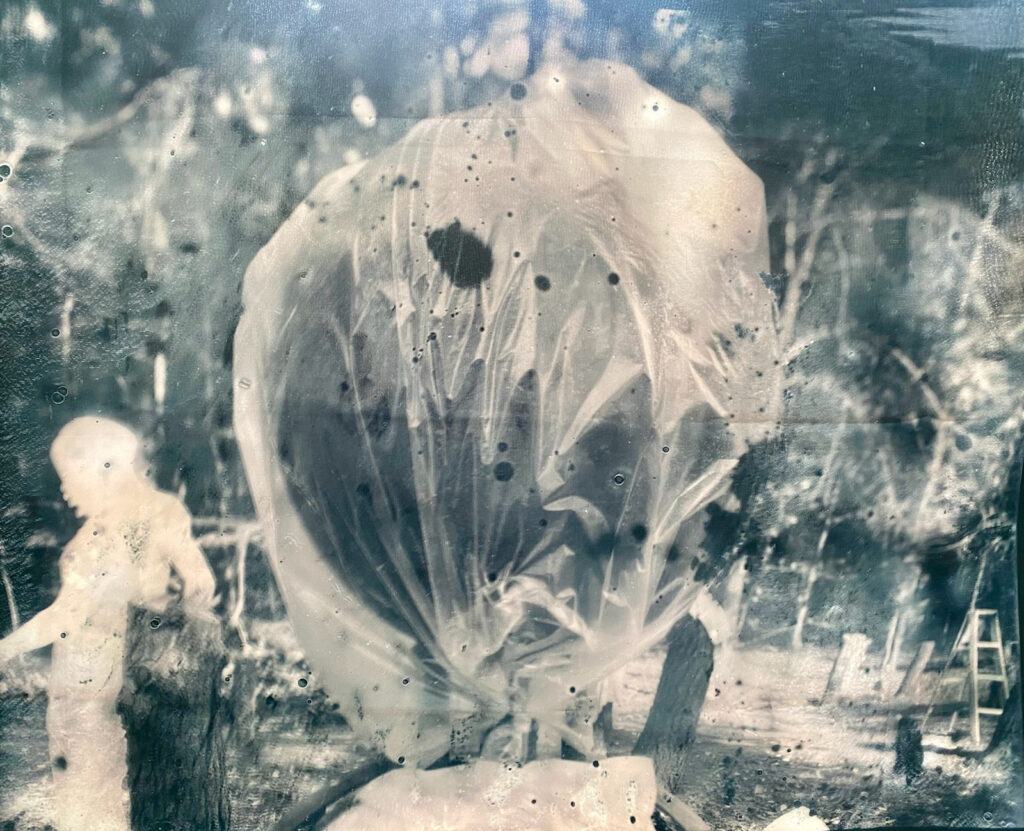 Invisible Birds and Other Works
By Rebecca Silberman
Oct 19, 2022 to Mar, 2023 | Pauley Education Center Galleries
The last Carolina parakeet, the only North American parrot,
died at the Cincinnati Zoo in 1918. One night I dreamed
that there were nocturnal birds with feathers of vantablack,
the darkest substance known. They couldn't be seen, so
they couldn't be destroyed; they were adapted to human
exploitation by evolving into "Invisible Birds."
The fabric imagery for this project is based on my Invisible
Bird tintype series, which made use exclusively of expired
plates—up to ten years beyond usability. The setting is a
cleared plot of land close by my home; this "stump garden"
serves as the backdrop to handmade cloth backdrops
depicting flocks of birds, one fabricated from small effigies
and another photographed as an exploding murmuration.
The plates have been translated into a new generation of
gossamer backdrops and layered together with the originals,
in some cases, depicted in the tintypes, in a potentially
infinite cycle of creation and re-creation, a gesture of hope
or a prayer in an ocean of inevitable conflict.
Other works are from on-going series using a 19th century
photographic process or emerge from an interest in
miniatures and as an extension of experience with optical
devices—cameras and viewers of all kinds. Storytelling
through image and process, along with an intrigue with toys
and play have been central to my now more than thirty-year
studio practice and teaching.
IMAGES Invisible Birds I, Rebecca Silberman | Invisible Birds II, Rebecca Silberman | Hidden Mother, Rebecca Silberman | Suffocating Planet, Rebecca Silberman
---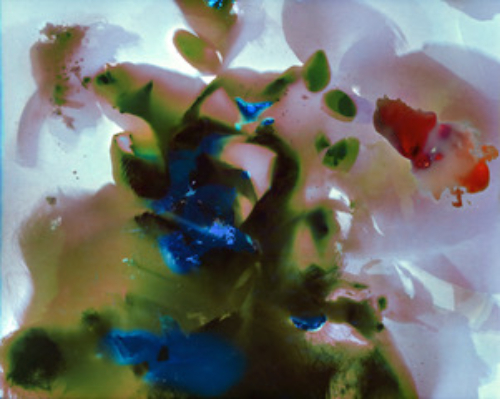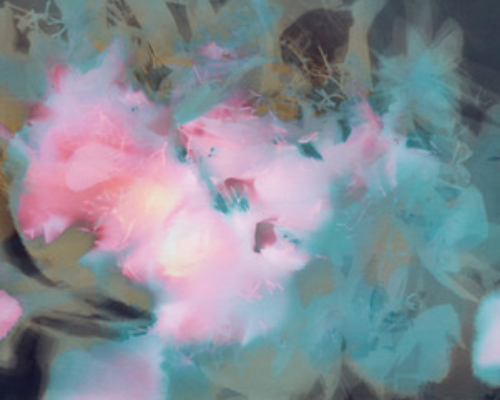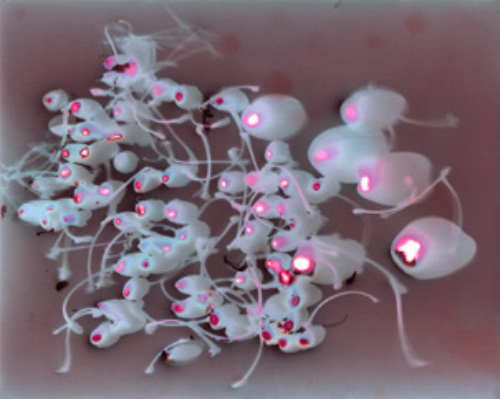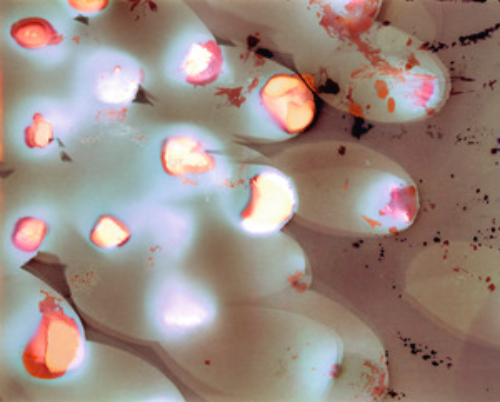 Decomposition
By Anikó Sáfrán
Aug 15, 2022 to Feb 2023 | Richmond International Airport
In this series of abstract photographs, I am exposing my and my family's wastefulness: a pile of oranges collected over a month, a bag of unidentifiable celery. I am also displaying our conscientiousness: banana peels, eggshells, coffee grounds, and coffee filters that we put in our compost bin, items that would be contributing to global warming if tossed into the garbage can. When buried in a landfill and cut off from oxygen, fruits, vegetables, and other organic matter will decay slowly and give off methane, a greenhouse gas 28 times more effective at warming the earth than carbon dioxide. Composted, the same items become nutrient-rich soil that can be used to grow more food (or flowers.) By documenting our food waste, I see how I can make smarter choices when shopping for food.
I create the images by putting the food, in different states of decomposition, onto photographic paper and exposing it to the sun for hours, days, or weeks. A reaction occurs between the organic material and the chemicals in the paper, leaving colorful silhouettes on the paper. Because I do not fix the images, they are only semi-permanent or altogether transient. I scan the solargrams and process them digitally to strengthen the naturally occurring colors that are initially paler.
Anikó Sáfrán is a 2020-21 Graduate Fellow.
IMAGES Pandemic Hair Cut, Anikó Sáfrán | Linden Tree Leaves, Anikó Sáfrán | Cherry Pits and Stems, Anikó Sáfrán | Oranges, Anikó Sáfrán