The Virginia Museum of Fine Arts Fellowship Program is a vital source of funding for the visual arts and art history in Virginia. VMFA is committed to supporting professional artists as well as art students who demonstrate exceptional creative ability in their chosen discipline. Since its establishment in 1940 by the late John Lee Pratt of Fredericksburg, the Fellowship Program has awarded nearly $5.5 million in fellowships to Virginians. 2015 marked the 75th anniversary of VMFA's Fellowship Program.
As part of our commitment to Virginians, the Pauley Center Galleries, Amuse Restaurant, the Claiborne Robertson Room, and select spaces at the Richmond International Airport are dedicated to showcasing the work of VMFA Visual Arts Fellowship recipients.
---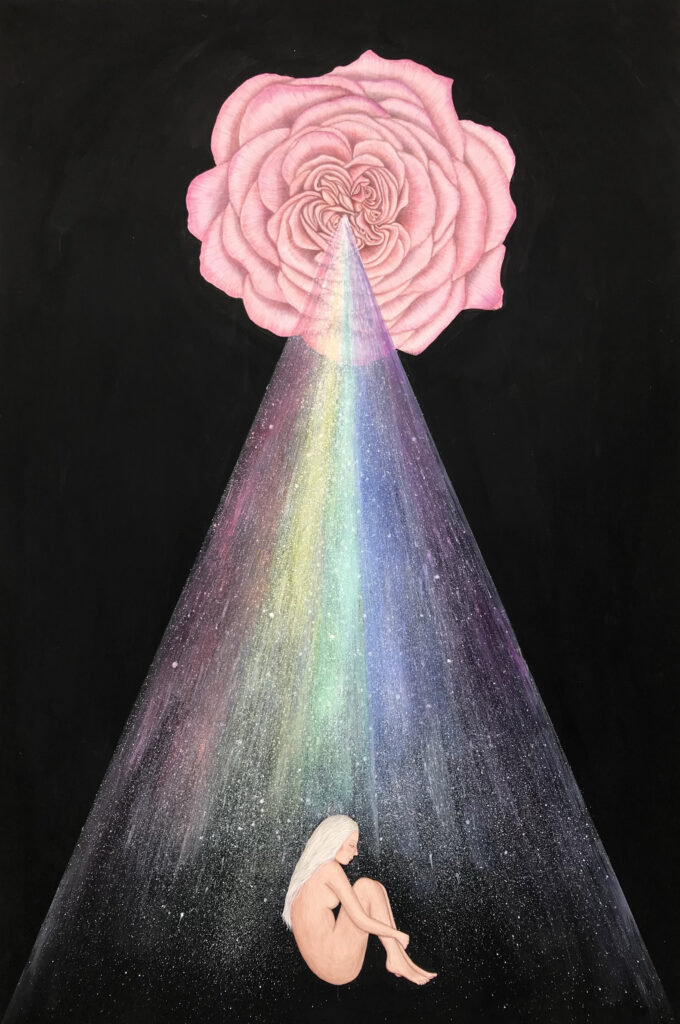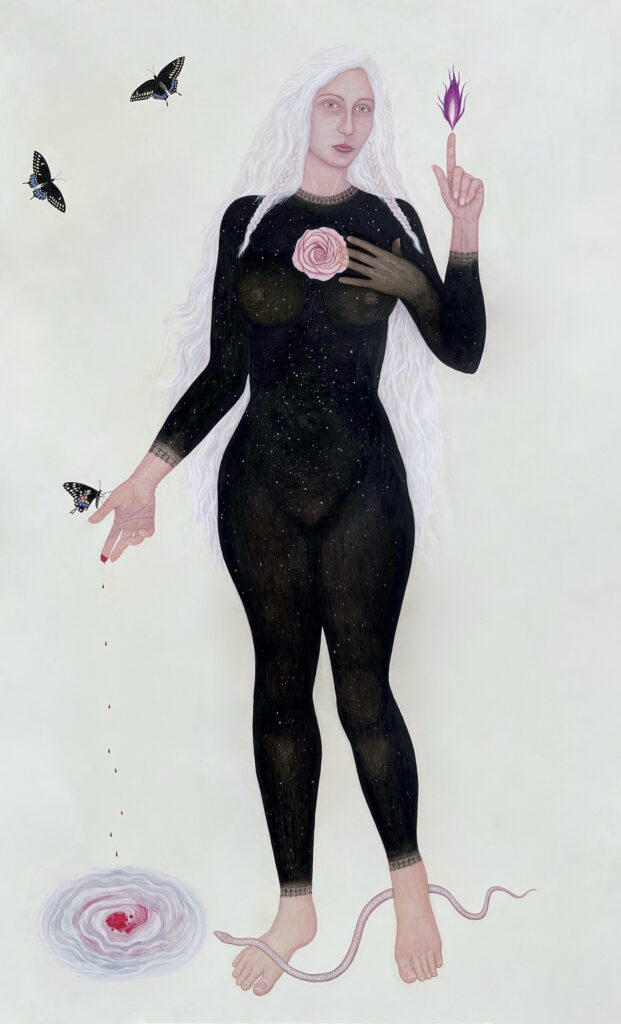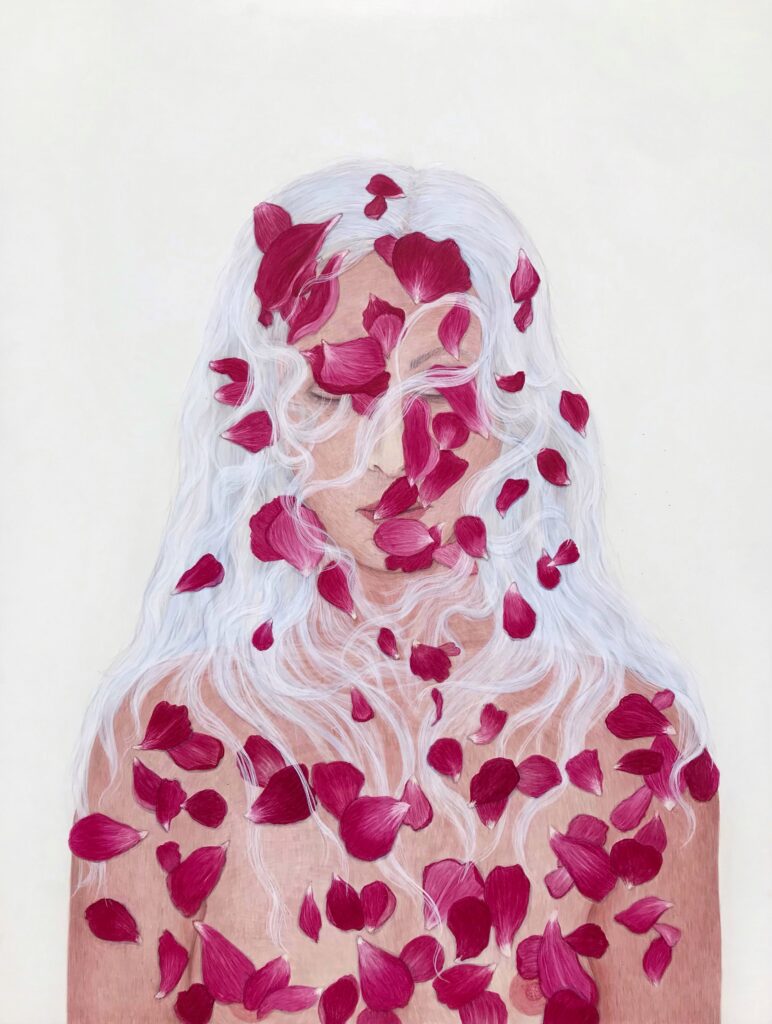 All My Love
By Susan Jamison
Mar 2, 2022 to Oct 11, 2022 | VMFA Amuse Restaurant & Claiborne Robertson Room
"I create visionary allegorical images of a woman re-wilded. Using egg yolks and dry pigments in a process which almost appears alchemical, life itself and the embodiment of the feminine is infused in each painting."
"Depict the divine feminine. It's time for her return." An inner voice compelled me with these words in 2018 to start a new body of work. Not fully knowing who or what the divine feminine was, I looked for answers in the symbolism of my own early Catholic upbringing and heritage, and my present metaphysical practice of connecting to source through meditation, and rituals that align with natural cycles. I found incarnations of her that are loving, compassionate, and healing.
Quantum physics tells us nothing is actually solid, everything is energy vibrating at a certain frequency. The typical human body vibrates around 62-72 megahertz. Roses have a vibrational frequency of 320 MHz which is why they are considered by many to be sacred. These paintings combine roses as a symbol of The Mother, with visions of galaxies and outer space, rose wreathed horses galloping under the night sky, animals bearing messages, and women emerging as healers."
Susan Jamison is a 2020 Emergency Relief Fellow.
IMAGES 320 Megahertz, Susan Jamison | Light Working It, Susan Jamison | Sub-Rosa, Susan Jamison
---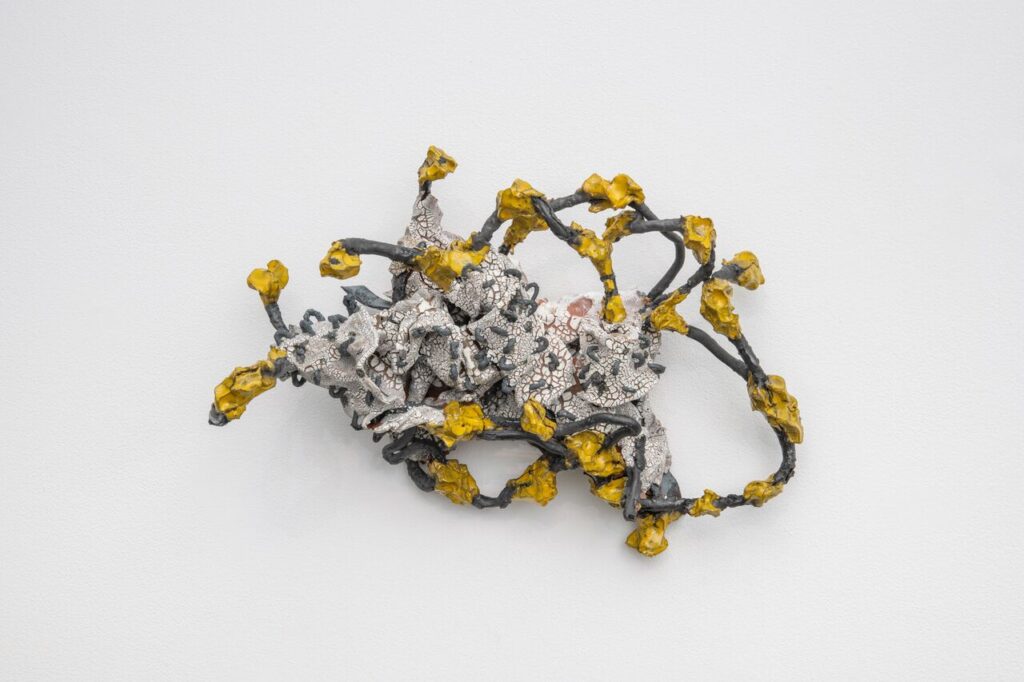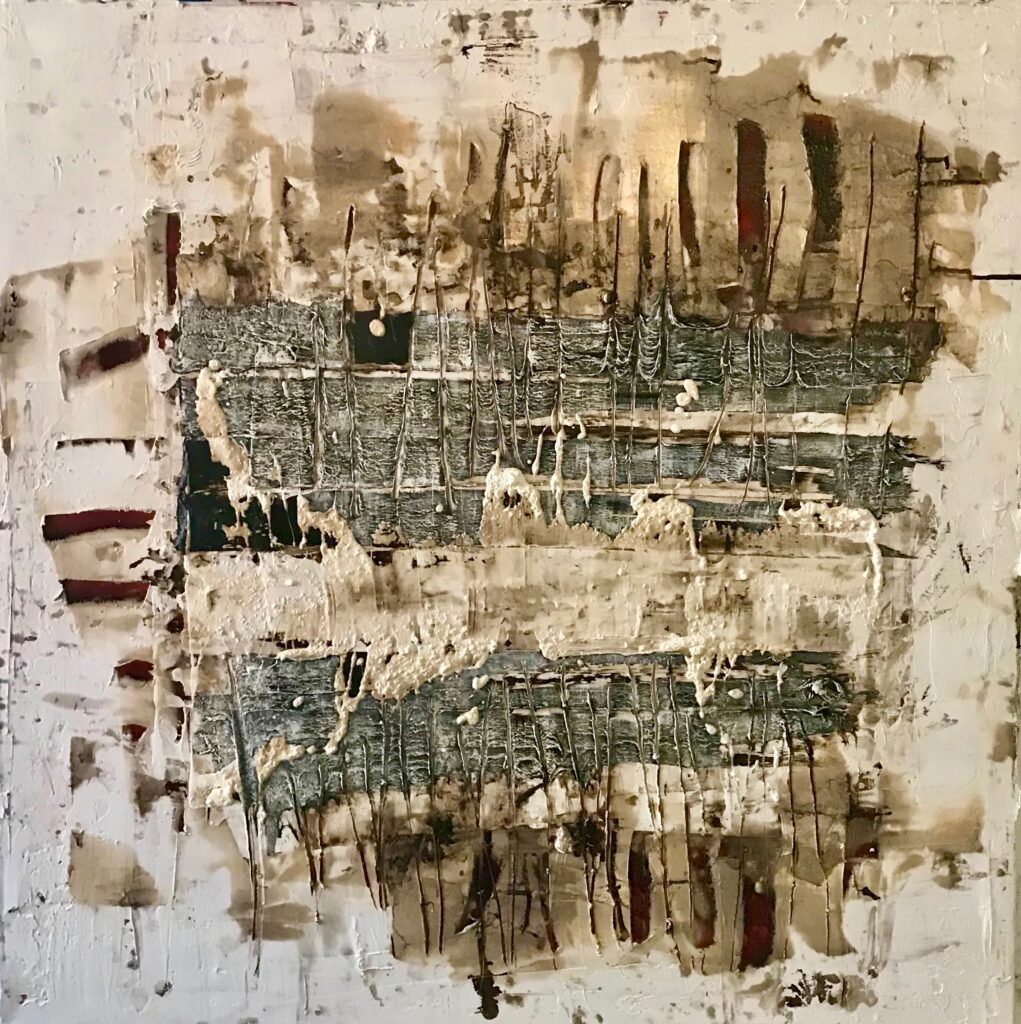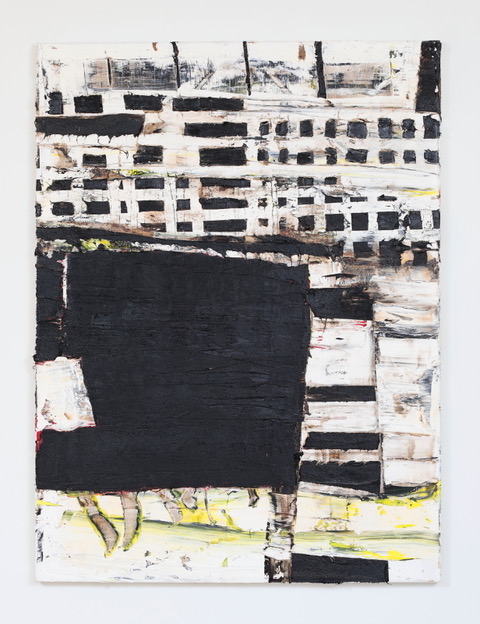 Kendra Dawn Wadsworth – Paintings and Ceramics
By Kendra Dawn Wadsworth
Mar 24, 2022 to Oct 17, 2022 | Pauley Education Center Galleries
"In Wadsworth's paintings and ceramics, coarse, jagged surfaces expose her kinetic process. Competing dualities—confinement / exposure, entrapment / liberation, crumpling / unfolding, surface / depth—move across and through her works. These juxtapositions disclose a sensibility towards chaos that Wadsworth cultivates through intuition and material responsiveness. Yet, while Wadsworth engages objects and forms that suggest conflict and struggle, her decomposition implies regeneration. The decay and deterioration on view offer their own forms of energy."
— Emily Smith (Executive Director of 1708 Gallery)
"Spontaneous, unpredictable, intuitive, layered, chaotic yet measured – Creating for me is an ever changing process that is often filled with agony, wonder, surprise, disappointment, and bliss.
When I am in the studio it is the physicality of engagement with material that stimulates my process. Throwing, pouring, scraping, slapping, deconstructing, and re-constructing all excites and energizes me; propelling experimentation and finding meaning in mark and form."
Kendra Dawn Wadsworth is a 2020 Emergency Relief Fellow.
IMAGES Amore, Kendra Dawn Wadsworth | Compulsion, Kendra Dawn Wadsworth | Resistance, Kendra Dawn Wadsworth
---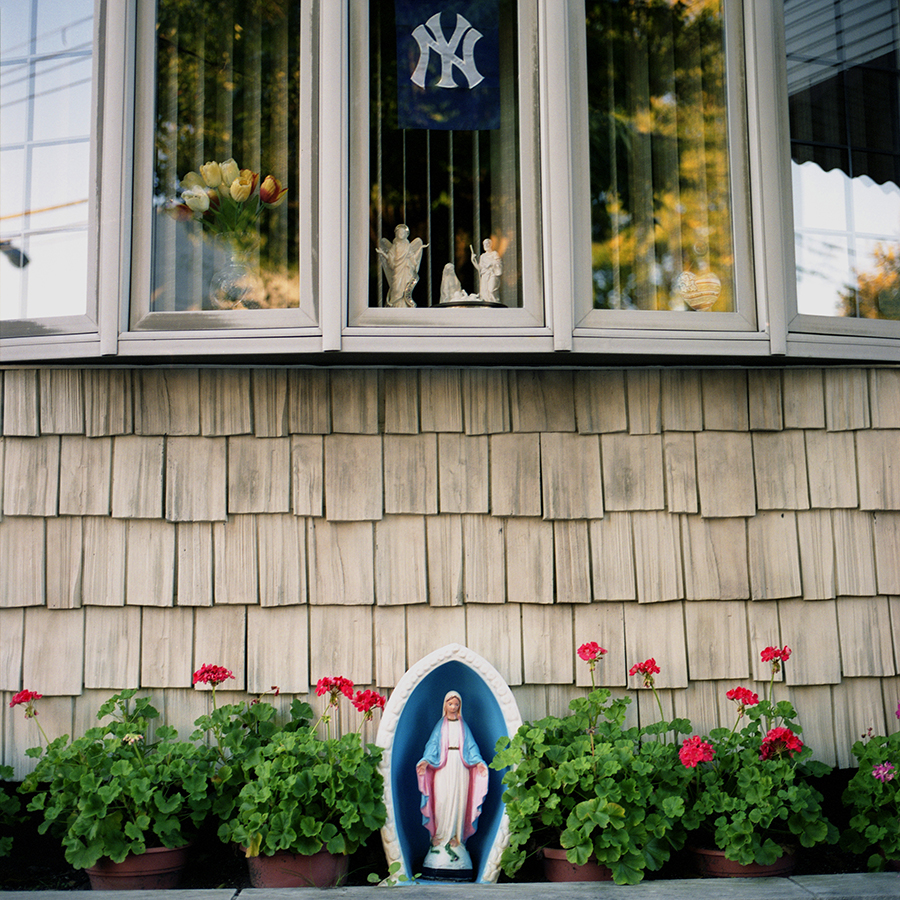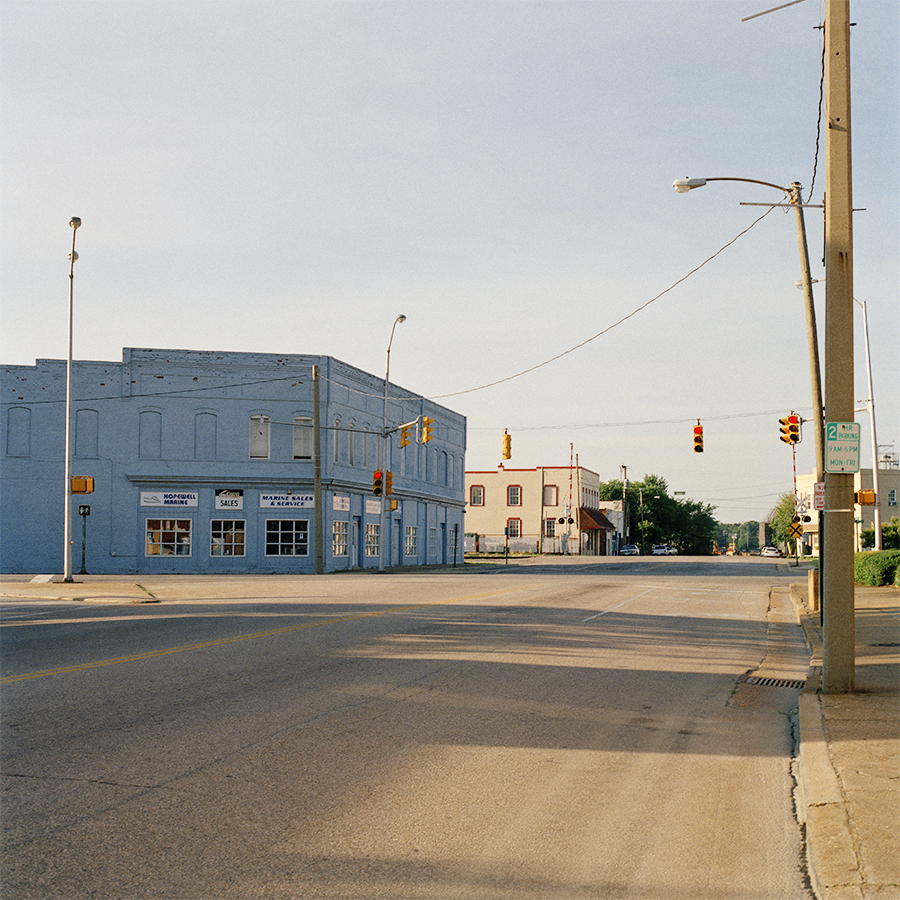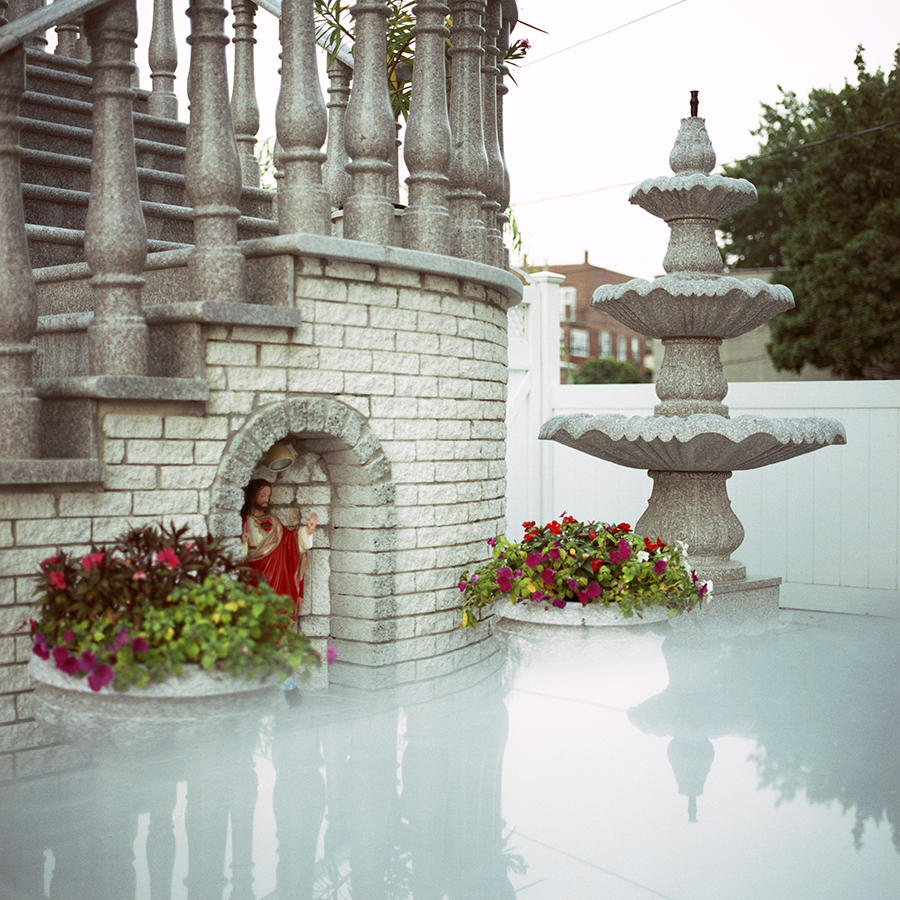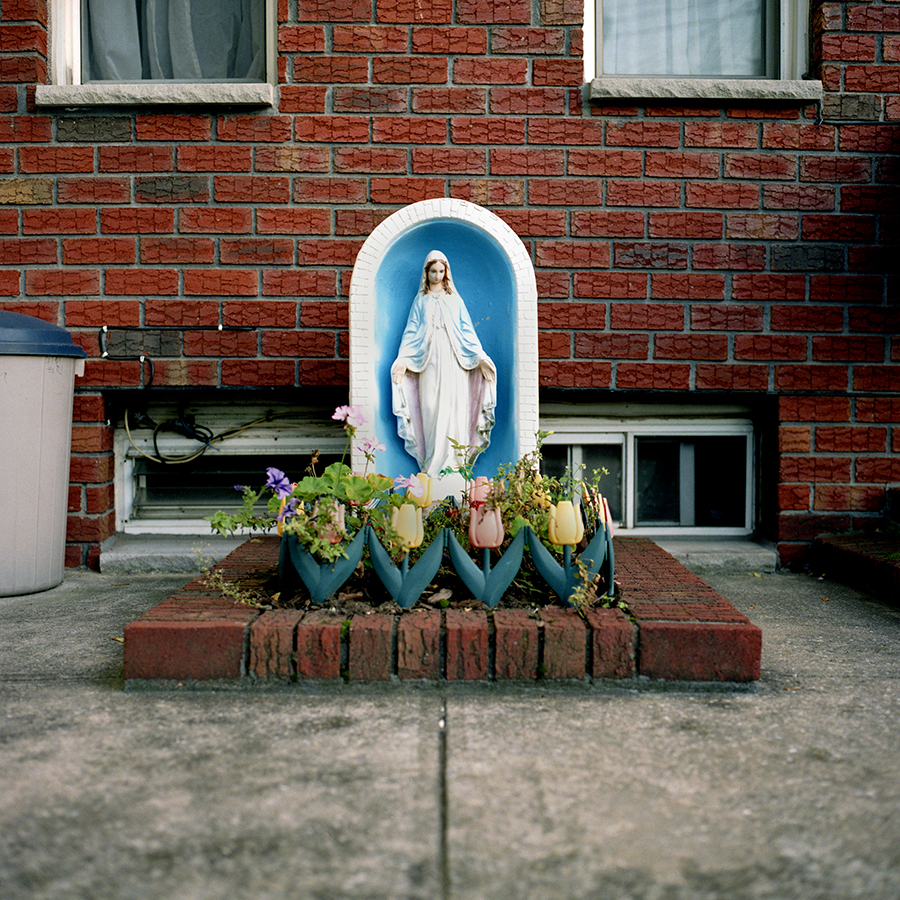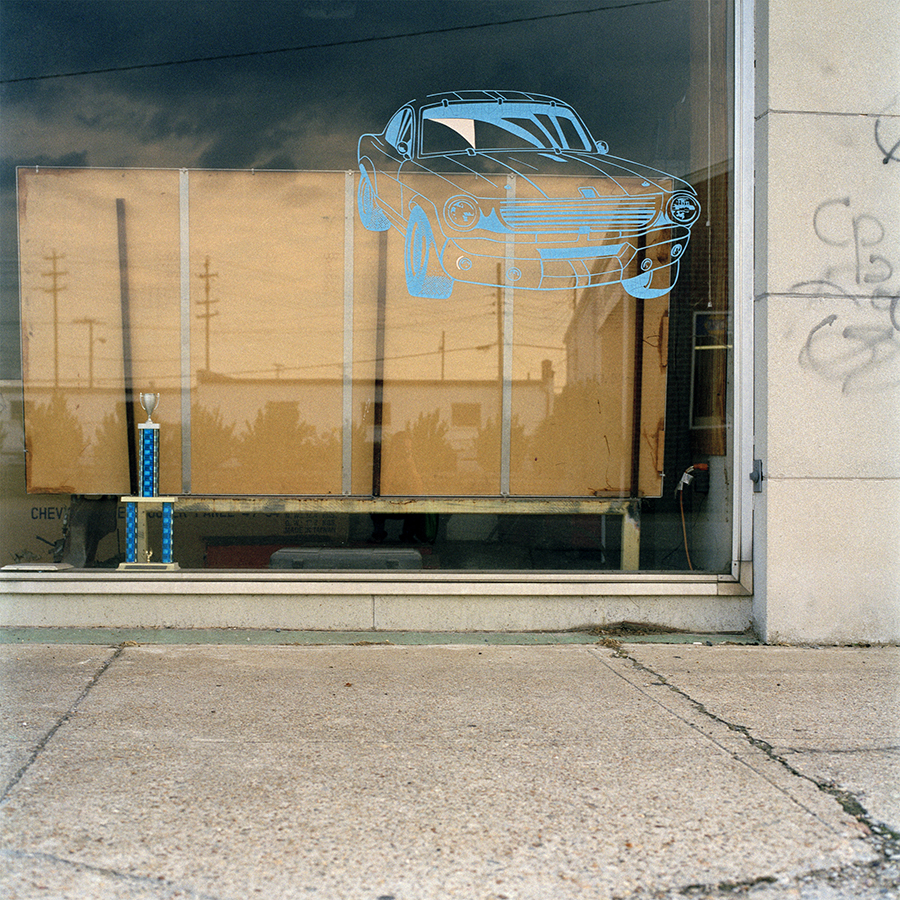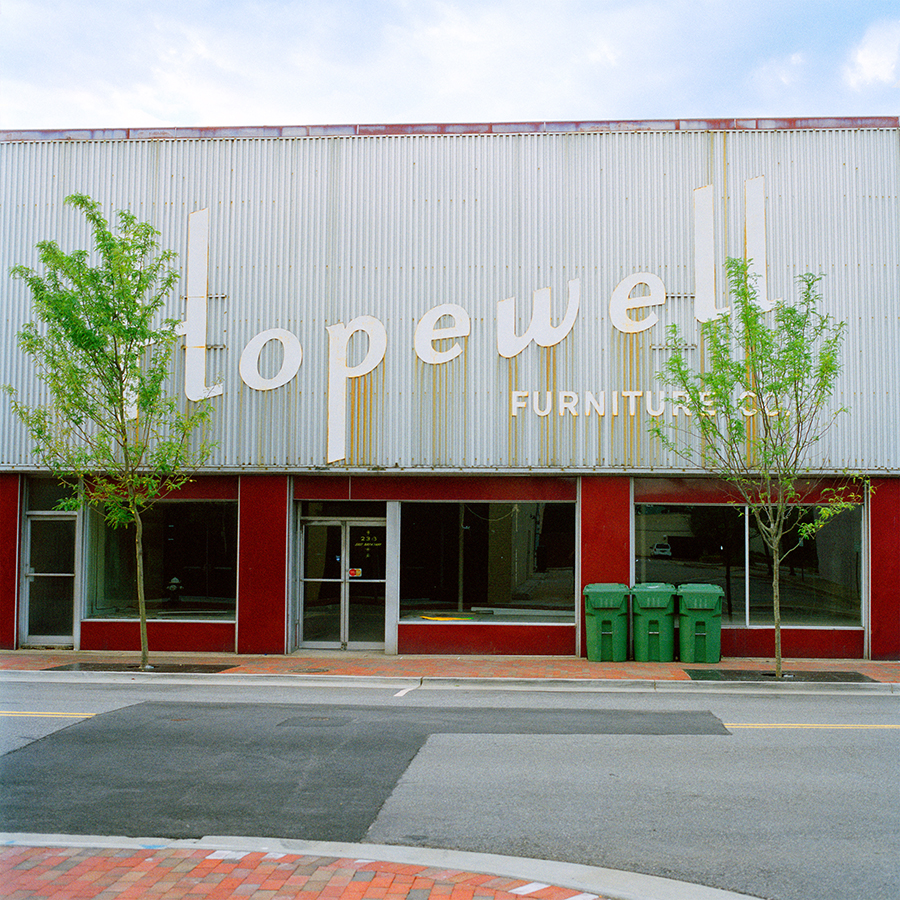 Hopewell and Astoria: Streetside Religion
By Eliza Lamb
Jan 18, 2022 to Aug 15, 2022 | Richmond International Airport
"Hopewell.
As it was.
For the better part of a decade, I would travel south to photograph my hometown of Hopewell, Virginia.
I would wake up early and walk through the streets – revisiting the places I had known and the person that I was when I knew them.
The city seemed to stand still. It held its breath and I held mine.
No longer declining and not quite moving forward.
The heartbeat of the community could be found – faintly – ever so faintly – plugging along in the summer heat.
Often times in life, my creative intuition is the first to hear and respond. After nearly a decade of photographing this community – I would uproot my life and move home.
Testing the theory that art really can transform.
And so it has.
And so it does.
Hope well"
---
"Astoria: Streetside Religion
Sometimes your heart feels the call
before your ears can hear.
Sometimes your feet find the way
before the map is sought.
When I created this work I was alone in a new city.
Searching for comfort and familiarity –
Cynical, rational, and doubting.
These figures would accompany me on my long walks home –
bringing a relief that I couldn't quite explain.
A balm for my lonely heart, soothing out prickles of fear,
and offering companions to look for on each block.
Reminders of family lost, and a time passed.
Of something bigger than myself.
The things that bind us together – and the things we let tear us apart.
I wasn't looking to make this work.
These images found me and I am forever grateful that they did.
This body of work was created in the neighborhood of Astoria, Queens. A new resident of the
community I would often walk exploring my neighborhood, unexplainably comforted by the statues
that would meet me on each block.
As someone that struggled with their relationship to religion at the time – each of these figures kept
me company on my journey home."
Dr. Eliza Lamb relocated back from NYC to the Tri-Cities of Virginia in 2016. There she has established her creative practice and founded a 501(c)3 organization, the Lamb Center for Arts and Healing, geared at breathing a new life of creativity and optimism to the community she loves. You can find out more about Dr. Lamb's creative and non-profit work at www.elizalamb.com.
IMAGES: Yankees, Eliza Lamb | Main Street, Eliza Lamb | Marble Reflection, Eliza Lamb | Flower Border, Eliza Lamb | Trophy Car, Eliza Lamb | Hopewell Furniture, Eliza Lamb