Remembrance of Romanel, near Lausanne (Translation)
Souvenir de Romanel près Lausanne (Primary Title)

In August 1900, soon after the Nabi brotherhood officially disbanded, Vuillard visited Vallotton and his wife, Gabrielle, at the Château de la Naz in Romanel, Switzerland. After joining the Nabis in 1892, Vallotton had become principally known for his woodblock engravings, but by this time, he was transferring the strong tonal contrasts and simplified compositional elements characteristic of the medium into the vibrant palette of his paintings. This landscape by Vuillard commemorates his ongoing collaboration with the Swiss-born artist during their vacation together in the Alpine countryside. In dialogue with Vallotton, he abridged a view of Lake Léman's shoreline into severely contrasting regions of green, beige, and blue that recall the flat zones of color Sérusier appropriated from Gauguin during the Nabi movement's early period. The arrangement of these zones into rhythmically alternating horizontal bands of color reveals Vuillard's familiarity with the formal conventions of Japanese and Chinese engravings, yet the extreme reduction of perspective and sparse shading radically emphasize the flat surface area of the canvas in a distinctly modern manner.
Signed with estate stamp lower left: "E. Vuillard"
Collection of Mr. and Mrs. Paul Mellon
"Edouard Vuillard", National Gallery of Art, Washington, D.C, 19 January - 20 April 2003; The Montreal Museum of Fine Arts, May 15 - August 24, 2003.
Image released via Creative Commons CC-BY-NC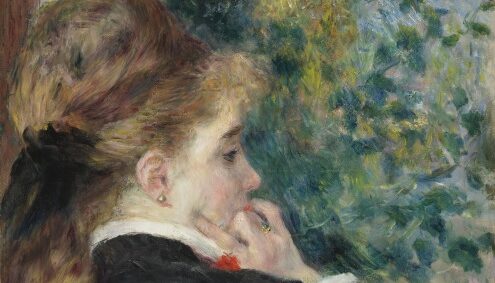 1:14:33
The collection of European paintings, sculptures, and decorative arts given by Paul and Rachel Mellon constitute an essential facet of the museum's identity. Dr. Sylvain Cordier, Paul Mellon Curator and Head of the Department of European Art, discusses the reinstallation of the Mellon Collection.
Some object records are not complete and do not reflect VMFA's full and current knowledge. VMFA makes routine updates as records are reviewed and enhanced.