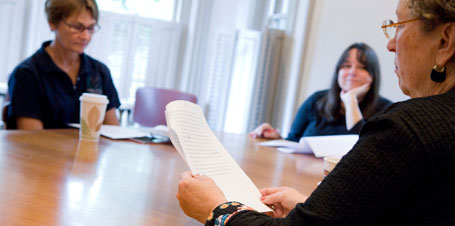 Purpose:
The principal purpose of the Teacher Advisory Council (TAC) is to involve educators from many disciplines and grade levels in developing, piloting, and evaluating educational programs and resources produced by the Museum's Education staff.
Specific functions of TAC include, but are not limited to, the following:
Making recommendations for and reviewing proposals for new programs for families, teachers, students, and children;
Evaluating existing programs such as distance learning, teacher workshops, teen studio classes, and student tours;
Reviewing proposed electronic resource materials for classroom feasibility, including resource sets, gallery hunts, classroom activities, videos, and lesson plan concepts;
Piloting and evaluating new programs and/or materials;
Working as liaison between museum and the school systems, promoting and increasing awareness of educational materials and programs offered through the museum; and keeping the museum informed about developments within the school system that might have an impact on museum programs.
If you are a Virginia educator (pre-K-12 level) and are interested in serving on the Teacher Advisory Council, please notify Twyla Kitts, Twyla.kitts@vmfa.museum; 804-204-2662.