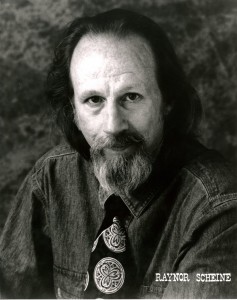 Don't miss a very special event next Friday when veteran Hollywood character actor Raynor Scheine appears in-person at the Virginia Museum of Fine Art's theater to speak and answer questions about his key role in Fried Green Tomatoes (1991), the first movie to be screened for VMFA's new Friday Films series. Be there at 6 p.m. for clips of some of Mr. Scheine's major parts in familiar Hollywood movies with the most recognizable stars, then settle in for Fried Green Tomatoes. Afterwards, enjoy a very rare and fine opportunity for a Q&A session with Mr. Scheine, a true professional who's role in the movie as Sherriff Curtis Smoote from Georgia is pivotal.
Originally from Emporia and a graduate of VCU, Mr. Scheine made his way to the New York theater scene, appearing off- and on- Broadway. Then his career fired-up as he began the coast-to-coast life of a movie star playing in major productions for the big time studios of Hollywood, California. By now, Mr. Scheine has appeared in over 50 feature motion pictures including My Cousin Vinny (1992) with Masrisa Tomei, Ghost Dad (1990) with Bill Cosby, Ace Ventura, Pet Detective (1994) with Jim Carrey, The Quick and the Dead (1995) with Russell Crowe and Sharon Stone, and The Rookie (2002) with Dennis Quaid, and too many more to list. Mr. Scheine's TV show roles include ER, Law & Order, and Deadwood to mention only a few. He even played live on VMFA's theater stage in Joe Turner's Come and Gone by August Wilson.
Already a classic, Fried Green Tomatoes is a visually splendid film, beautifully lit and filmed with an expertise that makes it stand out from the crowd. Two story lines are deftly woven: a modern and an old set in 1930s Alabama. To sum it up, Fried Green Tomatoes is an exquisite work about everyone getting along but avoids the sappy clichés. Full of surprises, warmth, humor, tension, and intrigue, this film truly keeps the audience tuned-in from start to finish. Plus, it can not be stressed enough how fantastic the cast is: Mary Stuart Masterson, Mary-Louise Parker, Kathy Bates, Jessica Tandy, Stan Shaw, Cicely Tyson, and of course, Raynor Scheine, who crafts his relatively modest role to loom large and powerful.
If you have seen Fried Green Tomatoes before, do re-visit it viewing the crisp and bright new image on the screen in our Leslie Cheek Theater and take advantage of a very personalized chance to learn about a movie's workings as you never have. And if you have never seen Fried Green Tomatoes, this is absolutely a MUST — a full and unique experience as only happens once in a blue moon.
– Trent Nicholas, VMFA Coordinator of Statewide Media Resources