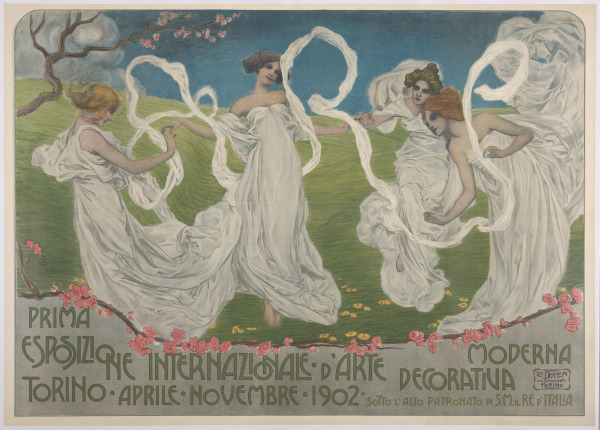 First International Exhibition of Modern Decorative Arts, Turin (Translation)
Prima Esposizione Internazionale d'Arte Decorativa Moderna, Torino (Primary Title)

Signed at lower left and right: "L Bistolfi/up di Bernard (?)," and "Lit. Doyen/ di L. Simondetti/Torino"
John and Maria Shugars Fund
"Leonardo Bistolfi-Turin," Deutsche Kunst und Dekoration, vol. 10 (April-Sept 1902), pp. 331-339, poster after p. 337.

Genova, G. di, "Leonardo Bistolfi," in: Dizionario Biografico degli Italiani (Istituto dell'Enciclopedia Italian);.

Cena, Giovanni, Leonardo Bistolfi (Nuova Antologia, 1905).

MacFarlane, Cecil, "An Italian Sculptor: Leonardo Bistolfi," International Studio, vol. XLIII, (1911), pp. 180-187.

Wember, Paul, Die jugend der plakate, 1887-1917 (Krefeld: Scherpe Verlag, 1961), p.136.

Menegazzi, Luigi, Il manifesto Italiano, 1882-1925 (Milan: Electa Editrice, 1975), p. 129.

Bargiel Réjane and Harry & Christophe Zagrodski Le livre de l'affiche/The book of the poster (Paris: Éditions Alternatives, 1985), p. 114.

Weill, Alan, Master of the poster 1900 (Paris: Bibliothèque de l'image, 2001), p. 125.

Müller, Jens and Julius Weidermann, The History of Graphic Design (Cologne: Taschen, 2017), p. 109.

Huppertz, Wim et al, Goddesses of Art Nouveau, W Books, 2020, p. 17.

Books of the auctions organized by Poster Auctions International, Inc., PAI-XIII, 100.
Some object records are not complete and do not reflect VMFA's full and current knowledge. VMFA makes routine updates as records are reviewed and enhanced.