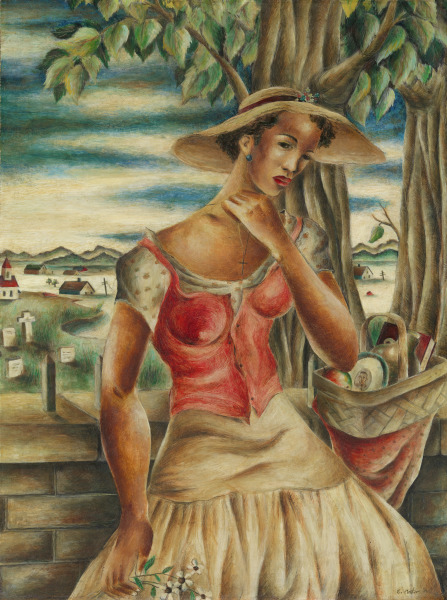 Southern Landscape (Primary Title)

Driving across the country in 1937, the Richmond-born artist Eldzier Cortor witnessed the devastation of massive flooding near the Salt River in Shepherdsville, Kentucky. The artist recounted seeing homes floating down the river, a detail he included in Southern Landscape, one of three works he produced in response to the event. The tone of loss is reinforced by the middle-ground tombstones, which resound in the crucifix necklace clutched anxiously by the woman. The woman's basket contains other personal essentials she was able to save in the moment of crisis: a framed photograph, and a book (perhaps a Bible), a jug, and a piece of fruit.
Scholars have often interpreted Cortor's recurring elongated African American female as a symbol of the richness of the African diaspora. Here, however, the woman's loose bunch of anemones, cropped at the bottom of the painting, introduce a time-honored sign of death and abandonment. With these symbols, Cortor reminds us of the proximity of life and loss for African Americans in the 20th-century South. Southern Landscape was once owned by the esteemed African American novelist Ralph Ellison, who worked for the Works Progress Administration's Federal Writers' Project during the same period that Cortor painted under the aegis of the program's Federal Art Project.
Signed and dated lower right: E. Cortor '41
Arthur and Margaret Glasgow Endowment
2021: "The Dirty South: Contemporary Art, Material Culture, and the Sonic Impulse", VMFA, May 22 - September 6, 2021

"Extra Ordinary: Magic, Mystery and Imagination in American Realism", Georgia Museum of Art, University of Georgia, Athens, GA, February 27 - April 26, 2021

Three Masters: Eldzier Cortor, Hughie Lee-Smith, Archibald John Modley, Jr., Kenkeleba Gallery, New York, NY, May 22 – July 17, 1988, catalogue no. 4.

African American Art: 200 Years, Michael Rosenfeld Gallery LLC, New York, NY, January 10-March 28, 2008. Illustrated in the exhibition catalogue on page 81 and on cover of the announcement card.

A Force for Change: African American Art and the Julius Rosewald Fund, The Spertus Museum, Chicago, IL, February 6-August 16, 2009; Allentown Art Museum, Allentown, PA, September 13, 2009- January 10, 2010; Montclair Art Museum, Montclair, NJ, February 6 – July 25, 2010. Illustrated in the exhibition catalogue on page 71, figure 17.

After Tanner: African American Artists since 1940, Pennsylvania Academy of Fine Arts, Philadelphia, PA, January 28- April 15, 2012.

RISING UP / UPRISING: Twentieth Century African American Art, Michael Rosefeld Gallery LLC, New York, NY, March 15 – May 3, 2014.

© artist or artist's estate
Some object records are not complete and do not reflect VMFA's full and current knowledge. VMFA makes routine updates as records are reviewed and enhanced.