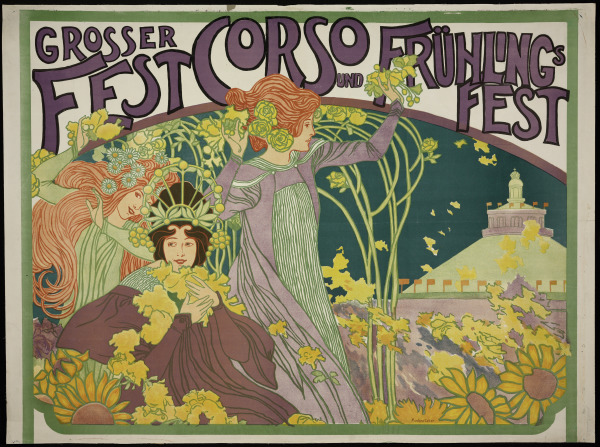 Grosser Fest Corso und Frühlingsfest (Primary Title)
Big Celebration Parade and Spring Festival (Primary Title)

Josef Maria Auchentaller worked in Vienna at the turn of the last century as a painter; graphic artist; and designer of jewelry, textiles, and posters. He was also a master craftsman who played a prominent role in Austrian Art Nouveau, known as the Secessionist movement. This rare poster was designed for the Vienna Flower Corso, which was a spring festival celebrated between 1886 and 1914. The building depicted at the far right is the city's rotunda, which was built for the 1873 Vienna World's Fair.
In addition to illustrations and posters, there are many designs for jewelry by Auchentaller that show his influence on Austrian Art Nouveau. One important belt buckle, designed by Auchentaller and made in Vienna by Georg Adam Scheid is on view in the museum's Art Nouveau gallery along with other German and Austrian examples.
Albertina Museum stamp (Lugt L.5e) in black ink at lwoer left corner on verso (on linen).
Inscribed in graphite at lower right corner, recto: 1467 Auchentaller. Inscribed in graphite at lower left corner, verso (on linen); Achentaller DH 2004/1465 Sly[?] Paul 1467.
John and Maria Shugars Fund
L'Art décoratif, January, 1900, Volume 2, no.18, p. 179
The Poster: An Illustrated Monthly Chronicle, March-August, 1900, Volume 4, p. 99
Die Kunst, 1900, Volume 1, No. 2, p 140
Dekorative Kunst, 1900, Volume 5, p. 149
©artist or artist's estate
Some object records are not complete and do not reflect VMFA's full and current knowledge. VMFA makes routine updates as records are reviewed and enhanced.