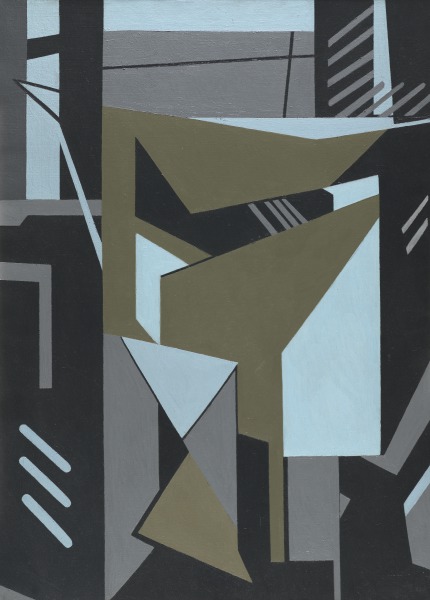 Construction #5 (Primary Title)

Ralston Crawford, like his senior colleague Charles Sheeler, established a critical reputation in the 1930s New York art world with crisply defined Precisionist paintings of the American industrial landscape. However, his most inventive compositions followed the emergence in the late 1940s of abstract expressionism, a movement that all but sidelined the artist's subjective geometric work. This image dates from a pivotal moment in Crawford's career when he was perfecting a bold abstract style characterized by a simplified cubism and restricted color scheme.
Construction #5 is linked to the Diesel Construction Company (one of the era's largest general contracting firms), which commissioned ten New York artists to interpret its skyscraper project then rising at 100 Church Street in Lower Manhattan. According to the artist's son Neelon Crawford, he and his father visited the site on various occasions, "climbing to the highest point possible during the erection of the steel structure." The experience inspired a series of abstract paintings (as well as drawings and photographs, two examples of which are also owned by the museum), Construction #5 being the most dynamic and pictorially complex.
Floyd D. and Anne C. Gottwald Fund and partial gift of Neelon Crawford
Whitney Museum of American Art, New York: Ralston Crawford, October 3, 1985-February 2, 1986 (traveled to Phillips Collection, Portland Art Museum, and Akron Art Museum)

Nordness Gallery, New York: Ralston Crawford: Oils and Lithographs, March 12-30, 1963
© artist or artist's estate
Some object records are not complete and do not reflect VMFA's full and current knowledge. VMFA makes routine updates as records are reviewed and enhanced.