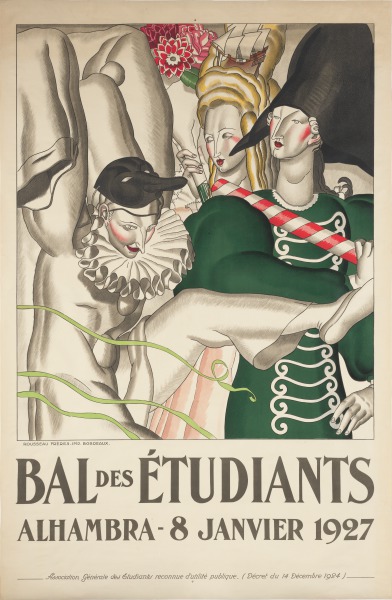 Poster, The Student's Ball (Bal des Étudiants) (Primary Title)

Jean Dupas, born in Bordeaux, was a talented Art Deco artist. He created his first poster for the Salon of the Société des Artistes Décorateurs in Paris in 1924 and thereafter received regular commissions. This poster was printed by Rousseau Frères, a renowned establishment in Bordeaux capable of creating vivid colors. The scene evokes the annual Venetian Carnival, with its mix of traditional commedia dell'arte costumes and late 18th-century fashion. Only a small number of these posters were produced, most likely because of the high cost of printing such fine colors.
Marked (lower left): ROUSSEAU FRERES. IMP. BORDEAUX
John and Maria Shugars Fund
©artist or artist's estate
Some object records are not complete and do not reflect VMFA's full and current knowledge. VMFA makes routine updates as records are reviewed and enhanced.