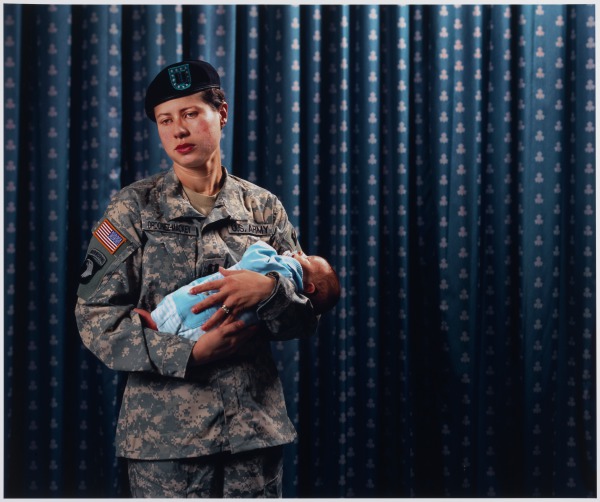 Captain Gabriela Ordonez-Mackey, U.S. Army (Primary Title)
When Janey Comes Marching Home (Series Title)

"9/11 is actually what sparked my interest in joining the military. . . . It was just this feeling that if we go to war against whoever did this, I want to be part of that." —Captain Gabriela Ordonez-Mackey
This image belongs to a series Pflaegingmade in collaboration with Laura Browder, professor of American Studies at the University of Richmond. Browder conducted interviews with over fifty female war veterans and Pflaeging took photographs. Presented as a traveling exhibition and a book, When Janey Comes Marching Home: Portraits of Women Combat Veterans (2010) focuses on an often overlooked but growing percentage of the US armed forces. Captain Gabriela Ordonez- Mackey, US Army juxtaposes two seemingly disparate cultural roles: US soldier and mother.
Signed on verso: "S. Pflaeging"
Some object records are not complete and do not reflect VMFA's full and current knowledge. VMFA makes routine updates as records are reviewed and enhanced.