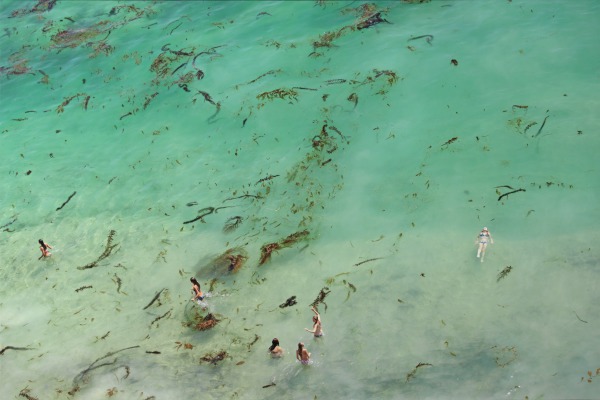 Sea of Dreams, 9389 (Primary Title)
Sirens, 9389 (Alternate Title)
Sea of Dreams (Series Title)

"Three quarters of the earth's surface is covered by water, and we're just beginning to explore the hidden depths." —Judith Fox
Drawn to the painterly surface of the Pacific Ocean, Fox's Sea of Dreams series features large format images of a particular location on the coast line, taken from a fixed vantage point (her balcony) over a ten-year period. While many of the works border on complete abstraction, the allegorical Siren group within the larger Sea of Dreams series introduces the small, distant figures of teenage girls swimming in the tide. Fox likens the girls to the beautiful creatures in Greek mythology that lured sailors to their death. Despite the presence of human forms, the large scale and rich color of the compositions create an ambiguous and disorienting sense of space and depth, transforming the familiar into the unfamiliar.
-John Ravenal
number 3 from an edition of 15
Signed in black ink on verso: "Judith Fox".
on verso: Sea of Dreams Sirens 9389 6/15 © 2011
Some object records are not complete and do not reflect VMFA's full and current knowledge. VMFA makes routine updates as records are reviewed and enhanced.