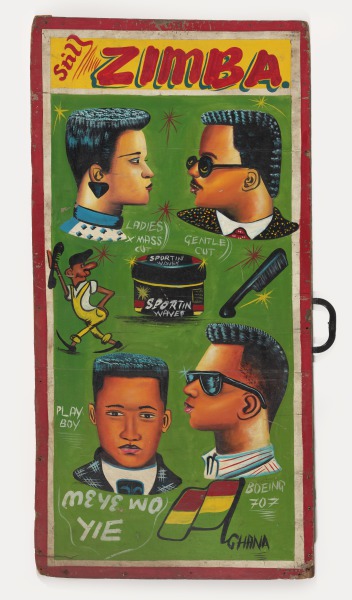 Barber's Sign (Primary Title)
Barbershop Sign (Former Title)

Bearing Ghana's name and flag, this portable sign celebrates the nation that began the independence movement in Africa. Rendered int he country's official colors of red, yellow, and green, it depicts four popular hairstyles and assures good service ("meye wo yie"). The close-cropped modern cuts reveal a Western bent, as do their names (Boeing's 707 began service in 1958, the year after Ghana gained independence.) The modern cuts--worlds away from former styles represented ont he adjacent statues--reflect the transition to hairstyling as a commerical enterprise rather than social duty. Sportin' Waves, the groominf product shown at center,w as trademarked in 1985 by the Chicago-based Soft Sheen Products, and the sign was acquired in Accra in 1994, facts that help date the painting to circa 1990.
Gift of Kenneth and Bonnie Brown
© artist or artist's estate
Some object records are not complete and do not reflect VMFA's full and current knowledge. VMFA makes routine updates as records are reviewed and enhanced.