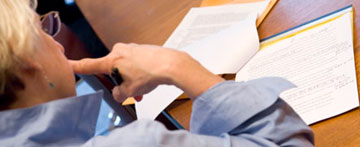 Students are taught in a supportive environment, seminar-style so that they can explore and learn to write in a variety of formats.  Creative Writing classes are small with a maximum of ten so students can receive feedback from the instructor and classmates.
Instructors Tracy Smith and Douglas Jones teach most weekly classes.
Class Schedule
---
Unleash Your Writer Within [42]
Sat, Feb 11, 10 am–4 pm | Studio School, 2nd floor Conference Room
Stacy Hawkins Adams

Learn why telling your story matters and how you can best craft it for publication or personal accomplishment. Select a fictional form such as a novel, short story or children's book or in a nonfiction form such as a memoir, blog, or essay. This workshop is ideal for beginning writers who want to get from the idea stage to "The End."

$90 (VMFA members $75)
---
Memoir Writing Workshop [43]
Sat, Mar 4, 10 am – 4 pm (1sessions) |Studio School, 2nd floor Conference Room
DOUGLAS S. JONES

Willa Cather wrote, "Some memories are realities, and are better than anything that can happen to one again." Ernest Hemingway wrote, "Memory is hunger." This class merges these two notions: that memories are heightened experiences, and that they make us hunger for more. The instructor offers students encouraging feedback and specific writing prompts to help develop ideas.
---
Introduction to Poetry Workshop NEW! [44]
Mon, May 1--15, 10 am – 1 pm (3 sessions) |Studio School, 2nd floor Conference Room
Brynne Rebele-Henry

A class focused on learning different poetic forms, writing three poems, learning how to participate in and contribute to literary workshops, and reading and discussing a variety of work by contemporary poets. We will workshop each piece, and close each class session by having a group discussion on writing, poetry, community, and the elements of the workshop that students found helpful or challenging.