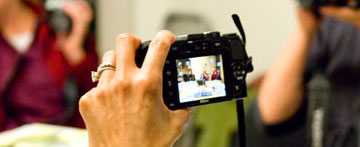 From the intricacies of learning to shoot with a digital or film camera to exploring 19th century alternative photo processes, the Studio School has a photo class for everyone.  Traditional photo darkroom enthusiasts can refine both technical and creative skills and learn about photo history and aesthetics.
Instructors Monica Ascamilla and Georgianne Stinnett teach most weekly classes.
Class Schedule
---
iPhone Photography Workshop [51]
Sat, Mar 25, 10 am–3 pm (1 session) | Studio School, 2nd floor Conference Room
TRAVIS FULLERTON
Do you use your iPhone to make photos more than your digital camera? Learn from a photographer who uses his iPhone regularly in his studio practice. Students will learn the various camera functions and will practice shooting during in-class exercises.

$90 (VMFA members $75)