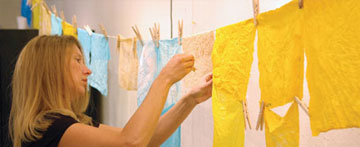 The most varied of all areas of studio art study, Design + Mixed-Media covers a wide range of classes and workshops including Hoop Embroidery, Introduction to Jewelry, Introduction to Stained Glass, Introduction to Sewing and many others.
Instructors Sarah Hand, Jude Schlotzhauer, Shelley Jones, and Mary Swezey teach many of the classes and workshops.
Class Schedule
---
Introduction to Papier-Mâché May Intensive [36]
Tue, May 2 -- 23, 9:30 am -- 12:30 pm (4 sessions) | Studio School, 2nd floor
SARAH HAND

Explore sculpting with papier-mâché to create small sculpture. The instructor will demonstrate the use of armature sculpting, traditional newspaper and paste papier-mâché, and painting. Students will then create their own sculptures. Learn various ways to attach pieces, create expressions, and embellish. Explore how to make a three dimensional object in this low-tech medium. The instructor will also show examples of her own creations and give students an overview of papier-mâché. A materials fee of $20 is payable to the instructor at the first class session. It includes most materials.
---
Hoop Embroidery Workshop [59]
Sat, Mar 25, 10 am -- 4 pm (1 session) | Studio School, 1st floor
MARY SWEZEY
Learning a few basic embroidery stitches will allow you to embellish your own clothing or household textiles or simply make marks on fabric and draw with thread. Embroidery is an easy, portable, and inexpensive art form. Cotton fabric, a small embroidery kit, and hoops will be supplied. Feel free to bring a piece of clothing or tea towel to embellish. Expect to complete a small sampler of stitches and a hoop composition and a fabric embellishment. A materials fee of $20 payable to the instructor is due at the beginning of the workshop.
$90 (VMFA members $75)