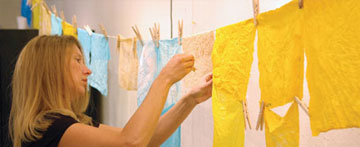 The most varied of all areas of studio art study, Design + Mixed-Media covers a wide range of classes and workshops including Hoop Embroidery, Introduction to Jewelry, Introduction to Stained Glass, Introduction to Sewing and many others.
Instructors Sarah Hand, Jude Schlotzhauer, Shelley Jones, and Mary Swezey teach many of the classes and workshops.
Class Schedule
---
African Inspired Beaded Jewelry [54]
Sat, Oct 21, 10 am–4 pm (1 session) | Studio School, 2nd floor
Saajida Chohan

Awaken your creative spirit and draw ideas inspired by the VMFA African art collection to create your own beaded jewelry. Practice traditional and contemporary beading techniques using an array of natural and fabricated materials, while learning about African cultures and body adornment. Tools are available during the workshop and materials are included.
$110 (VMFA member $95)
---
Visible Mending Sampler Workshop NEW! [57]
Sat, Oct 7, 10 am – 4 pm (1 session)| Studio School, 1st floor
Mary Swezey
Participants will learn about the history of visible mending with roots in Japanese Sashiko and Indian Kantha stitching. With guidance from the instructor, students will make a mending sampler featuring a variety of stitches to fix tears and holes in loved and worn clothing. You will learn skills to repair your clothing and make them interesting in the process. The instructor will provide a mending kit for $20, payable at the beginning of class. You may also want to bring additional cloth or a clothing item to work on during the workshop.
$90 (VMFA members $75)
---
Ornament Extravaganza Workshop [58]
Sat & Sun, Nov 18 & 19, 10 am–4 pm (2 sessions) | Studio School, 2nd floor
Sarah Hand
Learn the art and craft of making spun cotton ornaments—a messy but addictive process. Small armatures, fluffy cotton, and lots of glue magically combine to make cozy little ornaments. We'll take it further with pipe cleaners, bump chenille, glitter, and some vintage materials. Have fun and make holiday ornaments to cherish or give as gifts. A fee of $10, payable to the instructor, is due at the beginning of the workshop.
$145 (VMFA members $130)