Download the Teen Audio Guide
Find out more about Museum Leaders in Training (M.LiT).
Audio Tour
Why do we create? Seems like a simple enough question, but as our M.Lit participants found out, there is no simple answer. Students decided on the top five possible answers as the basis for their audio guide. We create…to decorate, to express emotions, to establish an identity, to serve a function, and to evoke a response. Participants chose works from the VMFA's collection that embodied these answers and used their creativity to write dramatic monologues and poems from the point of view of either the artwork or artists. Each stop on the audio guide is a journey into the canvas and an exploration of the human need to create.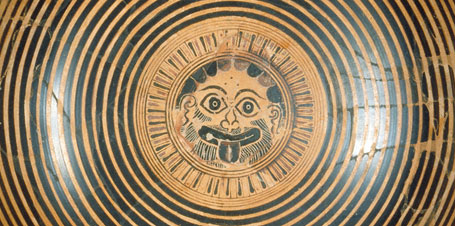 Black-Figure Eye Cup, ca. 530 BC
Greek (Attic)
Terracotta
Adolph D. and Wilkins C. Williams Fund
Written and Recorded by Irene Koo, Chelsea Glowacki, Miles Barnett, and Jack Miller
Play MP3:
Have you ever wondered why humans create art? For this piece of art it evokes a response. The Symposium was a Greek gathering where men would drink wine. The wine was served in an eye cup such as this and would be decorated with mythological creatures like Medusa. When lifted to drink the eye cup would make the drinker seemingly transform into a gorgon; a monster who represented the evil released within Greek men.
Untitled
By Irene Koo
Her black would hair, twisted snakes
He stares into the vessel's depths
Imploring, pulling, mesmerizing – I am drawn
As the wine pours, a crimson stream
Into the cup; the gorgon is submerged
And she pulls him under
The music of symposium, the noise of demons
The harp, the discordance of shouts and laughter
Struggling to break to the surface
Civility, no. No Presence but the 'Other.'
As if from Sirens' song, I am paralyzed.
Oh Dionysus, Temptation breaks us.
The endless, transfixing circles
The current drags the symposiast, deeper
The deep red sea, it hides its treasure from me
The deeply entangles snares of Medusa
But I feel, I know, I d r i n k
He is lost.
I am found.
When man becomes monster.
I feel her paralyzing gaze, I see her eyes
He is nowhere to be seen, trapped below
beneath the last lapping waves; I have reached shore
the full monster, released and untamed
My throat burns with the eternal fire of Hades.
Boring eyes, gaping jaw, treacherous snout!
At last, she is there!
Mask of beast, turning master into powerless servant
The last drops of win cling to her gaze
Holder of the kylix, utterly transformed
Medusa, warding off the evil; but it is I that have
His face, hideous creature; he has
become it.
This piece evoked a response in those who witnessed the men's transformation. The horrific appearance of the raised eye cup was meant to warn the viewers of the dangers of being intoxicated and irresponsible. Greek culture was built upon respect for civilized society, which was threatened by the wine in the eye cup.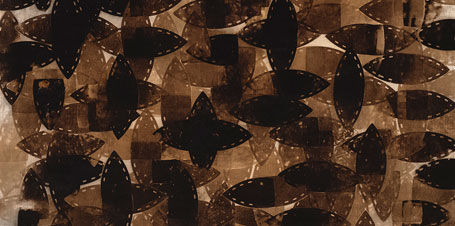 Fast Track Home, 1999
Willie Cole (American, born 1955)
Scorched canvas
National Endowment for the Arts Fund for American Art
Written and Recorded byAndrea Haas, Amy Woo, Caroline Bivens, and Sarah Walshak.
Play MP3:
Why do we create? Some artists create to express identity. Willie Cole uses both the iron and its mark to express his heritage.
Scorch marks
By Andrea Haas
Red hot iron's touch cools to a black scar,
That's what I am,
I am the mark which labels you,
Telling people what life you live,
Never letting you forget who you are.
Even in your future,
I'm the endless hole that looks back to your past,
Never letting you forget where you came from,
Never letting you forget who you were.
And now to your ancestors I am a reminder,
Telling them the troubles you bore,
The ridicule you were berated with daily,
Never letting them forget who you were.
Today I am on a white canvas,
Still as black and endless as before,
Remaining longer in the world,
But not exceeding the memory in the mind.
As a man of the house, Willie Cole was frequently called upon to fix things, including irons, to which he developed a lifelong attraction."I didn't have a plan to start using steam irons," Cole said in a telephone interview. "I saw an iron on the street that had been run over by a car, and it looked to me like an African mask. It grew from there." The white dashes along the edge of the irons remind Cole of both the lines down a highway and the V-formation of flying geese, hence the title Fast Track Home."
Willie Cole said, "I began to think that people worshiped objects. If you see a picture or an advertisement of something you want, then you begin to desire it. And you desire it so much that when you obtain it, your desire turns to worship. In other cultures, their use of the object and their dependence on it is a ritual action and is evidence of their worship."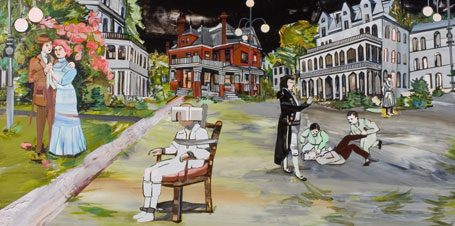 The Superintendent, 2006 (this work is currently off view)
Elizabeth Huey (American, born 1971)
Acrylic and oil on panel
Gift from the Fabergé Society of the Virginia Museum of Fine Arts
Written and Recorded by Gabriele Routh, Megan Strickland, Olivia Brescia, and Audrey Carter
Play MP3:
Why do we create art? We create art to express emotion. This is The Superintendent by Elizabeth Huey. Some of Huey's work deals with the way mental illness and psychiatry were perceived in the 19th century.
Shut Away
By Gabriele Routh

My world is open
Filled with shadows and freedom
My gardens are filled with
All my good friends,
And each of my enemies
Live in my beautiful palace
My life is exciting
Empty and boundless
Always sitting here
In my open world
Of vast architecture
With bat inspired buildings
And gothic arches
Where vague shapes
Pass before my eyes
Through the black sky they float
And I try to help them
But they are my enemies
They shoot my body
And scar my mind
I built this castle for them,
My friends,
Where they can roam free
Through the vast openness
And Victorian arches
And can be healed of their disease
Here on my throne
I am King
Of my beautiful castle
With healing gardens
And caring, empty rooms
Filled with blinding light
I wear a box as my crown
And its shuts my face in
Away from your mythic reality
I am blind
To the real world
But I enjoy my architecture
Much more anyway
So I created a kingdom
Behind my eyes
Where I am king
Soon to be lobotomized,
I will run from this world
And let my friends die
For I am a human
An organism
A body
An idea
Nothing
But was I right?

Could you tell whose perspective this was told from? Sensory deprivation boxes were used for treating mental health patients in the 19th century. This method, along with many others, were carried out in asylums like the ones depicted in this painting. The buildings in this painting are modeled after asylums built by Thomas Story Kirkbride, a pioneer in American psychiatry. He believed in using open spaces to help treat mental illnesses. He also believed in using large Victorian buildings to pacify his patients. Huey questions the ethics of Kirkbride's methods. She expresses the emotion of the mental patients through the five depictions of Kirkbride. The diverse illustration of emotions helps evoke the feeling of confinement each patient experienced. Does this painting evoke an emotional response within you?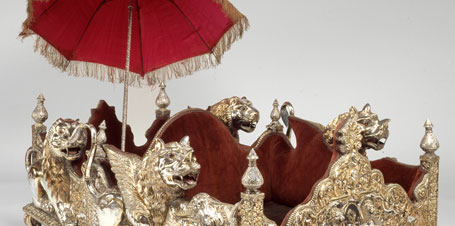 Howdah, ca. 1870 – 1920
Indian Surguja
Silver, gilded silver, wood, velvet, glass, paint
The Robert A. and Ruth W. Fisher Fund
Written and Recorded by Camille Karabaich, Clayton Hall, Adrienne Davis, and Maya Prentiss
Play MP3:
Why do we create? We create for function. The Howdah is an Indian elephant saddle used to show wealth in the late 19th and early 20th century.
The Old Onlooker
By Camille Karabaich
For every wrinkle upon my face,
There is a story.
Wrinkles run deep paths around my mouth,
Wrinkles hang lazily beneath my eyes,
Wrinkles lie sternly across my brow,
These last speak a story now.
Once a group of white men came,
Our lives have not since been the same.
For they took control
And put awful ideas in the soul.
An example comes atop an elephant, you see,
If you'll take a look at that Howdah with me.
The lotus there is a symbol of ours
But it is no more under English power.
It is more realistic,
As if we're not artistic.
Another there, I protest,
Winged beasts do not exist.
The maharajah looks brave and tall.
But his face cannot be seen under his parasol.
He is the same way,
In a shroud before his day.
But I am approaching the day for a shroud.
I will soon be part of the ground.
That is why I tell you this, my son
Don't be fooled by anyone.
The Howdah serves two purposes. The first, more obvious function is to carry a person on top of an elephant. The second is to show the wealth and social status of the rider. The height on top of an elephant alone separates the rich rider from the peasant below. The wealth is reflected through the use of extravagant materials such as silver-gilt, velvet and semi-precious jewels.
This Howdah was created during British rule over India. The impact of this time period is shown through the many European inspired designs as seen in the coat of arms. It is a visual representation of the economic gap between classes.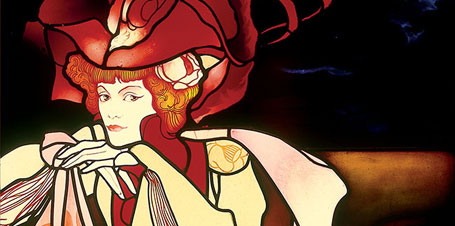 Window, ca. 1901 – 02
Georges de Feure (French, 1868 – 1943)
Stained and leaded glass, bronze, wood
Gift of Sydney and Francis Lewis
Written and Recorded by Payton Reed, Claire Moss, Reed Canaan, and Haadia Khan
Play MP3:
Why do we create? We create art for art's sake. Georges de Feure created these opaque glass fragments to personify the femme fatales and heroines he had grown fond of as a boy. As his style matured, his works brought to life these 'femme fleurs' who were introduced to him in the bookshops and theaters where he worked as a teenager.
Untitled
By Payton Reen
Did you notice me when you first walked in? I noticed you. I've been here for a while now, on the outskirts of my scene and yours, here in the dark. Morning comes and my scene lights up, but when you walked into the room you really brightened my day. Ha. What a cliché line. I heard someone say it somewhere and I remember thinking they were insincere. I judged them. I've seen so many people, people who have judged me. Will you judge me? I hope so, because that means you're looking closely. Do you have any questions for me? Maybe, but I think I'll keep my answers to myself.
I can draw you in, can't I? I've been doing it for years now. Not only to you, but to many others before you. I am older, wiser than you. So, look at me, take it all in. Now look at the floor. Do you see how it's worn right where you're standing? That's because of people, like you, who have stopped to idolize me. I'm good, aren't I? Like an earth-bound siren. I am bound here, aren't I? Still and stiff, but what can I do? People seem to like me this way, no matter how posed and uncomfortable they imagine me to be. I don't really mind though, I've gotten used to it, and it is my style that gets me noticed. Then once I've got you hooked I get to have my fun. Play with you, play with your mind, and lure you in until you finally grow tired of my games. Then you'll leave like everybody else and I'll still be here all alone until the lights go out.
This female muse appears in the imagination of authors, artists, and other creators of the time. Art can represent an individual's view of society, and the beautiful femme fatale served as an object of admiration in this time period. The lack of functionality is not apparent to the audience, because, like the beautiful woman, this piece is a wonder in and of itself.