Use the interactive map 
to explore the museum

Search for art, find what you are looking for in the museum and much more.
Use the interactive museum map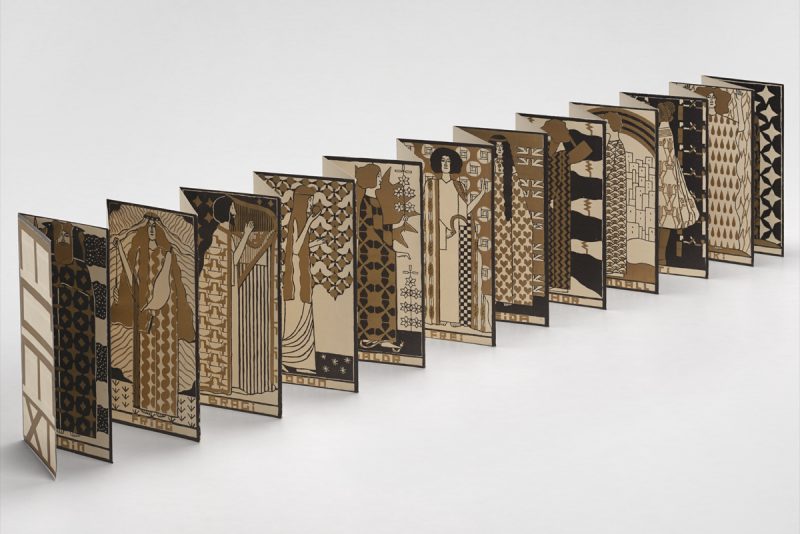 Dita Moser
Women Artists represented in the Rare Book Collection, #1
TITLE: MCMXI [1911 Calendar]
CREATOR: Dita Moser, 1883-1969
PUBLISHER: Brüder Rosenbaum, [1910]
SIZE: 16.2 x 191 cm, folded to 16.2 x 8.2 cm
Illustrated book, in leporello (or accordion folded) format, with 14-lithographed illustrations in gold and black
Among the most important decorative works by Edith "Dita" Moser, the calendar depicts Norse deities related to each month of the year. The book is typical of the Viennese Secessionist style visible in the design, subject matter and typography.
Moser was an Austrian graphic artist, who studied with Carl Otto Czeschka and Josef Hoffman at the Academy for Applied Arts in Vienna during the early 1900's. She was also married to the famous Viennese designer Koloman Moser from 1905 to 1918 and was instrumental to his success as an artist, as she was responsible for providing funding to support one of his major professional accomplishments, the Wiener Werkstätte design workshop.
Dita became known in 1906 for producing a set of tarot cards that were recognized as a triumph of graphic design. She began producing calendars illustrating biblical and mythological themes in the form of leporellos published in small editions as New Year's gifts for friends between 1908 and 1913. The designs for these calendars are currently preserved at the Museum of Applied Arts in Vienna. As her output was limited, few examples of her work survive.
One has to wonder what her artistic output might have been had she not been limited by the lack of opportunities available to women at the time as well as by personal hardship, domestic responsibilities, and the advent of World War I, after which her artistic production ceased.
View more images from this work