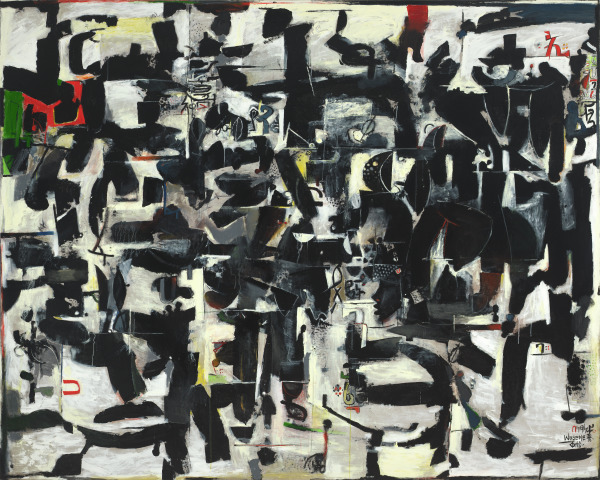 My Liberty (Primary Title)

"(My work) has become an intense process of 'dialoguing' with the script images, exploring the versatility and playfulness of their surfaces and interiors, dissecting their 'skeletal' structures, observing the ways they move, interact, and intersect." —Wosene Worke Kosrof
As a schoolboy in Addis Ababa, Wosene Worke Kosrof learned the Amharic script that has become the generative force of his artwork. In this writhing, monumental painting, he inscribed calligraphic forms using a broad palette knife. With rags and brushes he modified the shapes, creating a complex interplay between soft and hard edges. Thin vertical and horizontal lines provide a grid reminiscent of the delicate scoring of parchment by a scribe to create faint lines for regimenting letterforms on a scroll or manuscript. From within the bold and seething cauldron of large strokes, some specific characters appear; the red character in the upper right is the Amharic "E" invoking Ethiopia.
In the process of painting, a face began to suggest itself, so the artist played it out and developed the profile (lower right center) as a reference to Lucy, whose 3.2-million-year-old fossilized bones were discovered in Ethiopia in 1974. Other forms appear and disappear as the artist created, changed, and recreated in the act of painting and looking. In the artist's words, his process involves "accident and intention, building and destroying."
Verso: double signed, lower right corner Recto: double signed, upper right corner See curatorial notes
Arthur and Margaret Glasgow Endowment
5:27
Wosene Worke Kosrof talks about his artistic process, techniques, and use of symbols and writings in his paintings, along with specifics about VMFA's "My Liberty".
Some object records are not complete and do not reflect VMFA's full and current knowledge. VMFA makes routine updates as records are reviewed and enhanced.