When I'm making work, every piece is a page out of a book, a book of my life. —Radcliffe Bailey
While often rooted in personal experiences and family history, Bailey's paintings and installations suggest larger narratives of the African American diaspora. Bailey's own forbearers escaped slavery by the Underground Railroad, on which the North Star often served as a guiding beacon. Vessel brings together an array of found materials to form a tableau of displacement and migration: rustic French grape-harvesting baskets filled with crushed glass; a weathered shipping tarp embroidered with star constellation, black Civil War troop regiment numbers, and a map of states adjacent to the Mason-Dixon line; and an antique toy ship bearing an African sculpture, evoking the Middle Passage and a protective ancestor figure.
Pamela K. and William A. Royall Jr., Fund for 21st Century Art and National Endowment for the Arts Fund for American Art
"Radcliffe Bailey: Maroons," Shainman Gallery, January 16, 2014 - February 15, 2014 |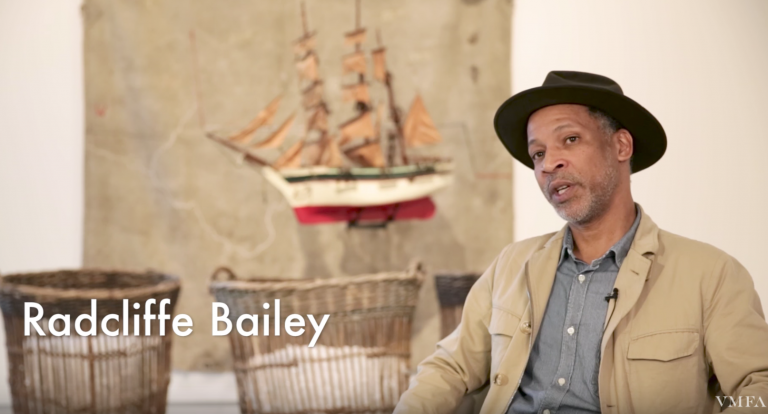 5:14
Artist Radcliffe Bailey talks about his artistic process and what he hopes his art conveys. Come see "Vessel" in VMFA's permanent collection.
Some object records are not complete and do not reflect VMFA's full and current knowledge. VMFA makes routine updates as records are reviewed and enhanced.