Young Woman Watering a Shrub (Translation)
Jeune Femme arrosant un arbuste (Primary Title)

Although deprived of formal training, both Berthe Morisot and her sister Edma aspired to become professional artists. The sisters learned methods of painting outdoors from Camille Corot and exhibited works at the subsequent Paris Salons held between 1864 and 1868. Then Edma married, and the demands of her family life soon put an end to her artistic career. Berthe exhibited at the official Salon a final time in 1873 and later participated in seven of the eight Impressionist exhibitions, becoming a major painter of the movement.
Berthe Morisot's compositions often depict transitional areas between public and private spaces. These liminal settings allowed her to blend the genres of indoor scenes and landscape painting. The deliberate application of unmixed colors and suggestive outlining for this scene demonstrate the commitment to the sketch-like, unfinished appearance characteristic of outdoor painting she retained throughout her career. The hastily rendered background effectively conveys the fleeting natural light and rapidly varying conditions of Parisian weather while focusing the viewer's attention on the figure of Edma. Women engaged in domestic work frequently served as Morisot's subjects, but the artist's decision to portray her beloved sister from behind—seemingly unaware of being observed—adds a sense of intimacy to this passing moment from the routines of family life.
signed, lower left: "Berthe Morisot"
Collection of Mr. and Mrs. Paul Mellon
2019-2020: "Van Gogh Monet Degas, The Mellon Collection of French Art from the Virginia Museum of Fine Arts", Palazzo Zabarella, Padua, Italy, October 26, 2019 - March 1, 2020

2019-2021: Van Gogh, Monet, Degas, and Their Times: The Mellon Collection of French Art from the Virginia Museum of Fine Arts, Frist Art Museum, Nashville, TN, February 2 - May 5, 2019; Mississippi Museum of Art, Jackson, MS, April 4, 2020 - January 10, 2021

2018-2019: "Van Gogh, Monet, Degas: The Mellon Collection of French Art from the Virginia Museum of Fine Arts", The Frick Pittsburgh, Pittsburgh, PA, March 17 - July 15, 2018; Oklahoma Museum of Art, Oklahoma City, Oklahoma, June 22 - September 22, 2019

2018: Collecting for the Commonwealth Preserving for the Nation, Virginia Museum of Fine Arts, 1919-2018, Winter Antiques Show, Park Avenue Armory, New York City, NY, January 18 - 26, 2018.
Image released via Creative Commons CC-BY-NC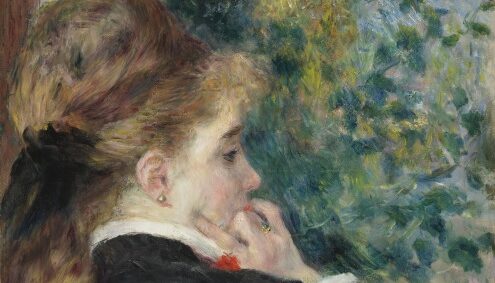 1:14:33
The collection of European paintings, sculptures, and decorative arts given by Paul and Rachel Mellon constitute an essential facet of the museum's identity. Dr. Sylvain Cordier, Paul Mellon Curator and Head of the Department of European Art, discusses the reinstallation of the Mellon Collection.
Some object records are not complete and do not reflect VMFA's full and current knowledge. VMFA makes routine updates as records are reviewed and enhanced.