Mounted Jockey (Translation)
Jockey Montant un Cheval de Course (Primary Title)

Géricault had a lifelong fascination with horses: as a boy he frequently sketched in the local blacksmith shop, and as an adult he was an accomplished equestrian who shared training techniques with professional riders. (Ironically, lingering wounds from a riding accident caused his death.) This painting, executed during Géricault's 1820–22 stay in England, shows his appreciation for the horse's form and the jockey's efforts to control his mount.
Collection of Mr. and Mrs. Paul Mellon
2019-2020: "Van Gogh Monet Degas, The Mellon Collection of French Art from the Virginia Museum of Fine Arts", Palazzo Zabarella, Padua, Italy, October 26, 2019 - March 1, 2020

2019-2021: Van Gogh, Monet, Degas, and Their Times: The Mellon Collection of French Art from the Virginia Museum of Fine Arts, Frist Art Museum, Nashville, TN, February 2 - May 5, 2019; Mississippi Museum of Art, Jackson, MS, April 4, 2020 - January 10, 2021

2018: "Country Life: Masterpieces from the Mellon Collection of MVFA", Musée de la Chasse et de la Nature, Paris, France, September 4 - December 2, 2018

2018-2019: "Van Gogh, Monet, Degas: The Mellon Collection of French Art from the Virginia Museum of Fine Arts", The Frick Pittsburgh, Pittsburgh, PA, March 17 - July 15, 2018; Oklahoma Museum of Art, Oklahoma City, Oklahoma, June 22 - September 22, 2019

"Constable to Delacroix: British Art and the French Romantics 1820-1840" Tate Britain, Feb. 6 - May 11, 2003; "Crossing the Channel: British and French Painting in the Age of Romanticism," Minneapolis Inst. of Arts June 8 - Sept. 7, 2003; Metropolitan Museum of Art, Oct. 7, 2003 - Jan. 4, 2004.

"Gericault," Galeries Nationales du Grand Palais, Paris, 26 Sept. 1991 - 6 Jan. 1992, illus. (color, fig. 344, page 217, credits, pg. 395)

"Gericault: Romantic Paintings and Drawings," The Fine Arts Museums of San Francisco, CA, 28 January - 26 MArch 1989; Cat. no. 54, p. 66, illus. p. 63 [The California Palace of the Legion of Honor]

"Theodore Gericault, 1791-1824," Salander O' Reilly Galleries, New York, N. Y., 7 April - 23 May 1987, cat no. 23, color illus. no 19.

"Degas's Racing World," Wildenstein & Co., New York, 21 March - 27 April 1968, no. 73 (illus.)

Image released via Creative Commons CC-BY-NC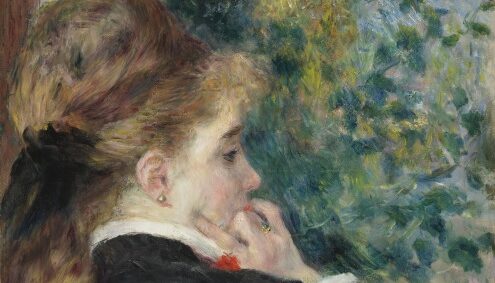 1:14:33
The collection of European paintings, sculptures, and decorative arts given by Paul and Rachel Mellon constitute an essential facet of the museum's identity. Dr. Sylvain Cordier, Paul Mellon Curator and Head of the Department of European Art, discusses the reinstallation of the Mellon Collection.
Some object records are not complete and do not reflect VMFA's full and current knowledge. VMFA makes routine updates as records are reviewed and enhanced.