Field of Poppies, Giverny (Primary Title)

In April 1883, Claude Monet moved to Giverny, a rural farming village in Normandy, and lived out the rest of his life there in a pink stucco house called Le Pressoir. Setting up his easel in a field that afforded a view of his house and the colorful expanse of an adjacent poppy field, Monet completed four paintings of this view that summer, including Field of Poppies, Giverny. The painter achieved a tranquil atmosphere and compositional harmony by dividing the foreground, middle ground, and background of the painting into three equal horizontal segments. He rendered the field and sky with a repetitive application of separate brushstrokes like those that characterized his earliest expressionist experiments. A more complex application of paint constitutes the central band of the scene, and the clever introduction of a streak of blue across the horizon line accomplishes the effect of a receding perspective.
The painting received widespread recognition in the United States when it was shown at the exhibition Works in Oil and Pastel by the Impressionists of Paris in 1886. Alden Weyman Kingman purchased the landscape, making it one of Monet's first works to be acquired by an American collector.
signed and dated, lower left: "Claude Monet 85"
Collection of Mr. and Mrs. Paul Mellon
2019-2020: "Van Gogh Monet Degas, The Mellon Collection of French Art from the Virginia Museum of Fine Arts", Palazzo Zabarella, Padua, Italy, October 26, 2019 - March 1, 2020

2019-2021: Van Gogh, Monet, Degas, and Their Times: The Mellon Collection of French Art from the Virginia Museum of Fine Arts, Frist Art Museum, Nashville, TN, February 2 - May 5, 2019; Mississippi Museum of Art, Jackson, MS, April 4, 2020 - January 10, 2021

2018: "Country Life: Masterpieces from the Mellon Collection of MVFA", Musée de la Chasse et de la Nature, Paris, France, September 4 - December 2, 2018

2018-2019: "Van Gogh, Monet, Degas: The Mellon Collection of French Art from the Virginia Museum of Fine Arts", The Frick Pittsburgh, Pittsburgh, PA, March 17 - July 15, 2018; Oklahoma Museum of Art, Oklahoma City, Oklahoma, June 22 - September 22, 2019
Image released via Creative Commons CC-BY-NC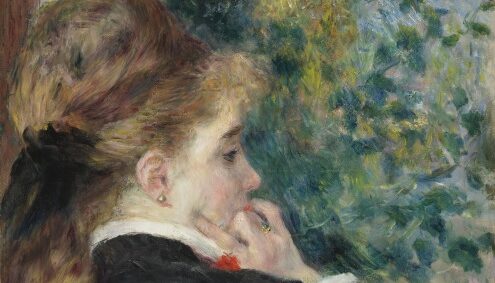 1:14:33
The collection of European paintings, sculptures, and decorative arts given by Paul and Rachel Mellon constitute an essential facet of the museum's identity. Dr. Sylvain Cordier, Paul Mellon Curator and Head of the Department of European Art, discusses the reinstallation of the Mellon Collection.
Some object records are not complete and do not reflect VMFA's full and current knowledge. VMFA makes routine updates as records are reviewed and enhanced.