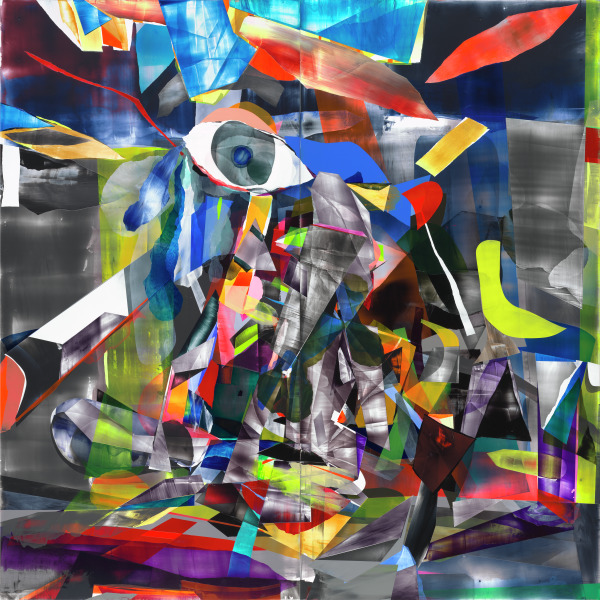 "Painting is not what you think it is. There's a slowness and a stillness in it, and I enjoy [the] . . . fight to make it full of motion." —Kristin Baker
Baker came to attention in 2003–4 for her explosive paintings inspired by Formula One carracing. From these she moved on to generalized catastrophic landscapes. The Prig, which references Cubist collage, marks her departure from these works. Painting with trowels, palette knives, and squeegees on sheets of polyvinyl chloride (PVC ),Baker builds her bright glossy surfaces by outlining each mark and shape with torn tape and filling in the interior. The forms are layered and sometimes scraped away to reveal the colors underneath. Her fractured images have a textural, handmadequality that emphasizes the materiality of paint and also a synthetic, virtual quality like 3-D digital imaging. The large eye in this work grew out of Baker's sense that while she was constantly looking at the painting, in the act of making it, it seemed to be looking back at her. The title, with its connotations of self-righteousness and Puritanism, refers to perceived limitations and stereotypes of painting through its history, which Baker enjoys pushing against.
Gift of Pamela K. and William A. Royall, Jr. in celebration of VMFA's 75th anniversary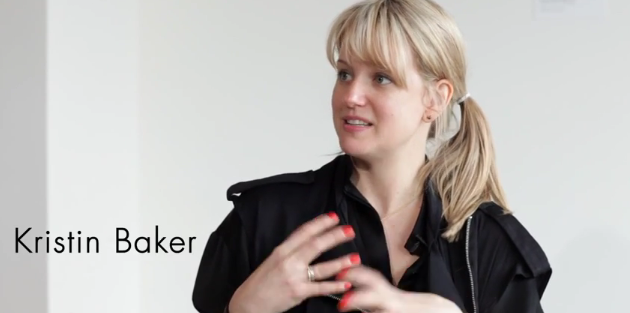 3:46
American contemporary artist Kristin Baker discusses her work, process, and inspiration. She ends with a brief description of The Prig (2009), which resides in VMFA's collection.
Some object records are not complete and do not reflect VMFA's full and current knowledge. VMFA makes routine updates as records are reviewed and enhanced.