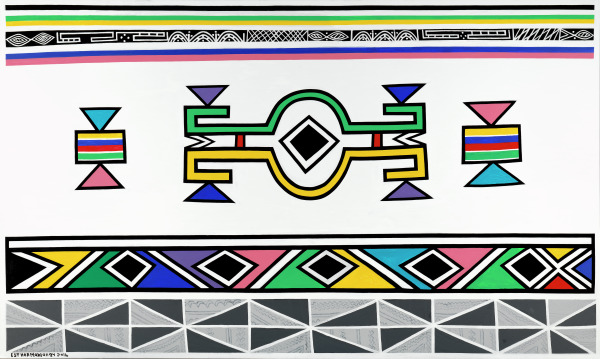 ibala leSindebele (Ndebele Design) (Primary Title)

In 2014 VMFA commissioned Esther Mahlangu to create two large-scale paintings to form a vibrant gateway for the African Art Galleries. The most renowned contemporary artist among South Africa's Ndebele people, Mahlangu has transformed the art of mural painting from its historic tradition of designs on the exterior of rural houses to projects created in a global contemporary art context. Her career was propelled in 1989 when she was invited to participate in the landmark Magiciens de la Terre exhibition in Paris. In 1991 BMW commissioned her to paint a car for their Art Car program; to date, she is the only African and only female artist included in this project.
Beyond the pride Ndebele women take in their painted homes, these residences assumed new importance during the late 19th century as statements of identity and resistance against displacement from the land by white settlers. As a young girl, Esther learned the art from her mother and grandmother. For the VMFA project, her granddaughter Marriam assisted. Esther's vision for a composition arises in her mind's eye, and she works without aid of preliminary sketch or straight-edge tool. Techniques vary from using a single chicken feather to etch a fine line to multi-feather clusters and artist's brushes for the broader areas of color.
Painted on linen, these works will survive indefinitely, whereas murals painted directly on building surfaces can be imperiled by renovation, overpainting, or degeneration from weather. Indeed, some of Esther Mahlangu's most significant international mural projects now exist only through photographic documentation.
Esther Mahlangu 2014 in lower left corner
Adolph D. and Wilkins C. Williams Fund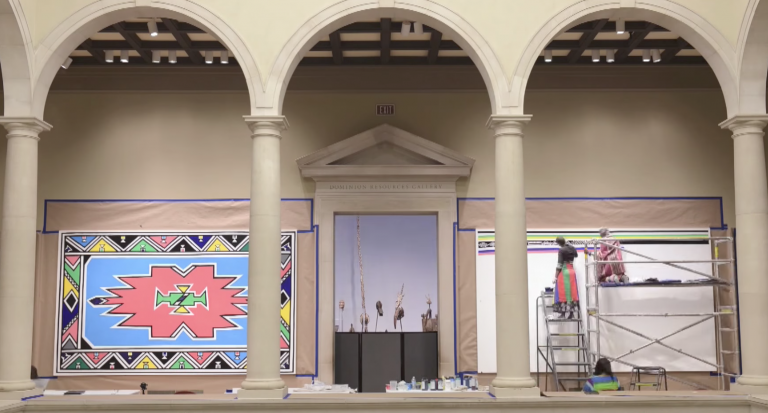 0:44
Ester Mahlangu, Artist in Residence at VMFA in the fall of 2014, works in the traditional Ndebele style of bold, geometric patterns executed on a very large scale. In the late-nineteenth century, the Ndebele women painted the exteriors of their houses in this style as an expression of identity and pride. Over the years, with the development of commercial paints, the original earth tones created from natural pigments have changed to a brighter palette. Mahlangu is the first woman and only non-Westerner to paint one of the BMW Art Cars, following in the footsteps of the likes of Warhol and Lichtenstein. As the artist climbed scaffolding and painted without a straight edge of any sort, these large works of art evolved before visitors' eyes over the course of a month.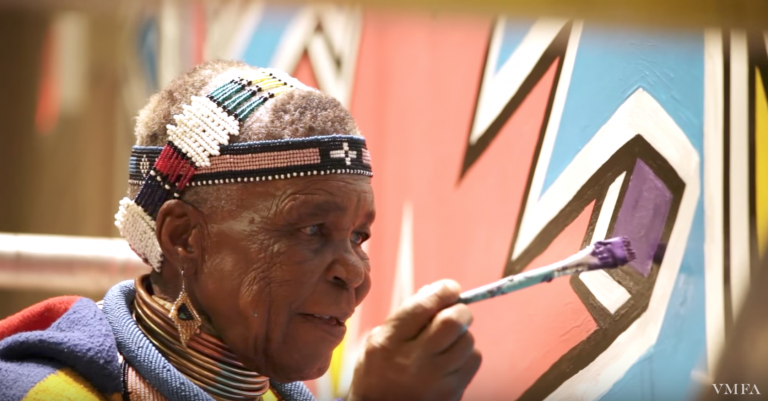 10:12
South African Ndebele artist Esther Mahlangu discusses the early years of her paining practice, her designs and pigments, and the preservation of culture in this talk at VMFA. The conversation includes Esther Mahlangu, Marriam Mahlangu, Grace Masango, and Richard Woodward (Curator of African Art).
Some object records are not complete and do not reflect VMFA's full and current knowledge. VMFA makes routine updates as records are reviewed and enhanced.