Stadia III (Primary Title)

I'm interested in describing this as a system. . . a whole cosmos, and that is the overall painting, while the little minute detail marks act more like characters, individual stories. Each mark has agency in that sense—individual agency. —Julie Mehretu
Mehretu's monumental paintings address contemporary themes of power, colonialism, and globalism with dramatic flair. She adopts imagery from architecture, city planning, mapping, and the media. At the same time, her bold use of color, line, and gesture makes her works feel like personal expression.
Stadia III belongs to a series of three Stadia paintings dealing with the theme of mass spectacle. Conceived in the wake of the U.S.-led invasion of Iraq in 2003, the series reflects Mehretu's fascination with television coverage that transformed the war into a kind of video game—as many at the time commented—and in the spectrum of nationalistic responses that she witnessed during travels to Mexico, Australia, Turkey, and Germany. The series also reflects her interest in the international buildup to the 2004 Summer Olympics in Athens.
National Endowment for the Arts Fund for American Art, and partial gift of Jeanne Greenberg Rohatyn
Julie Mehretu: City Sitings, Detroit Institute of Art, Detroit, MI, November 10, 2007 - March 30, 2008; Williams College Museum of Art, Williamstown, MA, April 19 - July 27, 2008; North Carolina Museum of Art, Raleigh, NC, August 17 - November 9, 2008

54th International, Carnegie Museum of Art, Pittsburgh, PA, October 9, 2004 – March 21, 2005


Collection of the artist; Acquired by Jeanne Greenberg Rohatyn, New York; (Dominique Levy Fine Art, New York) by 2006; Purchased by Virginia Museum of Fine Arts (VMFA), Richmond, Virginia in February of 2006. [1]

[1] Accessioned February 14, 2006.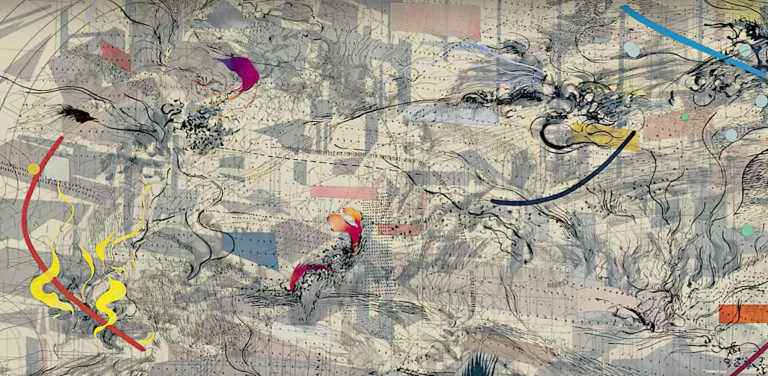 4:12
Artist Julie Mehretu talks about the concepts, processes, and implications of her "Stadia" series, including "Stadia III" in VMFA's permanent collection.
Some object records are not complete and do not reflect VMFA's full and current knowledge. VMFA makes routine updates as records are reviewed and enhanced.