Imperial Easter Egg with Revolving Miniatures (Primary Title)

The Imperial Rock Crystal Easter Egg with Revolving Miniatures was presented by Tsar Nicholas II to his wife, Empress Alexandra Feodorovna, in 1896 for their second Easter as a married couple—just two months before their coronation. The base of this egg is decorated in champlevé enamels and set with rose-cut diamonds. Its upper register features the monogram of Princess Alix of Hesse and by Rhine, Alexandra Feodorovna's name and title before she married Nicholas in 1894.
Miniatures signed by Johannes Zehngraf: l. Neue Palais, Darmstadt 2. Winter Palace, St. Petersburg 3. Jagdschloss Kranichstein, Darmstadt, Germany 4. Schloss Wolfsgarten, near Darmstadt, Germany 5. Fortress Coburg, Germany 8. Windsor Castle, near London,England 9. Alexander Palace, Tsarkoe Selo, outside Saint Petersburg, Russia 10. Balmoral Castle, Scotland 12 Osborne House, Island of Wight, England The following miniatures may be signed, but at present, no signatures are "visible" (unless the frame is removed to see if such signatures exist): 6. Cathcart House, and Congregational Church, Harrogate, North Yorkshire, England 7. Schloss Rosenau, Coburg, Germany 11. Anichkov Palace, Saint Petersburg, Russia
Initials of workmaster Mikhail Perkhin, assay mark of St. Petersburg before 1899, 56 zolotnik; original fitted velvet case lining with imperial warrant mark of Faberge, St. Petersburg, Moscow; the exterior stamped (later) with Cyrillic initials "AF" and no. 17546
Bequest of Lillian Thomas Pratt

Exhibitions: Paris 1900; St Petersburg 1902; Hammer Galleries catalogue 1937 (p. 5, no. 5, ill. p. 3); Hammer Galleries catalogue 1939; Hammer Galleries catalogue 1943; Richmond 1947, 1948, 1954, 1983; London 1977 (no. O28, pp. 106/7, ills. pp. 106/7); Roanoke 1950; Norfolk 1961; Seattle 1984 (no. 92); Richmond 2011 (no. 187, pp. 264–267, ills. pp. 264, 266/7).



Fabergé Revealed, VMFA, July 9, 2011 - October 2, 2011

Falling in Love Again, Virginia Museum of Fine Arts, Phillip Morris Gallery, July 1-September 25, 1994.

Oct. 18, 1984. Seattle Art Museum, Washngton (92)

Collector of the Year, Virginia Museum of Fine Arts, February 6 - March 13, 1983

June 22, 1977. Victoria & Albert Museum, London (028)

The Today Show television, New York, 26 March 1968

Dec. 17, 1954. Virginia Museum of Fine Arts, Richmond (unnumbered)

May 11, 1950. First National Exchange Bank, Roanoke, Virginia (unnumbered)

Jan. 21, 1948. Virginia Museum of Fine Arts, Richmond (unnumbered)

Nov. 2, 1947. Virginia Museum of Fine Arts, Richmond (unnumbered)

Sept. 8, 1939. Hammer Galleries, New York (unnumbered);

Nov. 22- Dec. 22, 1937. "Faberge His Works," Hammer Galleies, New York (5)

March 9, 1902. "Charity Exhibition of Faberge Artistic Objects, Old Miniatures, and Snuff Boxes," Von Dervis Mansion, St. Petersburg, Russia (unnumbered)

Paris Exposition Universelle, Paris, April 15 - November 12, 1900






















For Princess Alix of Hesse's visit to Harrogate, see Elizabeth Jane Timms, "Princess Alix of Hesse's Visit to Harrogate," I: Royalty Digest Quarterly, 2018/1

Elizabeth Jame Timms, "Princess Alix in Harrogate," Royalty Magazine, Spring 2017,
Image released via Creative Commons CC-BY-NC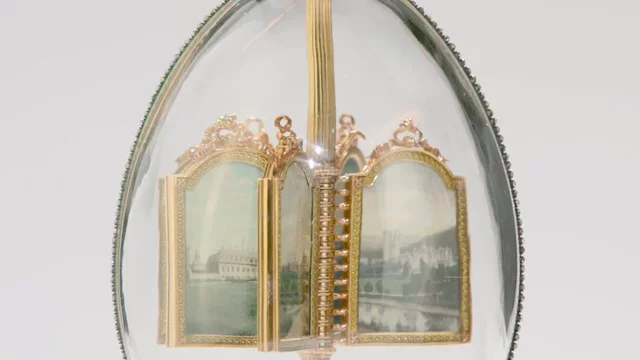 0:58
VMFA Faberge Imperial Egg with Revolving Miniatures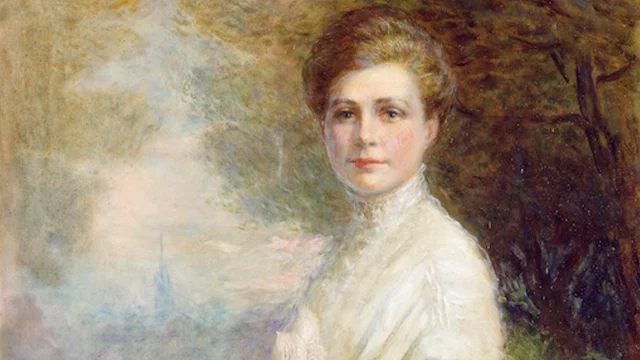 27:02
This intimate documentary unveils the world-renowned Lillian Thomas Pratt Collection of Fabergé and Russian Decorative Arts at the VMFA through recollections of family members and others who share their experiences about Mrs. Pratt, the passionate collector, and the facts behind the fantasies.
Some object records are not complete and do not reflect VMFA's full and current knowledge. VMFA makes routine updates as records are reviewed and enhanced.