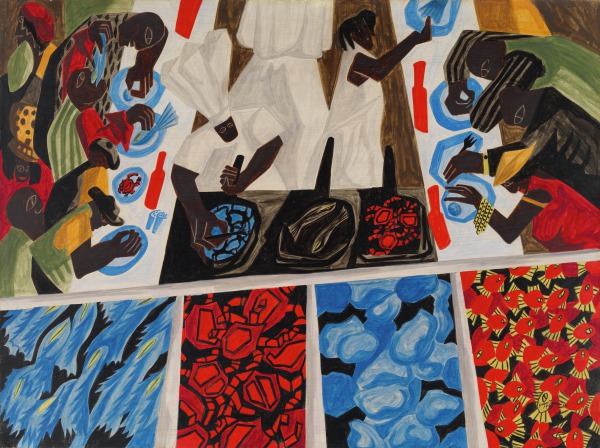 Catfish Row (Primary Title)

In 1947 the celebrated modernist Jacob Lawrence received a commission from Fortune magazine to depict African American life in the so-called Black Belt, a broad agricultural region of the Deep South. The artist spent a few weeks that summer traveling to Memphis, Vicksburg, and New Orleans, as well as various communities in Alabama. Catfish Row is one of ten temperas resulting from Lawrence's journey, all painted on his return to New York. This dynamic painting, with its overall mood of abundance and pleasure, depicts the shared preparation and consumption of food in black communities that offered some respite from the hardships of racial discrimination in the postwar years.
Signed and dated, lower right: Jacob Lawrence/ 1947
J. Harwood and Louise B. Cochrane Fund for American Art
American Federation of Arts, New York (organizer, traveling exhibition), Jacob Lawrence, no. 31. Venues: The Brooklyn Museum, 22 November 1960 – 2 January 1961;
Whitney Museum of American Art, New York (organizer, traveling exhibition), Jacob Lawrence, 16 May 1974–7 July 1974, no. 101. Other venues: The Saint Louis Art Museum, 1 August – 1 September 1974; Birmingham Museum of Art, 23 September – 23 October 1974; Seattle Art Museum, 15 November – 15 December 1974; William Rockhill Nelson Gallery of Art and Atkins Museum of Fine Arts, Kansas City, 6 January – 6 February 1975; New Orleans Museum of Art, 27 February – 29 March 1975.
Seattle Art Museum (organizer, traveling exhibition), Jacob Lawrence: American Painter, 10 July 1986 – 7 September 1986, no. 79. Other venues: The Oakland Museum, 26 September – 30 November 1986; High Museum of Art, Atlanta, 16 December 1986 – 1 March 1987; The Phillips Collection, Washington, D.C., 3 April– 1 June 1987; Dallas Museum of Art, 19 July – 6 September 1987; The Brooklyn Museum, 1 October – 1 December 1987.
Henry Art Gallery, University of Washington, Seattle, Jacob Lawrence: Painting Life, 2 July – 27 September 1998.

© artist or artist's estate
Some object records are not complete and do not reflect VMFA's full and current knowledge. VMFA makes routine updates as records are reviewed and enhanced.