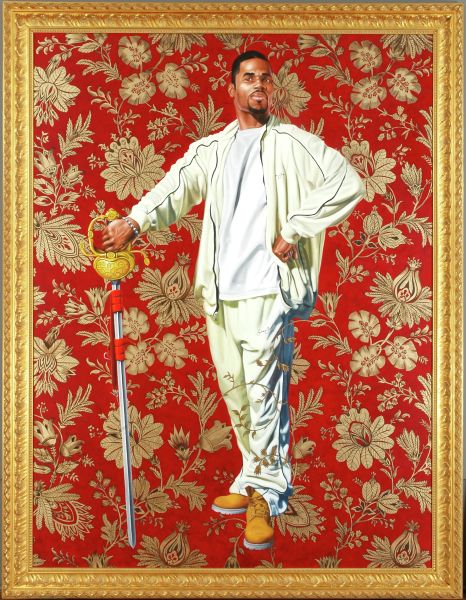 Willem van Heythuysen (Primary Title)

"A big part of what I'm questioning in my work is what does it meant to be authentic, to be real, to be a genuine article or an absolute fake? What does it mean to be a real black man? Realness is a term applied so heavily to black men in our society." —Kehinde Wiley
Wiley's lavish, larger-than-life images of African American men play on Old Master paintings. His realistic portraits offer the spectacle and beauty of traditional European art while simultaneously critiquing their exclusion of people of color.
This portrait of Willem van Heythuysen references a 1625 painting of a Dutch merchant by Frans Hals, whose bravura portraits helped define Holland's Golden Age. Wiley's model, from Harlem, New York, here takes the name of the original sitter from Haarlem, the Netherlands, whose pose and attitude he mimics. Despite the wide gold frame and the vibrantly patterned background with Indian-inspired tendrils encircling his legs, this subject's stylish Sean John street wear and Timberland boots keep him firmly in the present and in urban America.
Moved from its original location in the museum's 21st-Century Gallery, this work foregrounds the rich dialogues that exist between geographies, time, and cultures.
Signed on verso in pencil: "Kehinde Wiley 06"
Arthur and Margaret Glasgow Fund
Kehinde Wiley: A New Republic, Brooklyn Museum of Art, Brooklyn, New York, February 20 - May 24, 2015; The Modern, Fort Worth, Texas, September 20, 2015 - January 10, 2016; Seattle Art Museum, Seattle, Washington, February 11 - May 8, 2016; Virginia Museum of Fine Arts, Richmond, Virginia, June 11 - September 5, 2016

LA ART in New York, Roberts and Tilton, LA Art Fair, Altman Building, New York, NY, March 10 - 12, 2006
(Roberts and Tilton, Los Angeles) by 2006; Purchased by Virginia Museum of Fine Arts (VMFA), Richmond, Virginia in May of 2006. [1]

[1] Accessioned May 18, 2006. See VMFA Curatorial file.
Some object records are not complete and do not reflect VMFA's full and current knowledge. VMFA makes routine updates as records are reviewed and enhanced.